Growing up in different Nigerian communities, I never felt the heterogeneous nature much especially as it concerned the very scrumptious meals served at occasions. Oh…how I remember attending birthday parties of my peers. Through my teen days and up until adulthood, the story stayed the same. Believe it or not the constant factor was the steamy hot Jollof rice which had a hint of smoked firewood and that uniquely burnt bottom of the large three-legged pot. Those are unquenchable memories; lying indelible in many Nigerian hearts.
Different parts of Africa come with their different methods of cooking Jollof rice but the Nigerian Jollof rice in its uniqueness has never failed to meet the needs of its ever hungry fans…little wonder people look forward to Saturdays- traditionally set aside for wedding ceremonies, to grab a plate of this tasty meal which is said to have a different taste from the home-made Jollof rice.
Preparing party Jollof rice is as easy as the word Jollof. Simply get the following ingredients ready:
3 cigar cups | 750g long grain parboiled rice
Tomato Stew 500 mls (Blended tomatoes & Tomato paste)
Chicken (whole chicken, drumsticks or chicken breast)
Pepper and salt (to taste)
2 medium onions
3 Knorr cubes
2 teaspoons thyme
2 teaspoons curry powder (Nigerian curry powder)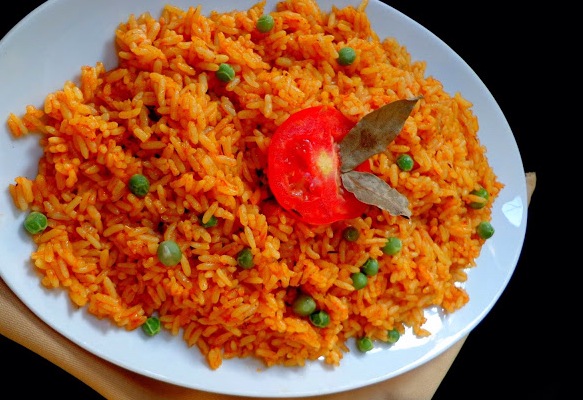 Before you cook Jollof Rice, you have to first prepare the tomato stew. Personally, I like to steam the blended tomatoes together with the tomato paste to reduce that sharp taste which tampers with our unique Jollof rice taste after with I pour into already heated groundnut oil. Then I throw in some knorr cubes, some curry, thyme, and salt to taste and leave to fry. It is advisable to prepare tomato stew beforehand and keep in the freezer. This is so that whenever you want to cook any jollof rice related dish, it is just a matter of adding it to your cooking.
If you will use whole chicken, wash and cut it into pieces. Cook with the thyme, Knorr cubes and 2 bulbs of onions (chopped). The cooking time depends on the type of chicken. The rooster or cockerel cooks much faster than the hen but the hen is definitely tastier. When done, grill it in an oven. You may also fry it. This is to give it a golden look which is more presentable especially if you have guests for dinner.
While all of this is going on, parboil the rice. Rinse the parboiled rice and put in a sieve to drain.
Pour the chicken stock and the tomato stew into a sizeable pot and leave to boil.
Add the drained parboiled rice, curry powder, salt and pepper to taste. The water level should be the same level of the rice. This is to ensure that all the water dries up by the time the rice is cooked.
Cover the pot and leave to cook on low to medium heat. This way the rice does not burn before the water dries up.
If you parboiled the rice, it should be done by the time the water is dry. Taste to confirm. If not, you will need to add more water and reduce the heat to prevent burning. Keep cooking till done.
This meal can be Serve with Fried Plantain, Nigerian Moi Moi, Nigerian Salad or Coleslaw.
You can spice up this recipe by adding 2 well known vegetables to arrive at what we refer to as Mixed Vegetables Jollof Rice.