Trochet is an innovative business designed to provide an inclusive space for creative disadvantaged women to get trained and maintain a sustainable production line.
The word Trochet was formed out of the idea of fusing Trash and Crotchet to produce a range of trendy handmade recycled lifestyle products creating globally oriented and environmentally aware city dweller style products. The organization was founded by Diana Rayan & Reem Bakheet as a social movement for women empowerment as well as a business.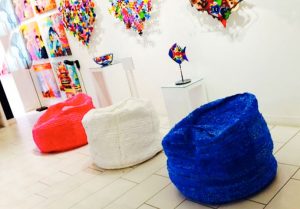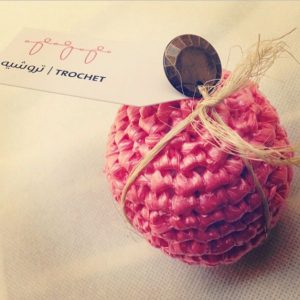 Trochet produces items such as scuba dive bags, bean bags, stress balls, beach bags, and sturdy yoga mats, among others, which are made and sold in the city of Jeddah, Saudi Arabia aiming to deliver the cravings of the active urban educated population. These products are handmade by disadvantaged women using the traditional crotchet to stitch plastic threads made from recycled garbage bags collected from around the city; thereby solving the ever-growing problem of solid waste disposal, while managing a social ailment by providing the women with a viable means of income.
This brilliant innovation also mobilizes a group of enthusiasts and consultants that provide training support in their different areas of expertise and to oversee the various phases of design, marketing; overseeing and following up with the women workers, arranging logistics to pick up the raw materials and deliver them to the workers.
Ms. Rayan conceived the Trochet idea after attending a lecture about the environment on the worlds Earth Day 2009. She had a hard time convincing people around her of the idea until she met Ms. Bakheet her partner and together they turned the idea to reality. Trochet was awarded first prize in November 2013, at the annual Harvard Arab Startup Pitch contest. To date, they employ about 50 female workers and counting. Ms. Rayan and her partner also received a one-month scholarship for business acceleration program in Silicon Valley. Trochet is working towards training more women to be employed by the project.
By Boma Benjy Iwuoha