Anya Pogharian, an 18 year old Armenian Teen, Living in Montreal Canada, developed the Dialysave, a portable, dialysis machine which costs $500, against the conventional $30,000 machines, currently in use around the world.
Anya Pogharian
She told Fortune Magazine that the Dialysave started as a science fair project, inspired by her time working at a local hospital's dialysis unit, Anya was shocked at the huge cost of the conventional dialysis machines. Anya developed the $500 dialysis machine (Dialysave), a project on which she spent 300 hours, 30 times the required hours for her science project. The Dialysave has captured the attention of major international figures such President Bill Clinton and the Cleveland Clinic.
Anya stated that she set her sights on inventing a cheap and portable dialysis machine, and making it accessible to people in developing countries. Though she's still too young for med school, Anya might just transform the dialysis process in the world's health care system.
Here's an interview with Fortune Magazine about her invention, its ongoing development, and the leadership advice she's been taking to heart.
How did you go about creating the machine?
Basically, most of the research was done online. I read owner manuals of existing dialysis machines, which are not simple at all. They are really meant for engineers. That gave me enough background to build the first prototype, but it's taken a lot more to improve each new version. The first prototype was to see if it was possible to design an affordable dialysis machine and to design a machine that's much simpler to produce and use.
The second version was much more sophisticated and higher quality. That's the one I used to test in a lab with real human blood. That was incredible. It filtered about four liters, equal to the blood volume of a child, in 25 minutes. It proved that it could work and helped me understand how to further develop my third prototype.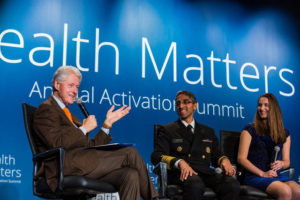 How has the invention been received so far?
Back in January last year there was an interview in Montreal which led to a nationwide interview that went viral. It was all around the world. I found articles in Russian, Armenian, German, even a dialect of Chinese. It was shocking from one day to the next there were about 100 different articles.
At that point, I was approached by many different people, including a Harvard University professor who has offered to help with the business side and EU scientists who are into affordable medical devices and the social benefit. The opportunities and offers for mentorship have been incredible.
I also had the opportunity to attend the Clinton Foundation Health Matters Summit in January where I was on a panel moderated by President Clinton, alongside the U.S. Surgeon General and [IBM's Chief Health Officer] Kyu Rhee. That was one of the most incredible opportunities for me in terms of networking. It was so encouraging. People all over the States were willing to help with various aspects of it.
What are the next steps for the Dialysave machine?
The goal is to get it on the market eventually, which is a really long-term goal. It's a third class medical device, which isn't easy to get approved. I'm really focused on the science of it right now and getting that to the point of perfection, but I also need to build a good team of scientists and business partners. Right now, I'm managing it all on my own. Balancing it all is practically impossible, but it's my passion.
What's the best advice you've received so far about taking it to market?
Potential investors have said to, yes, focus on the science but really think of the business aspect at the same time because if you keep building prototypes it won't lead to anything and won't make an impact. You have to go through both steps at the same time.
Have you received any helpful leadership advice as a young entrepreneur?
It's been mostly about knowing what you want to do. You have to have really solid goals, so that if something happens to stump you up or turn you around from your goals, you still push ahead. You can't be a leader if you don't have a solid path. If you want to lead the way and bring others with you, everyone needs to be on the same wavelength and know exactly where you're going.
Anya's amazing prototype is over fifty times cheaper than an existing medical grade device, and performs virtually the same task as a standard hemodialysis machine. This amazing health care product is a new innovation, aimed at saving lives