When I first came across the theme of the international women's day for 2021, I pondered about the word challenge and why it fits into the theme of a global day set aside to celebrate the social, economic, cultural and political achievements of women. As I pondered over this, my mind went on a trip down memory lane and reflected on the challenges women have faced in the fight for gender parity. These thoughts stirred up a heart of humility and gratitude for the contributions and involvement of Amazons Watch Magazine in that fight in the past 6 years.
With a media philosophy that is rooted in the preservation of the pride and dignity of women, discussions challenging inequality forms the very essence of the magazine.
Amazons Watch challenges the inequalities and social injustices experienced by women in Africa and other developing nations. We have consistently reported stories of injustices with a firm call to action – ''Women must be given an Equal Place in the Society.
Amazons Watch challenges the custodians of patriarchy, those who have constantly tried to paint a picture of a square peg in a round hole when it comes to granting women leadership access in workplaces, politics and business. We have proven that nothing could be further from the truth. We threw a challenge; name the sector and we will provide you a name of a woman who has achieved great feats therein.
Amazons Watch challenges the notion that perceives women as incompetent and too messed up by hormonal surges to handle sensitive positions. We have continually advocated for female leadership in all spheres, highlighting the achievements of women and celebrating women achievers on a global platform and as such exposing them to more leadership appointments.
Amazons Watch challenges the notion that women belong to the kitchen – we have proven that cooking is a basic life skill and not a gender role, while at the same time providing culinary support for women who want to do all. A woman can be a wife, a mother, a leader and anything else she chooses to be.
Amazons watch challenges all myths, stereotypes, customs, etc. that seeks to bring down the female gender. We realize that when we allow men tell our stories all the time, they keep the fame for themselves. So, we use the publication to tell the stories of women who are succeeding despite all the odds stacked up against them, from a woman's point of view.
Amazons Watch Magazine creates a compelling voice and representation for female leadership, female-led innovations, inspirations and legacies, including news making for the unreported and under-reported women – across multiple platforms comprising print, web & digital editions, events, conferences and films.
On International Women's Day, we celebrate the achievement and contributions of women around the world, but especially highlighting a few achievers, one from each African country, who have played a major role in shaping female leadership in the continent within the past few months. Meet them here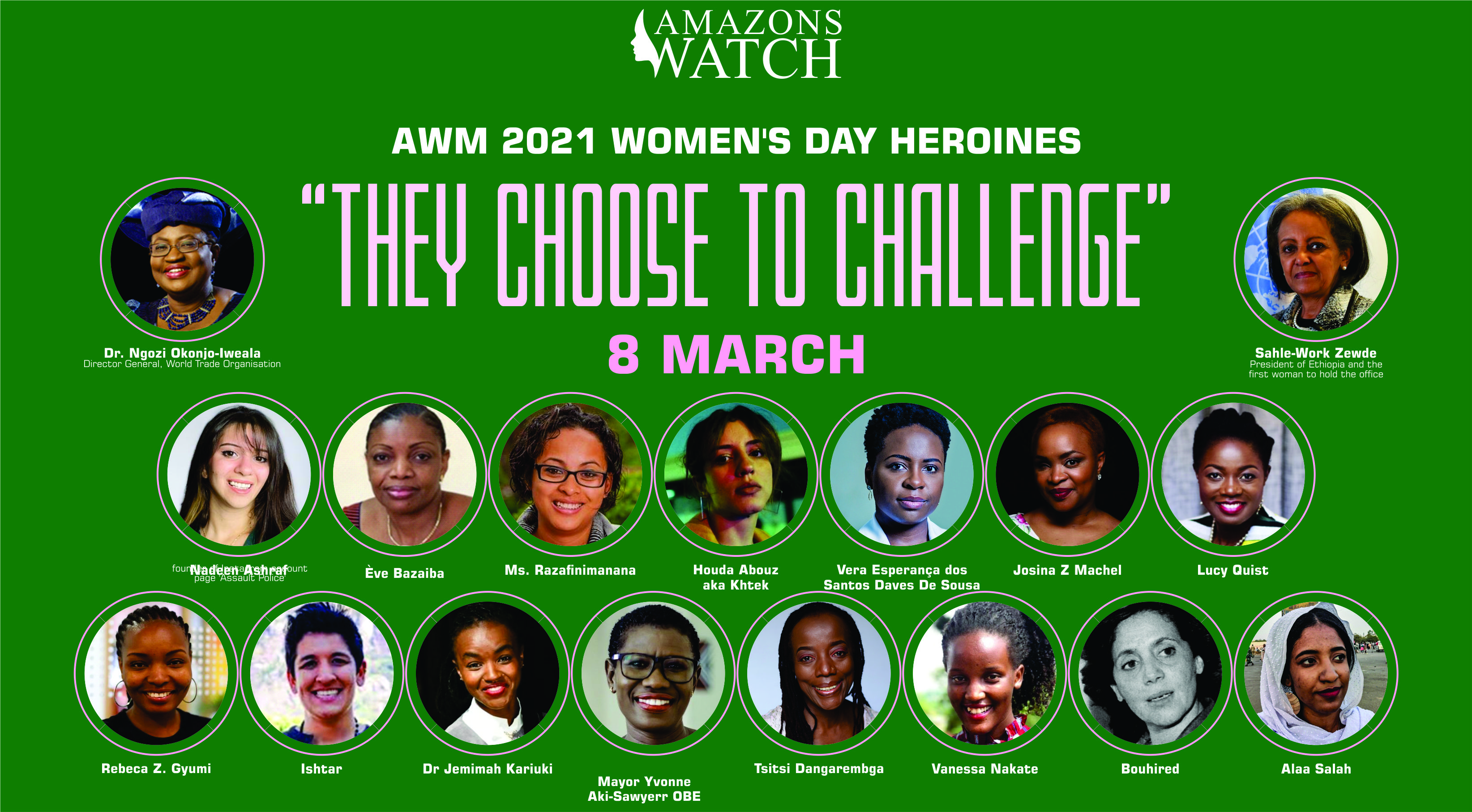 The narrative is gradually changing and hopefully, the world will get to the point when men and women will have equal opportunities as far as the workforce, politics and business are concerned.
Until then, ''We Choose to Challenge''.