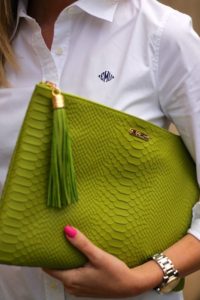 By: Wambui Njuguna
Handbags carry a woman's most important daily essentials. Additionally, they make huge fashion statements and complete a woman's wardrobe. Being able to choose the right handbag can prove to be a bit tricky. Therefore, once you are able to choose the right handbag, then I can assure you that you've got one of the most important fashion details on point.
The right handbag accentuates your figure and completes an outfit. You might find yourself carrying your handbag every other day for months, the more reason it is important that you choose the right handbag that works for you! I have, therefore, noted down important tips when it comes to choosing a handbag.
1) Length
A handbag flatters your body, especially where the bottom of the bag sits. It is, therefore, important to note your body shape. If you have small hips, get a bag that sits on your hips giving you a more feminine shape. However, if you have larger hips, be sure to get one that sits on your waistline as it tends to accentuate your waist making your waistline look much smaller and slimmer. These types of bags work for most types of body statures, and it's a must have for women of all statures.
2) Shape
Choose a handbag that complements your shape and stature. Get handbags that are of the opposite features as your body. For example, if you are tall and slim, go for a slouchy rounded handbag.  For the short and curvy, strongly angled bags will look fabulous on you.
3) Size
It is important to take note of the sizes. Leave fashion out of this and get a bag that's right for you. If you are tall, keep away from small bags or you'll end up pulling a very weird look. The same for short women keep away from big bags!
4) Your style
Get to know your general personal style. Are you a casual type of girl? Then a formal bag wouldn't look good on you. Get to know what works for your style, by doing your research on fashion blogs, magazine or even by asking a friend or someone who knows about styling. Know your style and take note of what works for you and you are good to go!
5) Functionality
Get to know why and what type of handbag you want or need. This will guide you to choose the right handbag. Are you looking for a 1x7bag to carry on a daily basis, a clutch bag? A bag to carry your books or laptop? An outing bag? Or are you looking for a bag to match with a particular outfit? These are some of the questions you need to ask yourself as you set out on your bag hunt.
6) Durability
It doesn't matter how much you are willing to spend on a bag; you'll first of all need to make sure that the bag is worth your while. For you to get a durable handbag and one that will give you much mileage, check the material of the bag, the zippers, and the seams. This will help you determine the durability of the bag. It is important to pay attention to these details before you choose the right handbag.
7) Color
Once you've been able to choose the right handbag according to your shape, the size, and all that we have discussed above, it's now time to get to the other important bit which is the color! The color of the handbag matters and you have to put a few things into consideration. If you want the handbag to be your best friend that is by carrying it almost every day, go for a neutral color like black, brown, nude or beige. This is because these neutral colors will look good with any well-combined outfit! But if you are looking for a bag to go with a particular outfit, consider the outfits color and go for a color that will compliment it.