After a long day, the last thing you want to do is go through a long, drawn-out skin care routine. Fortunately, there aren't too many things you really need to do keep your skin healthy, and using a bunch of serums, creams and fancy products doesn't have to be part of your routine.
However, there are seven things that you must do before bed to keep your skin looking its best.
Make sure you set aside a few minutes to take care of those teeth, too.
Remove Your Make-Up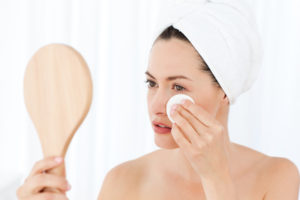 Going to sleep with cosmetics like foundation, mineral powder and blush can clog your pores and result in pimples and skin irritation. Sleeping with your makeup on can also make your skin very dry, and if you already have dry skin, your skin could start to look scaly or flaky. Use a quality makeup remover to take your makeup off every night before bed. Don't forget to remove eye shadow and mascara as well. Sleeping with mascara on can actually result in broken eyelashes if you rub your eyes at night or when you wake up in the morning.
 Brush Your Teeth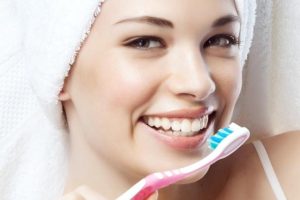 Poor dental hygiene can have a negative impact on your overall health. Gum disease can lead to heart disease if you aren't careful. That's why it's vitally important to brush and floss your pearly whites every night before you go to bed. Make sure you brush for two minutes and floss between every tooth.
Use a Facial Cleanser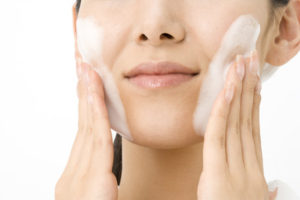 Once you remove your makeup, use a facial cleanser to remove any dead skin, dirt and sweat.
Facial cleansers are different from soap, so buy a product designed specifically for cleansing the delicate skin on your face. Also pick a facial cleanser that's right for your skin type. Most facial cleansers say what skin type they're made for, so if you have dry skin, pick one made for dry skin. Oily skin types should use a cleanser made specifically for oily skin.
Apply Toner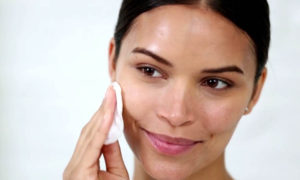 A lot of women don't use toners, especially if they're on a budget however, using a toner every night before bed can drastically improve your skin. Toners work to remove residual residue from makeup and even that cleanser you just used to get rid of dirt, which believe it or not, shouldn't stay on your skin for too long. Gently apply a toner made for your skin type each night before bed to ensure healthy skin. Using toner that's too harsh for your skin could result in some irritation. Dry and normal skin types should avoid alcohol-based formulas, which are really only necessary for people with oily skin.
Apply Moisturizer or Facial Lotion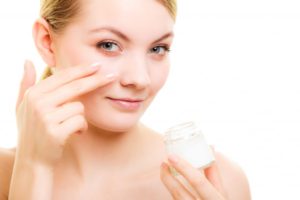 Once your toner has dried you should apply a thin coating of a quality moisturizer or face lotion to your skin to help keep it supple. A good quality moisturizer can even help to make fine lines and wrinkles less visible. It's a myth that only people with dry skin need moisturizer. In fact, even people with oily skin can benefit from a regular moisturizer, though they may be able to skip a day without noticing too much change in the way their skin looks. Look for a moisturizer that's made for your skin type. This is especially important if you have very dry skin or acne-prone skin.
Wear Your Hair down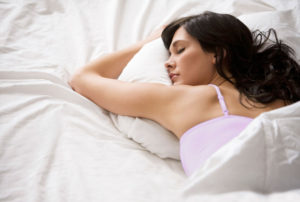 You might think it's better to hold your hair back while you sleep, but keeping it down is actually better. Why? Experts say that as you move around, the elastics can tear and damage your tresses. If you wind up with tangles without the ponytail holder, consider sleeping on a satin pillowcase, which will help dramatically.
Set Up Your Humidifier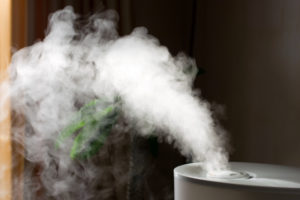 Like a good moisturizer, many women believe that only people with dry skin can benefit from using a humidifier in their bedroom while they're sleeping. The truth is, every person can benefit from a more humid environment, especially in the winter months. Set up your humidifier in an out-of-the-way location, one where cords won't be in the way of pets or your feet if you need to get up in the middle of the night for any reason. Make sure you fill up your humidifier as much as possible – you want as much moisture as you can get over the course of the night.
After a few days of following these steps, you'll wake up one morning and realize that you've got a new beauty routine.
Source: Skintrium.com