Colombian food is very diverse, each region of the country having its own characteristic dishes. This wonderful cuisine offers dishes that have been handed down from generation to generation, influenced by not only indigenous Colombian culture, but Spanish, African and Arab cultures as well. Colombian food is versatile, rich, full of flavour, colourful and comforting.
A tamale is a traditional Mesoamerican dish made of masa or dough (starchy, and usually corn-based), which is steamed in a corn husk or banana leaf. The wrapping is discarded before eating. Tamales can be filled with meats, cheeses, fruits, vegetables, chillies or any preparation according to taste and both the filling and the cooking liquid may be seasoned.
Some Colombia tamales variations are: tamales tolimenses, tamales Vallunos, tamales de pescado, tamales de pipian, tamales de Nariño, tamales Santandereanos and there are more. One of the secrets for making good tamales is to marinade the meat overnight.
Ingredients for preparing this colourful dish include:
For 12 Tamales: Marinade, 1 large onion, chopped, 4 garlic cloves, 1 large red bell pepper, chopped, 1 large green bell pepper, chopped, 4 scallions, chopped, 4 tablespoons ground cumin, 3 tablespoons sazon Goya with azafran or Color, Salt, 2 cups water.
Filling: 1 pound pork belly, cut into 12 piece, 1 ½ pounds pork meat, cut into 12 pieces, 2 pounds bone in pork ribs, cut into pieces, 3 large potatoes, peeled and diced, 1 cup peas (fresh or frozen), 1 cup carrots, peeled and diced.
Masa: 1 pound yellow precooked corn meal (masarepa), 5 cups water, Salt, ½ cup marinade, 2 tablespoons sazon Goya with azafran or color.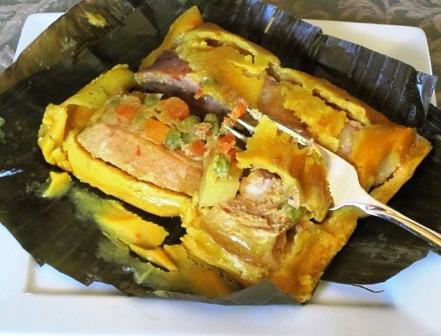 Wrapping: 2 pounds banana leaves cut into pieces about 15 inches long, String, Water and Salt to cook the tamales
To get you perfectly made Tamales, simply follow the steps below:
Place all the marinade ingredients in the blender and blend until smooth. Reserve ½ cup of the marinade to prepare the masa.

In a large plastic bowl place all the meat, add 1 ½ cups of the marinade. Mix well, cover and refrigerate overnight.

To prepare the Masa: Place the masarepa in a large bowl, add the water, salt, sazon Goya or colour and reserved marinade. Mix well with a wooden spoon or your hands.

Wash the leaves well with hot water and set aside.

To assemble the tamales: Place 1 piece of the leaf on a work surface and place a second leaf on top, pointing in the opposite direction, like forming a cross.

Spread ¾ cup of masa in the centre of the banana leaves, at the point where they connect and form a cross. Place 1 piece of pork, 1 piece pork belly and 1 piece of rib on top of the masa and place about 1 tablespoon of peas, 1 tablespoon of carrots and 2 tablespoons of potatoes on top of the meat.

Fold the banana leaves up, one of the four sides at the time so that the leaves enclose the entire filling like you're making a package. Tie with butcher's string. Continue the process until all the tamales are wrapped and tied.

Bring a large pot with salted water to a boil. Add the tamales and then reduce the heat to low. Cover and cook for 1 hour and 45 minutes. Remove the tamales from the pot and let them sit for about 5 minutes before serving. Cut the stirring and serve in the leaves.