Northern Africa comes with many side attractions which include its hills and valleys, precious artefacts and ancient historical treasures, and also scrumptious choice delicacies. Although the people of northern Africa are perceived to be less friendly than other regions in Africa, this fact largely remains an individual perception as the respect they accord on the continent as well as their homely nature, speaks more than that perception.
Some people have said that food is life. This may be true giving its refreshing and unifying features.
Tagine is one of those choice North African Arabian delicacies which is named after the earthenware pot in which it is cooked. It is also called a Maraq in some parts of North Africa and the Middle East.
The traditional tagine pottery, sometimes painted or glazed, consists of two parts: a circular base unit that is flat with low sides and a large cone- or dome-shaped cover that sits on the base during cooking. The cover is designed to return all condensation to the bottom.
Tagine is traditionally cooked over hot charcoal leaving an adequate space between the coals and the tagine pot to avoid having the temperature rise too fast. Large bricks of charcoal are purchased specifically for their ability to stay hot for hours. Smaller pieces of charcoal are reserved for cooking barbecue and other grilled meats.
Other methods are to use a tagine in a slow oven or on a gas or electric stovetop, on lowest heat necessary to keep the stew simmering gently. A diffuser, a circular utensil placed between the tagine and the flame, is used to evenly distribute the stove's heat.
European manufacturers have however created tagines with heavy cast-iron bottoms that can be heated on a cooking stove to a high temperature, which permits the browning of meat and vegetables before cooking.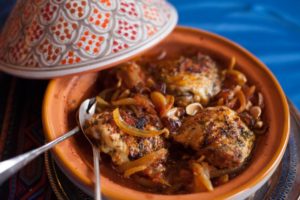 Many ceramic tagines are decorative items as well as functional cooking vessels. Some tagines, however, are intended only to be used as decorative serving dishes
Ingredients for this delicacy are things that one can find easily around the immediate environment. For a medium-size pot of this stew the following ingredients will be required: 1 tablespoon olive oil, 1 large onion, thinly sliced, 6 large garlic cloves, minced, 1 tablespoon minced peeled ginger, 1 1/2 tablespoons paprika, 1 teaspoon turmeric, 1/2 teaspoon ground coriander, 1/2 teaspoon ground cumin, 1/2 teaspoon cayenne pepper, 1/8 teaspoon ground cinnamon, 2 cups (or more) water, 2 cups drained canned garbanzo beans (chickpeas), from two 15-ounce cans, 1/2 cup canned diced tomatoes in juice, 1/2 cup chopped fresh cilantro stems, 1 lemon, quartered, thinly sliced, 2 tablespoons (or more) fresh lemon juice, 4 chicken leg-thigh pieces, skin removed, thighs and drumsticks separated, 2 chicken breast halves with bones, skin removed, each cut crosswise into 2 pieces, 3 medium carrots, peeled, cut into 2-inch pieces, 2 cups 2-inch pieces green beans, 1/4 cup chopped fresh mint.
Tagine can be prepared with different kinds of animal protein depending on individual preferences but overall, it is very easy to prepare. These few steps may save you a lot of stress:
Heat oil in a heavy large pot over medium heat.

Add onion, garlic, and ginger. Cover and cook until onion is tender, stirring often, about 10 minutes.

Add paprika and next 5 ingredients; stir 1 minute. Stir in 2 cups water, garbanzo beans, tomatoes with juices, cilantro, lemon, and 2 tablespoons lemon juice. Bring to boil.

Reduce heat, cover, and simmer 10 minutes.

Sprinkle chicken with salt and pepper; add to the pot. Cover and simmer 30 minutes.

Add carrots and more water to cover if the liquid has evaporated; cook 10 minutes.

Stir in green beans; simmer until chicken and vegetables are tender, about 5 minutes longer. Season with salt and pepper and more lemon juice, if desired.

Transfer to a bowl. Sprinkle with mint.
So the next time you feel like eating something different or have some spare time, try out Chicken Tagine for a delightful feel of Northern Africa.
Source: www.epicurious.com