Food is an essential part of human living which is reflected in different cultures and in different ways. In South America, there are a number of choice dishes which are capable of leaving lasting memories in every visitor. Colombia's national dish is considered to be bandeja paisa. This is a real feast and not for the faint-hearted.
Bandeja paisa, (Paisa refers to a person from the Paisa Region and bandeja is Spanish for platter) with variations known as bandeja de arriero, bandeja montañera, or bandeja antioqueña, is a typical meal popular in Colombian cuisine, especially of the Antioquia department and the Paisa Region, as well as with the Colombian Coffee-Growers Axis, and part of Valle del Cauca.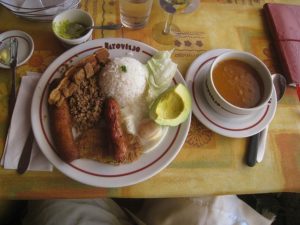 The main characteristic of this dish is the generous amount and variety of food in a traditional bandeja paisa: red beans cooked with pork, white rice, carne molida (ground meat), chicharrón, fried egg, plantain (plátano maduro), chorizo, arepa, hogao sauce, black pudding (morcilla), avocado and lemon. It is a platter filled with steak, pork crackling and chorizo sausages served on a bed of rice and red beans. To top it off, there is usually a fried egg and it is often served with slices of avocado and sweet banana chips.
The origin of the bandeja paisa was influenced by several different cultures that inhabited Colombia throughout the centuries, including the indigenous peoples of Colombia, as well as colonial Spaniards and Africans. In the 19th century, French and British colonialists also brought their cuisine with them. The current form and presentation of the Paisa platter is relatively recent.
A Paisa platter is traditionally served in a large, oval-shaped tray due to the amount of food that is served. Side dishes include mazamorra (a maize-derived beverage similar to atole) with milk and ground panela.
Some Antioquian restaurants offer an "extended" bandeja paisa, also known as "seven meats platter", which contains, besides the aforementioned ingredients, grilled steak, grilled pork and liver. A diet-friendly version of the dish is very popular in Bogotá, which replaces pork with grilled chicken breast, black pudding with salad and chorizo with a wiener.
With simple ingredients which include: 1 Recipe Paisa Pinto Beans (Frijoles Paisas), 1 Recipe white Rice (Arroz Blanco), 1 Recipe Shredded Beef (Carne en Polvo), 4 Fried Pork Belly (Chicharrones), 4 Cooked Chorizos, 4 Fried eggs sunny side up, 4 baked plantains or Tajadas de Plátano, 1 Recipe Hogao, Lime and Avocado for Serving, it is made with the following steps:
Prepare the beans, hogao and powdered beef one day ahead and keep in the refrigerator.
When you are going to serve the bandeja paisa, heat the beans and powdered beef and hogao. Make the chicharrones.
Cook the white rice and plantains.
Fry the eggs and chorizos.
To serve, place the rice in a tray or platter and place the rest of the ingredients as you like. I prefer the beans in a separate bowl, but you can ladle the beans next to the rice if you like.
Bring the hogao in a serving dish to the table, so people can place it on top of the beans if they like.
It is advisable to drink with this dinner something soft, like a lemonade, water or fruit juice without milk. It is time to leave your comfort zone and enjoy the savoury taste of this very rich Colombian dish.