Chicken dishes are some of the most universal dishes in the world. People from different regions and tribes cap up their native delicacies with sauced or barbequed chicken. One of the unique variants of chicken is the Piri Piri chicken which we will be discussing today. Two unique recipes will be explored.
RECIPE 1
This is a great spicy marinade recipe, a traditional African dish, great for BBQ, and nice with salad and fries. I however like adding it to a pita with salad and garlic Greek yogurt (3/4 cup Greek yogurt and 3 cloves of crushed garlic with finely chopped chives). Don't go on a date though, gives you wicked garlic breath!"
Ingredients
1/4 cup paprika, 2 tablespoons hot chili powder, 1 cup fresh lemon juice, 3 cloves garlic, minced, 1 1/2 teaspoons chopped fresh ginger, 1 1/2 teaspoons salt, and 4 bone-in chicken breast halves
Directions
In a large bowl, stir together the paprika, chili powder, lemon juice, garlic, ginger and salt. Rub chicken with the mixture, place in a dish, and marinate for 3 hours.
Preheat a grill for medium heat. Place chicken onto the grill and discard the marinade. Cook for about 30 minutes, turning occasionally until the skin is slightly charred and juices run clear.
Piri-Piri Chicken
RECIPE 2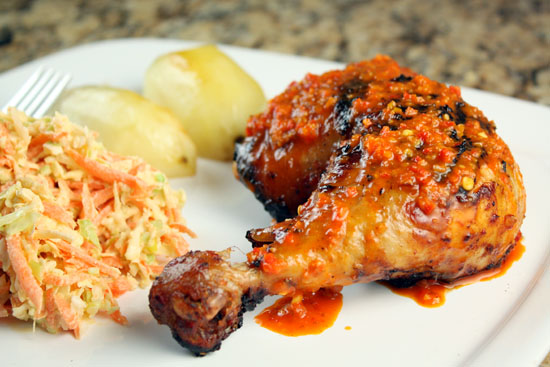 Piri-piri chicken is a spicy dish with roots in both Africa and Portugal. The dish was created in Angola and Mozambique when Portuguese settlers arrived with chile peppers (known as piri-piri in Swahili). Timing note: The chicken needs to marinate for at least four hours before being grilled.
For 2 to 4 servings
Ingredients
Glaze:
3 tablespoons butter
3 tablespoons chopped fresh cilantro
2 garlic cloves, minced
2 tablespoons piri-piri sauce or other hot pepper sauce
2 tablespoons fresh lemon juice
Chicken:
1/4 cup chopped fresh cilantro
1 2-inch piece fresh ginger, peeled, thinly sliced
1 large shallot, peeled, quartered
3 garlic cloves, peeled
1/2 cup piri-piri sauce or other hot pepper sauce
1/4 cup extra-virgin olive oil plus additional for brushing
1/4 cup fresh lemon juice
1 teaspoon coarse kosher salt
1 teaspoon freshly ground black pepper
1 3 1/2- to 4-pound chicken, backbone removed, opened flat
1 11 3/4 x 8 1/2 x 1 1/4-inch disposable aluminium baking pan (to catch drips)
Ingredient info: Bottled piri-piri sauce is available at speciality foods stores. Choose the heat level that suits you, keeping in mind that the mild version still has a nice kick to it
Preparation
For the glaze: Melt butter in a small saucepan over medium-high heat. Add cilantro and garlic; cook until garlic begins to brown, about 2 minutes. Add piri-piri sauce and lemon juice. Reduce heat to medium-low; simmer 2 minutes. DO AHEAD: Glaze can be made up to 1 day ahead. Cover and chill. Rewarm before using.
For the chicken: Finely chop cilantro, ginger, shallot, and garlic in processor. Add piri-piri sauce, 1/4 cup oil, lemon juice, coarse salt, and pepper; process marinade to blend.
Place chicken, skin side up, on work surface. Using the palm of the hand, press on breastbone to flatten the chicken. Tuck wing tips under. Pour half of the marinade into 11x7x2-inch glass baking dish. Open chicken like a book; place skin side down in single layer in dish. Pour remaining marinade over. Cover; chill at least 4 hours or overnight, turning chicken occasionally.
Remove top rack from the barbecue. Prepare barbecue (medium heat). If using a 2-burner gas grill, light 1 burner. If using a 3-burner gas grill, do not light centre burner. If using a charcoal grill, light briquettes in chimney and pour onto 1 side of lower grill rack. Place disposable aluminium pan on unlit part of the grill. Place upper grill rack on the barbecue; brush with oil.
Remove chicken from marinade. Arrange skin side up on grill rack above the drip pan. Cover barbecue; grill until skin is browned and an instant-read thermometer inserted into the thickest part of the thigh registers 165°F, turning often about 40 minutes. Transfer to a platter. Pour warm glaze over.
Source: Hans Gissinger