All over the world, seafood has become a relished meal. Serving as a source of high-quality protein, people look forward to consuming a soup bowl full of seafood at their convenience.
Seafood is very nutritional and is very quick and easy to prepare. It can be used as appetizers and snacks, as ingredients in salads, soups, and main dishes. Some are eaten raw (oysters), but you can also have them baked, simmered, boiled, fried, or stuffed. They are the perfect choice for a meal this summer.
Dishes made with seafood are a very valuable source of protein which makes for easy digestion. They are also good sources of vitamin B(niacin and B12), iodine, selenium, and fluoride. In addition, they contain moderate amounts of iron, zinc, and magnesium. The amount of iron contained in them is about 30-50% of the amount in red meat. Seafood provides us with the richest sources of Zinc.
Here is some seafood you can try out this season:
Shrimp Quesadilla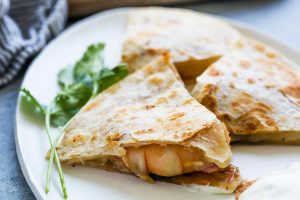 Shrimp quesadilla, Flour tortillas toasted with shredded Monterey Jack cheese and pan-seared shrimp with onions, cilantro, avocados. Perfect for lunch.
Shrimp with Zucchini Noodles and Lemon-Garlic Butter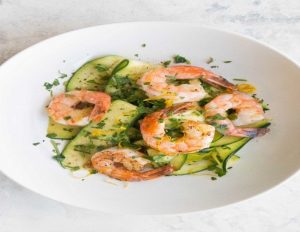 Zucchini noodles with shrimp, Toss with lemon-garlic butter for a quick, easy dinner. Ready in 30 minutes. This recipe works well as a light mid-week dinner, especially when you're in the mood for vegetables with a little protein, or as a side dish at a dinner party or potluck.
Fish Stew with Ginger and Tomatoes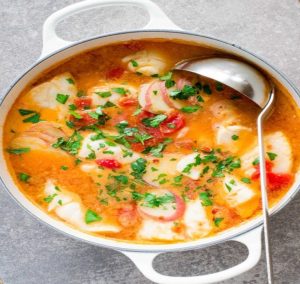 This easy fish stew with ginger and tomatoes is both warming and light. Ready in about 30 minutes. The fish stew is wonderfully refreshing on the spring table when we're all looking for lighter fare and anything that doesn't take too long to cook. It also makes a great dinner party main course if you need something easy and last-minute for guests.
Salmon Gravlax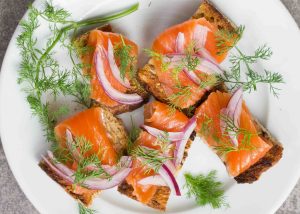 Make your own home-cured salmon gravlax! 15-minute prep, 2-day cure in the fridge. The showstopper for a fancy brunch or dinner party. Traditionally, gravlax is served with dark rye or dense grainy bread, but bagels or any good-quality bread is great.
Shrimp, Arugula, White Bean, Cherry Tomato Salad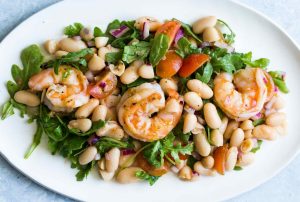 Quick, easy, healthy shrimp arugula salad with white beans and cherry tomatoes. Takes 20 min to make. Mediterranean diet. This is a summer salad perfect for those mid-week cravings for something light yet still filling.
Grilled Trout with Dill and Lemon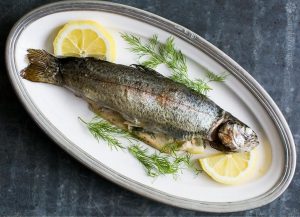 Grilled whole trout, stuffed with lemon, dill, and dotted with butter. Trout is, one of the most delicious fish you can eat, and not only is it relatively inexpensive (for fish), it's really easy to cook.
Grilled Garlic Shrimp Skewers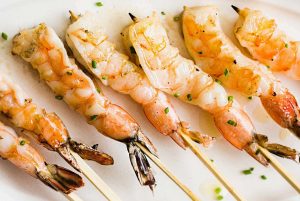 Easy grilled shrimp basted with garlic butter. It's shrimp on a stick! Grilled, slathered with garlic butter, and sprinkled with chives, these big beautiful prawns are perfect party food for a backyard cookout.
Cioppino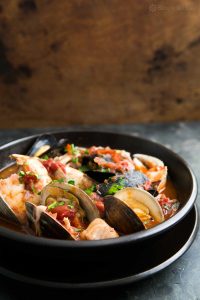 San Francisco-style cioppino Italian fish stew, with fresh halibut, sea bass, Dungeness crab, shrimp, clams, mussels, and oysters in a savoury tomato-based broth. is easy to make, and absolutely delicious with the right ingredients. Cioppino is typically served with the shellfish still in their shells, making for somewhat messy eating. It's a lot of fun for an informal gathering. Have plenty of napkins available and don't wear white.
.
Seared Scallops with Brown Butter Caper Sauce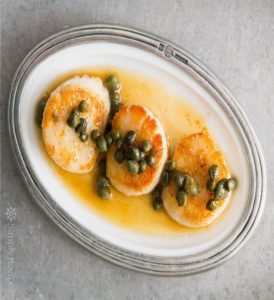 Large sea scallops, seared and topped with a browned butter sauce with capers and lemon zest. A beautifully seared scallop is a delight to behold and a pleasure to eat. It can be just a little challenging to accomplish though.
Octopus Salad (Ensalada de Pulpo)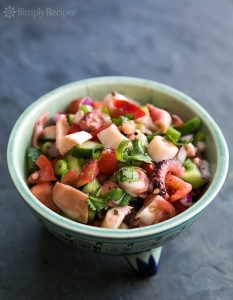 Mexican style octopus salad, with tomatoes, green and red onion, cucumbers, and cilantro. Octopus tastes a lot like calamari, just meatier, which makes sense given that octopus is sort of like a giant squid.
Source: simplyrecipes.com