If you want a taste of what ordinary Egyptian families eat at home, you can't go wrong with koshari (variously spelled koushari and koshary), a nourishing vegetarian dish of rice, lentils, macaroni, garlic and chickpeas, bought together by a spicy tomato sauce and topped off with fried onion.
A good koshari can send an Egyptian into raptures, and it's also hugely popular as rib-sticking street food and take-away.
Koshari is the national dish of Egypt. It is served in virtually every Egyptian restaurant, in every Egyptian home, and on every Egyptian street corner. Street vendors serve the dish from carts to people eagerly waiting in line to eat this beloved and highly popular dish. The mixture sounds strange…until you taste it. Then you'll know why this dish is a favourite among Egyptians.
Egyptians and tourists fondly speak of the "Koshari Man," the title bestowed upon street vendors who sell the dish from their carts. Aziz Awad, who used to be a Koshari street vendor and now works at a downtown restaurant, describes it this way: "The Koshari man grabs a bowl, and scoops a little of each ingredient into the bowl….Each dish takes about five seconds to assemble. His speed can be surprising.
Every Egyptian knows and recognizes the sound of Koshari being made from down the street. Though it is Egypt's national dish, it isn't actually Egyptian in origin. Neither rice nor macaroni is indigenous to Egypt. It is believed that Koshari originated in India and dates back to the time of British Colonization. The name "Koshari" is actually from the Hindu "khichri", which refers to a dish of lentils and rice. When the British arrived in Egypt in the late 1800's they brought this dish with them – it was inexpensive and filling. It didn't take long before the dish was enthusiastically embraced by the Egyptian people.
The crowning aspect of this dish is the flavour-packed, spicy tomato sauce. It's made with a special spice blend called Baharat (Arabic for "spice"), an all-purpose spice blend commonly used in Middle Eastern cuisine. Just a pinch adds depth and flavour to sauces, soups, stews and meat.
Ingredients (4 Serves): 2 tbs olive oil, 1 cup medium-grain rice, 1 cup brown lentils, 2 cups small macaroni, 2 cups vegetable stock, 1 garlic clove, quartered, 1 tsp cumin, 1 bay leaf, ½ teaspoon salt, Salt to taste.
For the Sauce: 2 tbsp olive oil, 1 small onion, diced finely, 2 cloves garlic, finely minced, 1 (15 oz) can unseasoned tomato sauce (cooked/pureed tomatoes), 2 tsp baharat spice blend, ¼ teaspoon red chile flakes (omit if you dislike spicy hot), 1 tbs red wine vinegar, Salt & pepper to taste, Crispy Onion Garnish: 2 large onions, finely sliced, Oil for deep-frying, 1 (15 oz) can garbanzo beans
Instructions
Heat 2 tablespoons of olive oil in a medium saucepan over medium-high heat. Add the rice and fry it for 2 minutes, then add the vegetable stock.

Bring it to a boil, decrease the heat to low, cover and simmer for 15 minutes or until the rice is cooked.

Rinse the lentils under cold water and add them to another medium saucepan with 2 cups of water.

Add the garlic, cumin and bay leaf and bring it to a boil. Reduce the heat to low, cover and simmer for 20-30 minutes or until the lentils are tender. Once cooked, add the salt and stir to combine. Strain any excess liquid if necessary.

Cook the macaroni according to package instructions until al dente.
Note: Prepare the rice, macaroni and lentils while the sauce is simmering and leave them covered in the pots to keep warm.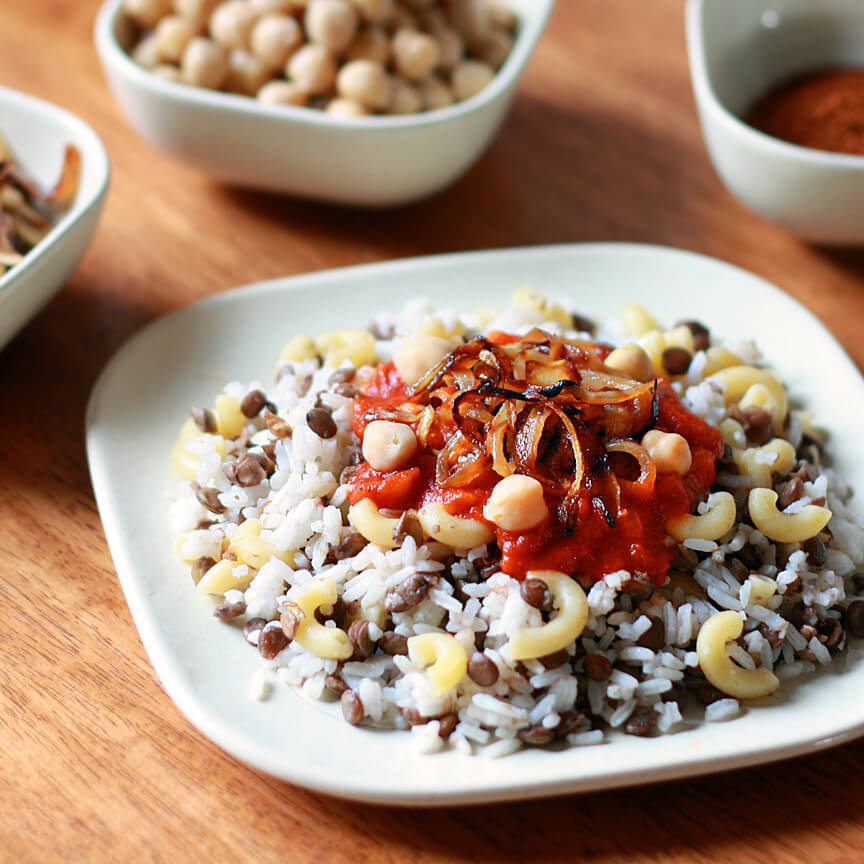 To make the sauce:
Heat the oil in a medium saucepan over medium-high heat and add the onion. Cook until soft and translucent, about 5-7 minutes.

Add the garlic and saute until golden brown. Add the tomato sauce, baharat, salt and pepper to taste, chile flakes (if using) and red wine vinegar. Bring it to a simmer, reduce the heat to low, cover and simmer for 20 minutes, stirring occasionally.

To make the crispy onions, heat the oil in a skillet. Add the onions and fry until dark brown. Using a slotted spoon, remove them from the oil and place them on paper towels to drain and cool.

Add the rice, lentils and macaroni to a large bowl and toss to combine (or simply scoop out desired amounts of each onto the plates).

Sprinkle a little baharat over each portion and serve topped with some of the spicy tomato sauce.

Top with garbanzo beans, the crispy onions and another sprinkle of baharat. Serve warm.
Source: Daring Gourmet