Nowadays, everyone is tilting towards healthy living and healthy dietary options packed with vitamins and nutrients. Salads are a great source of nutrients given the rich vegetables used to prepare them.
There are many variants of salad spread across different countries but I specifically remember one type of salad which my grandmother prepared so special occasions. I knew it was unique in its own way, especially considering its beautiful colour, the little time required to prepare it, as well as the varieties of main dishes it can be coupled with. Creamy Potato salad tastes so good and yet doesn't require so many ingredients.
Ingredients
½ potatoes (about 6 medium), peeled

½ cups mayonnaise or salad dressing

1 tablespoon cider vinegar[if desired]

1 tablespoon yellow mustard[ if desired]

1 tablespoon of salt

teaspoon pepper[According to your taste]

2 medium stalks celery, chopped (1 cup)

1 medium onion, chopped ( 1/2 cup)

4hard-cooked eggs, chopped
Paprika, if desired
Shredded boneless chicken breasts[as desired]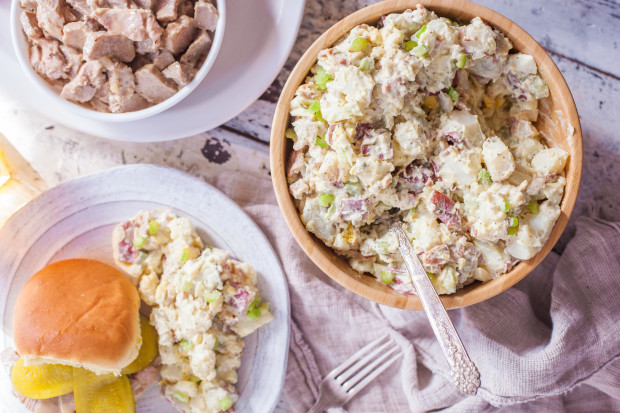 Directions
Place potatoes in 3-quart saucepan; add enough water to cover potatoes. Cover and heat to boiling. Reduce heat to low, Cook for 25 to 30 minutes or until potatoes are tender; drain. While on the potatoes put your chicken on fire with just salt. Let stand the potatoes until cool enough to handle. Cut potatoes into cubes in a bowl, mix mayonnaise, vinegar, mustard, salt and pepper, add potatoes, celery and onion; toss. Slice eggs, shred chicken and then Sprinkle with paprika if desired. Cover and refrigerate at least 5 minutes to blend flavours and chill. Store covered in the refrigerator and after 5 minutes, you can serve. More Garnishing is allowed.