One of the best things about summer is all the delicious summer salads! What can I say? I am a girl who loves a good salad! This chicken caesar pasta salad is one of my new favourites, and I do not only like the fact that it is delicious, but it is also very easy to make. It's a delicious mix between a green salad and a pasta salad, with all the delicious flavour of a caesar salad. What could be better than that?
This salad would make a perfect light summer meal or an easy side dish. Cooking the pasta takes the longest, and everything else can be prepped while it's cooking. I absolutely love the combination of tastes and textures in this salad.
Ingredients
3 cloves garlic

1/2 cup extra-virgin olive oil, plus more for brushing

2 to 4 anchovy fillets, chopped

Juice of 1 lemon

Kosher salt and freshly ground pepper

1 pound skin-on, boneless chicken breasts

4 (1/2-inch-thick) slices focaccia or whole-wheat Italian bread

4 romaine lettuce hearts, halved lengthwise

3/4 cup freshly grated parmesan cheese, plus more for garnish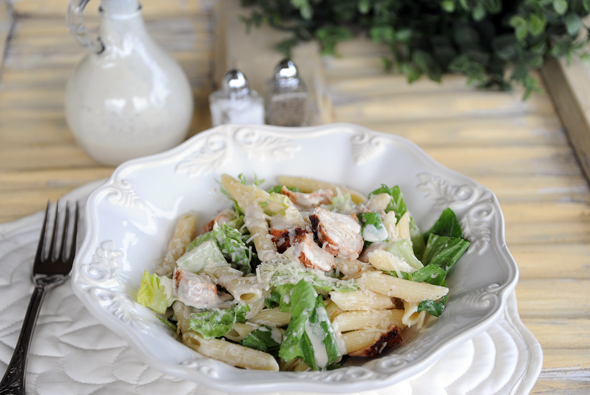 Directions
Preheat a grill or grill pan to medium-high. Make the dressing: Chop 2 garlic cloves and puree with 1/2 cup olive oil, the anchovies and lemon juice in a blender until smooth; season with salt and pepper. Pound the chicken with a mallet or heavy skillet until about 1/8 inch thick. Season with salt and pepper and toss with 1 tablespoon of the Caesar dressing. Grill the chicken until golden and crisp, 3 to 4 minutes per side. Brush the bread with olive oil on both sides and grill, turning, until toasted, about 2 minutes. Rub with the remaining garlic clove. Brush the romaine with 1 to 2 tablespoons of the dressing and grill until marked, 1 to 2 minutes per side. Chop the lettuce and transfer to a bowl. Cut the bread and chicken into bite-size pieces and add to the bowl. Toss with the remaining dressing, the parmesan, and pepper to taste. Garnish with more parmesan.