Tunisian cuisine is a blend of Mediterranean and desert dwellers' culinary traditions. Its distinctive spicy fieriness comes from the many civilizations which have ruled the land now known as Tunisia. Many of the cooking styles and utensils began to take shape when the ancient tribes were nomads. Nomadic people were limited in their cooking implements by what pots and pans they could carry with them. A tagine in Tunisia is very different from the Moroccan dish. It is a type of a pie dish, made out of eggs, meat and vegetables, similar to the Italian frittata or the eggah. Pork is not traditionally used since its consumption is forbidden in the Sharia, the religious laws of Islam.
The Tunisian Chickpea Breakfast Soup also is known as Leblebi is one of the most desired delicacies in Tunisia as it is one to wake up to every morning. The amazing thing about this dish is the fact that it is easy to prepare and the spices are simply irresistible.
If you decide to prepare this meal for 4 people, this recipe will be just perfect: For the soup, get
1 pound chickpeas, washed, picked over and soaked in 2 quarts water for 6 hours or overnight, 1 tablespoon olive oil, 1 onion, chopped, 4 large garlic cloves, minced or pressed, 2 heaped teaspoons cumin seeds, ground, 2 tablespoons Harissa Salt, 2 to 4 tablespoons fresh lemon juice, to taste while for the garnishes you will need Lemon wedges, Coarse sea salt Harissa, Chopped fresh tomatoes, Chopped green and red bell peppers, 2 hard-boiled eggs, chopped Rinsed capers, Sliced pickled turnips, Flaked canned tuna fish (oil- or water-packed), Freshly ground cumin, Finely chopped fresh parsley, Finely chopped cilantro, Sliced preserved lemons, Croutons or sliced stale bread, thinly sliced scallions, both white and green parts, and Olive oil.
Drain the chickpeas and combine with 2 quarts water in a large, heavy soup pot or Dutch oven. Bring to a boil, reduce the heat, cover and simmer 1 hour.
Meanwhile, heat the oil over medium heat in a medium-size, heavy nonstick frying pan and add the onion. Cook and stir until tender for about 5 minutes. Stir in the garlic and cumin and stir together for 30 seconds to a minute, until the garlic smells fragrant. Remove from the heat and stir into the beans.
For advance preparation, the soup can be made to this point a day or two ahead.
After the beans have cooked for an hour, stir in the harissa and salt (2 teaspoons or more). Cover and continue to cook for another 30 minutes to an hour, until the beans are very tender and the broth fragrant. Add lemon juice, taste and adjust salt.
The finished soup will taste great for another 3 to 4 days. Keep in the refrigerator.
Serve the soup, passing your choice of condiments on a large tray, or have them laid out on a buffet. Stir the condiments into the soup and enjoy. Keeping time, the cooked chickpeas will keep for 4 to 5 days in the refrigerator. You will want to refresh the condiments each time you serve.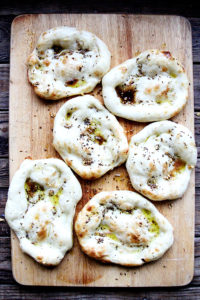 For Leftover Leblebi Salad, drain the beans, toss with condiments of your choice, and season to taste with lemon juice, olive oil, garlic, salt, pepper and cumin.