By Goodnews Buekor.
A video of a couple trended on Tiktok just recently. It is the way stories emanate these days, isn't it? Alicia Mccarvell posted a video of her and her husband preparing for a friend's wedding. The video, which has over 22 million views, has received severe criticism and derogatory remarks from TikTok users. Why? Because Alicia is a plus-size woman.
Canadian influencer Alicia and her husband, Scott McCarvell, were sighted in towels, standing before a mirror before switching to a clip of them all dressed up for a wedding. As seen in the video, Scotts is muscular, huge, and keeps a beard. He is typically attractive, some may say.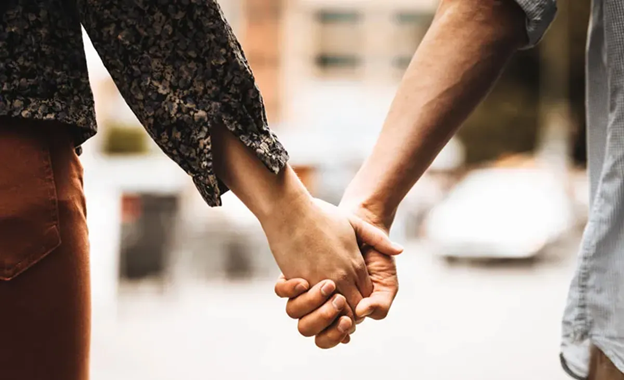 The seemingly nice, Tiktok video has had over 44,000 comments, most of which are unpleasant and mean-spirited. Alicia revealed some of the comments made in her other follow-up videos- "He wants your money", " Love is definitely blind", and "He's waiting in position to collect insurance money."
Alicia, while addressing the comments, said that the video she posted was "not unlike what all kinds of couples do on this app"; however, " we all know why" her video went viral. "It's because with beauty standards, [Scotts and I] don't make sense. The world looks at us and immediately values Scott more than me. People say that we don't add up because people are adding things to my side of the equation to make it make sense."
As Alicia pointed out in the video, the world has taught us to equate our values with the size of our bodies. She explained that a woman sent her husband a message telling him he should be with "someone like her," suggesting that, because she was thin, her value was greater than Alicia's
It is quite appalling to know that when society sees fat people, they immediately think they are lazy or they are probably fat because they don't watch their diet, or they don't exercise enough when the truth is often the opposite.
Alicia put it perfectly when she said: "If this is how you think, how you've been taught, then it is your responsibility to unlearn it."
In the light of the entire saga that played out, a university has proposed that the term "obesity" no longer be used in an attempt to deal with and fight weight stigma and fatphobia in public health.
The University of Illinois Chicago's School of Public Health championed the change in a recent brief titled: "Addressing weight stigma and fatphobia in public health," in which it recognises the negative impacts of weight discrimination, as well as the belief that the "focus on body size is rooted in racism".
It is not a good idea to judge anyone simply because they are fat. "Remember, you cannot tell someone's health on the inside by looking at their size on the outside," the brief states. "It is the responsibility of those in public health to create environments for every person to thrive in whatever body they live in."
Love isn't reserved for people who fit what society calls "slim". Everyone deserves to love and be loved regardless of their shape or size. Love is a natural human tendency and should be made available to all.