Everyone has a story but the stories that are never forgotten are those ones that have an impact on people and societies. In recent times, philanthropy has proven to be a sure way of making an impact because it goes beyond helping people and as far as advancing a society and building a nation.
Very few persons have come to understand this and they are running with this vision. While others still see it as giving to the poor, these ones are looking forward to a future where the world will be rated very low in terms of poverty.
These great personalities are represented in diverse ethnic groups, tribes, nations, and regions, and the inspiring tales written about them can make anyone want to go the extra mile.
One of such kinds is the story of Jillian Haslam, a British entrepreneur, author, motivational speaker, and philanthropist, who was born and raised in India.
Jillian grew up in one of the slums in Kolkata, amongst 12 children born by Roland Terrance Haslam and Margaret Althea Haslam.
They are of the British descent but ended up in the worst kind of poverty because of her father's love for the Indians and their culture.
Unfortunately, it turned out that Terrance's love was not reciprocated as the Indians were yet to forget the struggles and pains they encountered during the British colonization.
After India gained independence, they became uncomfortable with the British presence in their country, at a later year; all Britain's were asked to leave after the Partition in 1947. At that time, Terrance served as a captain in the British Army and has grown fond of the people and their way of living, he decides to stay back to raise his children with values of the country that he held in high regard. Unknown to him, he was making a wrong decision which would lead his family into abject poverty.
Things turned from bad to worse and to worst for the family, so baby Jillian had to grow up in the midst of excruciating poverty, unlike what most in any Western nation can fathom.
Although Britain, they were not accepted by the people, in fact, no Indian organization was interested in giving Jillian's father a job, and as a result, their financial struggles expanded and they ravaged in poverty.
They had to suffer starvation, diseases and health crises and as time went by, death called, she lost four (4) of her siblings.
Her story is very touching but the interesting part is that it didn't end there because in the midst of all those challenging experiences, a woman with a dedicated heart for philanthropy born. The family situation got worsened by the day and it was very pathetic. However, something significant caught her attention which had to do with the help people offered at some point.
It takes a kind-hearted person to recognize any form of help as an act of love no matter how big or small.
Having gone through all those pain and struggles she knew she could only move forward by forgiving others, so she forgave all who had tormented her and was grateful for the help they had given in the midst of it.
Jillian managed to finish her secondary education from St. Thomas Girls School, at age 17. She soon moved to Delhi to stay with her elder sister who had managed to get a job as a secretary in a private company.
She also took a secretarial course and in 1990, she got a job in a private company on a monthly salary of Rs 900.
After a year, she got another job with a German firm at a payment of Rs 1,500 and she moved her mother who was now suffering from cancer to Delhi. She lost her mother soon after, leaving them behind with their father.
Following her late mother's health crisis, Jillian was caught up in huge debt; she had taken a year salary in advance in order to pay for her mother's treatment. After the death of her mother, she had to work as a singer in restaurants for a whole year in order to pay the company back and sustain herself and two of her siblings.
Fortunately, in 1995, something cheering happened to Jillian. She was selected by Bank of America as an executive secretary to the CEO Ambi Venkateswaran, amongst 250 job aspirants who came for the interview.
Having joined the bank, she became active in the bank's charitable department, her passion and skill quickly distinguished her, and before long she was made President of the Charity and Diversity Network in India for Bank of America, leading their work in four different cities.
In a short time, Jillian had made so much that she was able to move her family from India to Britain.
Things began to turn from sour to sweet and she was excited that the dream of giving back to the society will become a reality in a very short time.
She first founded a coaching and training company in the UK and she was involved in various avenues of philanthropy.
Eventually, Jillian took charge of the Remedia network of charities, which operates majorly in India and the UK.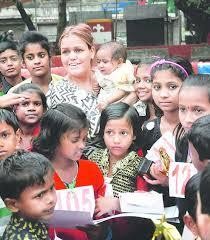 The Remedia's motto is, "Lifting the poor from every generation," and it covers all age bracket from youngest infants to the oldest adults who had no health care and no one to cater for them.
The system was becoming overwhelming, being burdened by the huge amount of needs of the various people it was catering for, Jillian got involved with the system because she wanted to help move it forward.
The Remedia operates like a network, with different branches targeting specific segments of society, including the elderly, the disabled, children, young adults, girls, and women.
She has been dedicated to the system, operating the charities in India and the UK in collaboration with others who are a part of Remedia. She funds the charity with the money generated from her book sales, her motivational speaking and training seminars, and from donors and supporters.
Jillian often visits India, and the poor in other nations and the UK, to meet and spend time with them face to face. She touches them, laughs with them, listens, cries, and then she acts – finding a way to give a chance for a better life to the ones who have no chance.
In 2017, she was recognized and honored with the Mother Teresa Award. The award means so much to her and it is more humbling than others that she has received because it reminds her of the childhood days when she and her family were actually helped by Mother Teresa's charities. They were on the receiving end of the life-sacrificing generosity of the greatest saint of the 20th century. And now, she's been honored with an award named after Mother Teresa for her own philanthropic work in the same country.
Meanwhile, her impact has been seen and felt in the lives of many and she has also been honored with various philanthropy awards on almost a yearly basis. Some of her biggest honors include:
Asia Woman of the Year 2012, 1st Runner Up
Star Recognition Award 2015, UK
True Legend Award 2015, The Telegraph
Mother Teresa Award 2017
Hello, Kolkata Humanitarianism Award 2016.
There is nothing wrong with acts of philanthropy that are done because of wealth earned by an enterprising husband, or from a big inheritance, or from a compelled individual who has made great wealth on her own and is prompted to give back to the society, but Jillian is on a mission to see the injustice of poverty end for as many people as possible who still live today like she did all through her childhood.
By Miracle NWANKWO