By Boma Benjy – Iwuoha
Norma Nashed is the founder and president of Restore A Child; a ministry for orphans, operating over 20 orphanages in across 15 countries. The ministry works with thousands of children living in poverty and empowering them through schools, agricultural development, orphanages and other venues to grow and become responsible and productive citizens who can make a change in their communities and promote peace and prosperity in the world. Norma has devoted her life and resources to caring for others and this is her story.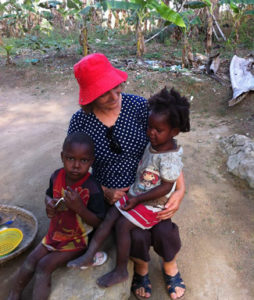 Norma was born in Ramallah a Palestinian city located 10 km north of Jerusalem. Her parents moved to Amman, Jordan when she was an infant and there she was raised alongside her six siblings in very modest circumstances. The family lived together in a single room house with no electricity and an outdoor makeshift kitchen and though her father made a living from his sewing machine, he did not help the family or her mum as he spent the little money he made on wine and other vices leaving his family hungry. Norma's mum was a Christian women who toiled long and hard to provide for her family, waking up at four o'clock in the morning prepare meals for the family sewing into the night to earn some extra money. Though the family had very little, were bought up in a happy Christian home.
At age 14, Norma lost her father to cancer. She was afterwards adopted by An American missionary family, late Dr. Robert Darnell and his wife who moved to Beirut, Lebanon and took her along. They loved and provided her with a good education. She became fluent in English, Arabic and French which landed her a job with the Royal Jordanian Airlines.
Norma's adoption set her life on a different direction; which she never would have thought possible counting her achievements so far. She was one of the first two Jordanian women to attend the first private pilot course in Jordan. She also became the only woman among 41 international airlines managers serving at Cairo International Airport. She migrated to America in 1985 where she co-authored "Speaking professionally," an intermediate-level course in ESL (English-as-a-second language) targeted to the Middle East.
In 1999, Norma faced three year battle with cancer. It was during this health crisis that she felt a leading to help orphans. She left her job and dedicated her life to helping children who have no parents or someone to help.
Norma recalls going back to Jordan, to visit her sisters after 12 years of absence, while there, she visited the school she once cleaned to help pay tuition and she was shocked to see two students who were sent home because their parents could not pay their fees. Seeing the children humiliated and crying, Norma approached the school head and asked; "How can you punish children for their poverty?" She inquired about the cost o the fees and was able to arrange for the payment. Leaving for her home, she thought to herself that if the children were being treated as such, there must be many more that are being treated in the same way. This fueled her resolve to ensure that kids get a good education. Recalling that education is the key to their future: to get good jobs, improve their lives, the lives of their families and the whole community.
Starting off with the informal educational support for the two Jordanian children, Norma later founded Restore A Child in 1999 a mission is based in the USA, the mission provides disadvantaged children with basic care such as: food, education, water, medical care and shelter. Over the years, her service has touched the lives of young people both within and outside the church. With special focus in developing nations, Restore a Child mission now serves children in 15 countries including Bolivia, Chad, Congo, Ethiopia, Haiti, Indonesia, Jordan, Kenya, Rwanda, Tanzania, the United States, Zambia, and Zimbabwe etc.
Norma takes particular interest in Girls as she has discovered over time that they are not given many opportunities in developing countries. "They are going to be the mothers of the future; if we train and equip them with a good education, the impact will be seen in their children." She says. She is guided by the bible scripture that says 'Truly I tell you, whatever you did for one of the least of these brothers and sisters of mine, you did for me.'
Citing that her adoptive parents investment in one little girl have made a difference in her family, community and now the world, through the ripple effects of her works. Norma works as a volunteer and does not earn a salary from the donations she receives for the orphans. A true missionary, she still works out of the den in her home. Some of her works through the mission include: Providing homes for orphaned children, Support during natural disasters, Medical Assistance, Feeding, Education, safe drinking water, assistance to orphanage homes etc.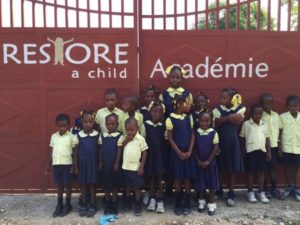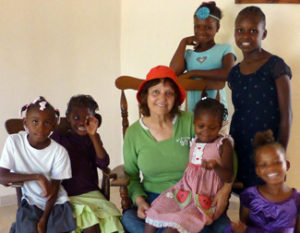 Children that have been provided education through Restore a Child