Jackie Kay is the Chancellor of the University of Salford, Manchester. She is an award-winning writer of fiction, poetry and plays. Jackie was born in Edinburg in 1961, to a Scottish mother and a Nigeria father; she grew up in Glasgow with Helen and John Kay her adoptive parents. She studied at the Royal Scottish Academy of Music and Drama having initially harboured the ambition to be an actress. She proceeded to University of Stirling where she received a degree in English.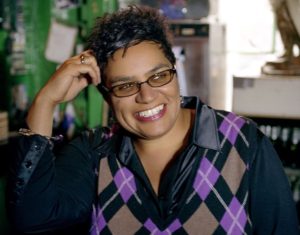 Growing up in Glasgow, just like many other women of colour, Jackie encountered racism during her childhood. She didn't let this knock her down as tells her story
through her poetry. Here the British Council details her achievements in a short biography.
The experience of being adopted by and growing up within
a white family inspired Jackie's first collection of poetry, The Adoption Papers (1991). The poems deal with an adopted child's search for a cultural identity and are told through three different voices: an adoptive mother, a birth mother and a daughter. The collection won a Scottish Arts Council Book Award, the Saltire Society Scottish First Book of the Year Award and a commendation by the Forward Poetry Prize judges in 1992.
The poems in Other Lovers (1993) explore the role and power of language, inspired and influenced by the history of Afro-Caribbean people, the story of a search for identity grounded in the experience of slavery. The collection includes a sequence of poems about the blues-singer Bessie Smith.
Off Colour (1998) explores themes of sickness, health and disease through personal experience and metaphor. Her poems have appeared in many anthologies, and she has written widely for stage and television.
Her first novel, Trumpet, published in 1998, was awarded the Guardian Fiction Prize and was shortlisted for the International IMPAC Dublin Literary Award. Inspired by the life of musician Billy Tipton, the novel tells the story of Scottish jazz trumpeter Joss Moody whose death revealed that he was, in fact, a woman. Kay develops the narrative through the voices of Moody's wife, his adopted son and a journalist from a tabloid newspaper.
Her books, Why Don't You Stop Talking (2002), Wish I Was Here (2006), and Reality, Reality (2012) are collections of short stories, and she has also published a novel for children, Strawgirl (2002). Her collection of poetry for children, Red, Cherry Red (2007) won the 2008 CLPE Poetry Award.
Her novella, Sonata, was published in 2006; her book of poems Darling: New and Selected Poems in 2007; and her dramatised poem, The Lamplighter, in 2008. The Lamplighter explores the Atlantic slave trade and was broadcast on BBC Radio 3 in 2007. It was shortlisted for the 2009 Saltire Society Scottish Book of the Year Award. Her Maw Broon Monologues, performed at the Tron Theatre in Glasgow, and combining rhythmic verse and music, were shortlisted
for the 2010 Ted Hughes Award for New Work in Poetry.
Her latest books are Red Dust Road (2010), a memoir about meeting her Nigerian birth father, which won the 2011 Scottish Mortgage Investment Trust Book of the Year Award and was shortlisted for the 2011 PEN/Ackerley Prize; and Fiere (2011), a new collection of poetry, shortlisted for the 2011 Costa Poetry Award and the 2011 Saltire Society Scottish Book of the Year Award.
Jackie Kay lives in Manchester and is Professor of Creative Writing at Newcastle University.  In 2006, she was awarded an MBE for services to literature. In 2014 she was appointed Chancellor of the University of Salford, where she has been the University 'Writer in Residence' since 2015.
Jackie's sweet and highly attractive personality coupled with her amazing achievements over the years, amidst several barriers and challenges; stands her out as a true representation of the strength and confidence of Black women worldwide.