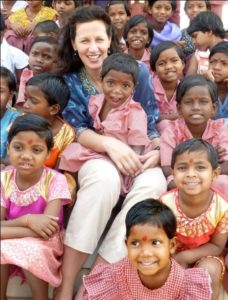 Caroline Boudreaux was born in Lake Charles, Louisiana, 1972. She was born into a very loving and supportive home, the youngest of nine children. Boudreaux graduated from the Louisiana State University, where she earned a degree in Psychology. She is married to Ed Goble, and she had a career as an account executive with a TV station in Austin, Texas until 2000.
At 28, Boudreaux and a friend traveled around the world on a vacation. While in a small village in India, the two women met a young boy, and out of compassion, her friend had sponsored the little boy. They witnessed first-hand how far her donations went to help the child and his family, and few days later, they were invited to the home of a local family that had taken in several orphaned children, but they could have never prepared for what they witnessed. In Boudreaux's words to PEOPLE; "They were all bald, all filthy," "Some were emaciated and some were puffed out, but just kind of empty looking eyes, and they were really super clingy. You wouldn't leave your dog there."
This proved to be a unique encounter for Boudreaux where she met a baby girl who had a profound effect on her. This encounter inspired her to start The Miracle Foundation. A Non-Profit organization created for the purpose of transforming the lives of orphaned children in India.
Though Boudreaux had no prior experience in management or fundraising, she invested all her life savings in the foundation. Just like other rare diamonds helping disadvantaged children, she believed that all orphans deserve clean water, an excellent education, nutritious food, high-quality healthcare, and a secure, loving home, so they can reach their full potential.
Since the establishment of the foundation in 2000, there have been great improvements in many of the orphans' lives. The organization has since then, partnered with 14 orphanages in India. Adopting the Maslow's Hierarchy of Needs to get the children healthy and vaccinated and secure educators, house mothers, counselors and funding. Boudreaux has received several awards for her selflessness and the achievements of The Miracle Foundation, including the Hope Award in 2005, the Impact Awards in 2008, 2009 and 2013; she has also been recognized as one of 200 Young Global Leaders at the World Economic Forum in Switzerland.
Caroline Boudreaux with kids supported by The Miracle Foundation