We all agree that the attitude of giving stems from a burning desire to meet a need or a determination to impact lives especially when it driven by past struggles and failures. Philanthropy by Merriam-Webster, is a goodwill to fellow members of the human race especially, an active effort to promote human welfare. In our world today, there are billions of philanthropists scattered all over the world in pursuit of a particular goal, which is; making the world a better place for the entire human race. Amongst these numerous people is Noëlla Coursaris, the Congolese rural diamond.
Noëlla was born in the Democratic Republic of Congo to a Cypriot father and a Congolese mother. Her father died when she was only five, leaving her and her mother alone. After her father passed on, Noëlla's mother, being saddled with responsibilities and with no education or financial resources, faced difficulty in catering for her little girl all by herself. So Noëlla was sent to Europe to live with her relatives who lived in Belgium. Growing up with her relatives was not as comfortable as a bed of roses, which made childhood for Noëlla's somewhat difficult. She had little or no contact with her mother.
However, amidst this unpleasant situation, Noëlla was given the privilege of gaining education which she pursued with so much zeal and determination. She excelled academically because according Noëlla, "When you have nothing, you know that if you fall there's no one to pick you up. So you have to stand." "I resolved very early that I would study and work and be independent."
Noëlla continued to excel academically and she graduated with a degree in business management in her early 20's. After 13 years of being away from Congo, she returned to her homeland to see her mother. On returning to Congo, Noëlla was shocked on seeing the deteriorating status of many girls whose stories could have been hers if she had remained back in Congo. She became burdened with the desire to help bring these girls the opportunity to learn and become empowered to demand the best for their lives. Although she could do nothing at the time, she promised herself that she would one day make a difference and put smiles on their hopeless faces that she saw back at home.
Like the old saying that says "where there is a wheel there is way" Noëlla's will attracted a solution that birth the fulfillment of her dreams.
Soon after Noëlla visited Congo, her friend signed her up for a competition to become a model and she was chosen to appear in a campaign for Agent Provocateur. Through modeling, Noëlla was constantly on the media spotlight, she was starred in prestigious fashion magazines like Vogue and Vanity Fair and before long she was known on the global stage. She also began to travel around the world and as she traveled the world, her exposure brought ideas and best ways to which she can lend a helping to the human race in her own way.
After so much thought and plans, in 2007, Noëlla formed Malaika, a nonprofit grassroots organization that empowers Congolese girls and their communities through education and health programs. Through Malaika, Noëlla has been able to touch the world with her kindness and impacted on lives. She has helped in the pursuit of gender equality and the global pursuit of education for the girl-child.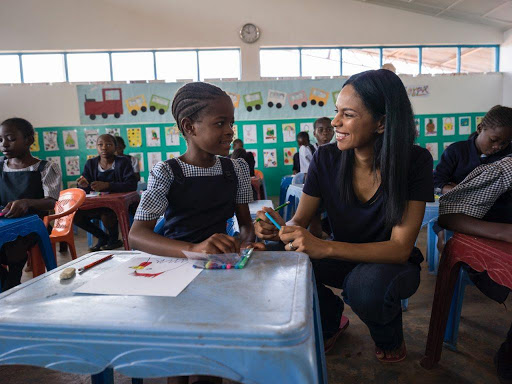 The Malaika project which is been offered completely free of charge includes; a school for 280 girls, a Community Center built in partnership with FIFA, which provides education, health and sports programming to about 7,000 youths and adults annually, the construction of nine wells that provides clean and portable water to over 18,000 people, and other plans which are still in view.
Noëlla has been totally engaged in the empowerment of girl-child, she is known as an advocate for peace, who has spoken on various international gatherings including the 2018 World Economic Forum at Davos, UNICEF and the UK Parliament where she appeared on several occasions alongside President Clinton on Clinton Global Initiative panels.
Through Malaika, she has seen an entire village been transformed due to the power of education of girls and women. This further confirms the popular quote by Brigham Young which states that, "You educate a man; you educate a man. You educate a woman; you educate a generation. Also according to Noëlla, "an educated woman is more likely to give back to her community, to inspire others to go to school, and to cultivate a sense of curiosity, ambition, and independence among her peers and the next generation." This is very true because she exemplifies those words in her tireless pursuit of bringing help to the human race.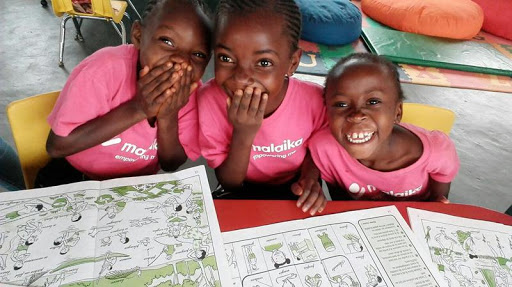 Beyond the village of Kalebuka, Noëlla has touched the nation of DRC and the continent of Africa in order to engage with surrounding communities and invite them to be a part of her educational revolution. She remains one of the leading voices in education for girls in Africa and an ambassador for the Global Fund set up by Bill and Melinda Gates to Fight Aids, Tuberculosis, and Malaria. On these accounts, she has been recognized and interviewed about her philanthropic work on different platforms and global news networks such as CNN and the BBC. She has given a TED talk and presented before top executives from multinationals like SAP and T-Systems.
She was named one of ELLE's incredible women shaping Africa and one of the most powerful women in philanthropy by Lifestyles. Recently, Noëlla was featured in an interview in The Times which went on to appear in the Week.
As regards her personal life, Noëlla is married to her husband James Masters and they have been blessed with both a boy and girl. As a mother it is often said that managing a home and pursuing a career can be very difficult but for Noëlla being a mother has helped shaped her narrative and drive as she continues to impact on and inspire her world for change.
By Miracle Nwankwo