Written By: Mark Holgate
Photographer: Cheyenne El-Khourry
Grece Ghanem; Instagram's New Icon of Ageless Style
"Stay visible! Once women pass a certain age, they don't get looked at anymore," says Grece Ghanem, a 53-year old personal trainer from Montreal, without so much as a sigh of self-pity. "I don't take that into account. I still wear things in a fun way. I don't have to disappear." It's safe to say that there's no chance of that happening.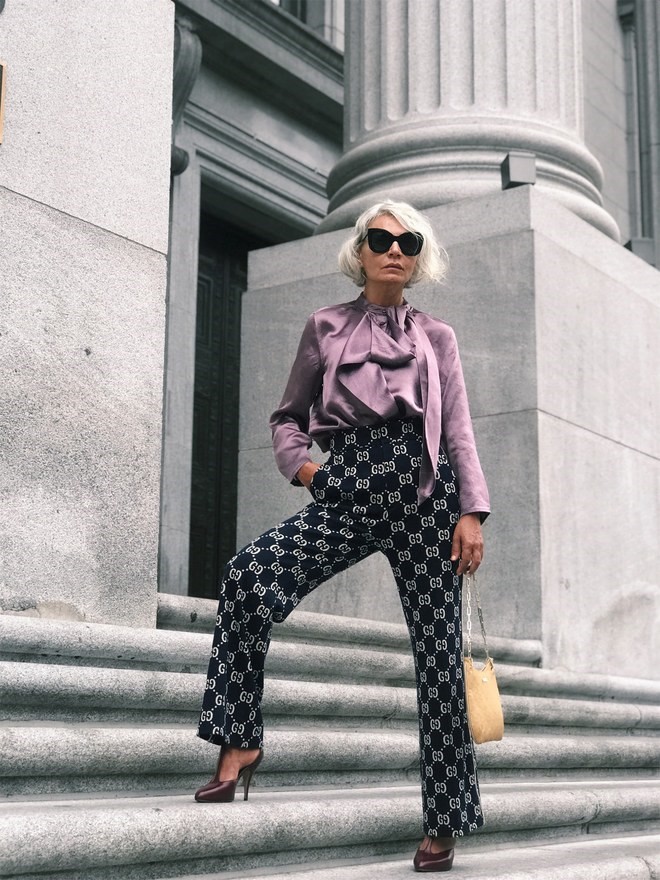 Ghanem has gained her 48,000-strong Instagram following because she's so feisty and fearless about putting herself and her style out there in the world. This is ageism-be-damned, a fact not lost on the likes of Sephora and Club Monaco, which have flocked to collaborate with her.
A quick scroll reveals that Ghanem's distinctive signature look—terrific choppy gray bob; the twinning of exquisite big-ticket tailoring and love-worn denim; and trademark big sunglasses—is utterly tangible and real. Pieces get constantly repeated—the Gucci dusky-pink floral jacket and pants; the in-heavy-rotation jeans and a shirt; the big and boxy Céline claret pantsuit worn together or apart; the fling-it-over-absolutely-everything leather biker—again and again (like, you know, we all do). Nothing gets worn once. Nothing gets discarded; she still has pieces from back when she was a student in Beirut in the early '80s. And nothing ever gets hashtagged.
Yeah, you can spot the labels—the Balenciaga, the Acne Studios, the Phoebe-era Céline (her abiding obsession)—but to Ghanem's mind, she'd rather you clocked her and how she has worn them first. Ghanem's weakness for statement accessories from the aforementioned labels—the black velvet GG-embellished fanny pack, the pointy pink satin mules courtesy of Mr. Gvasalia—somehow only amplifies how much she shops her own closet every single day. "I live in my wardrobe," she says. "I always look at what I have first. I don't buy just because it's a trend."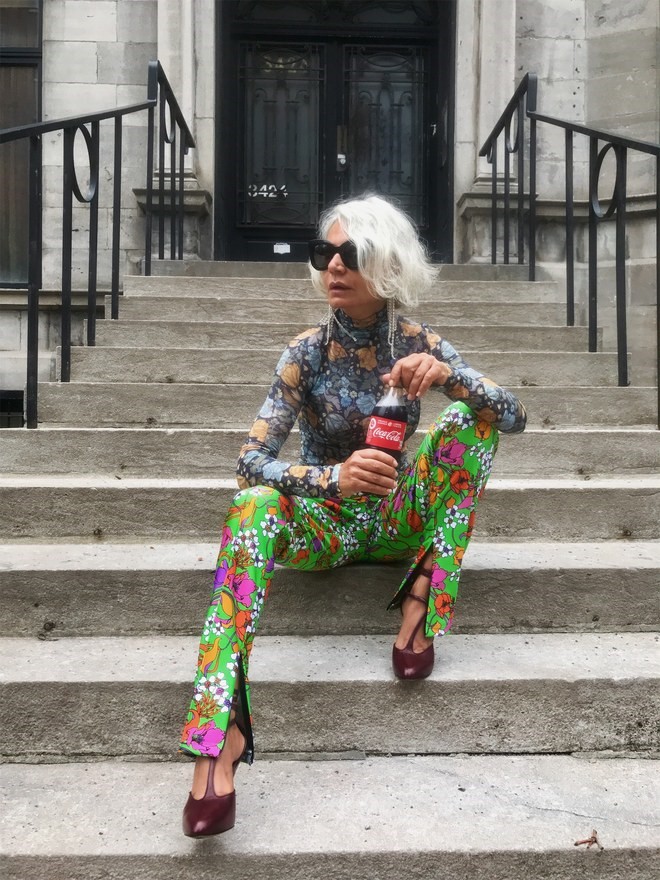 This approach—make the best of what you already have and work with it—is as true to Ghanem's life as it is to her style. She left the strife of Lebanon in 2005 with her daughter, Cheyenne, now 22, to start anew in Canada, leaving behind more than the lovingly curated Gucci and Céline that she had been collecting since she was 18; she also waved goodbye to her family and to her career as a microbiologist. Unable to practice that profession in her new homeland, she turned to personal training. If life gives you lemons, add them to the water in the gym you're working at.
That acceptance of what has gone before touches her Instagram, too. Ever since she started it two years ago with Cheyenne, as a means for them to have fun together, Ghanem has chosen never to delete a post, to obliterate what went before. Now, she says, she feels a sense of responsibility to the young women in their 20s and 30s who make up a substantial part of her followers, to show that style is a constant work in progress. Oh, and, by dressing her best life, that she doesn't—and by extension they don't—have to disappear into the shadows just because the needle hits 4-0. "I am disappointed [women of my age] are not represented on the runways and in magazines," she says. "But in the end, it's you and not the clothes that matter. When you acknowledge yourself, everyone will see you."