By Boma Benjy – Iwuoha
When we think of fashion in the United Arab Emirates, many envision Men in turbans and women in Burkas. Let's go back to the origins; did you know that turbans originated from Asia? Originally worn by the Perse, spread to the Ottomans and is still worn in certain regions of India & Pakistan. Did you also know that the burka is of Afghan origin and have never been worn traditionally by the Arabs? You may be wondering, how then do Emirati Women dress? Well, let's find out.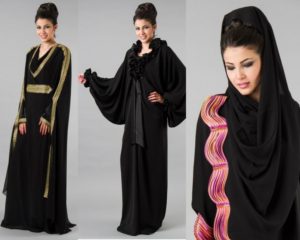 Emirati Women, typically dress in Arabic attires, inherited from the Bedouin culture, which is prevalent in the Arabic peninsula. They carry forward their ancestral traditions by their way of dressing. Both Emirati men and women wear "veils" and long-sleeved "robes". This is understandable due to the hot weather in the Arabic peninsula, especially in the summer. The Emirati traditional attire is best adapted for the local conditions except for the black abaya which must capture a certain amount of heat due to its colour.
The Abaya is the most prominent women's fashion in the United Arab Emirates.
Just like the proverbial little black dress, you will find the Abaya in the wardrobe of every Emirati Woman. It refers to the simple, loose over-garment, or a robe-like dress, worn by women, which basically serves as a covering. It is traditionally tailored in completely black materials. In recent times, however, with the advent of new fashion-forward styles, some abayas are tailored with some colourful embroideries around the collar or on the sleeves, and other contemporary models created like caftans, cut from light, flowing fabrics like crepe, georgette, and chiffon.
Other contemporary abaya styles include those tailored with brightly coloured fabrics and have different shapes of artwork across them, and the front open or front closed abaya. These styles differ according to regions
As these beautiful Emirati women wear the abaya, a head-scarf which covers the neck and part of the head called a hijab is often worn as part of the outfit. Some may add a niqab; which is used to cover the mouth and nose to leave the eyes exposed.
Though they rarely wear European clothing, in recent times; the younger generations like to wear fitted abayas. They are also often dressed in an extremely fashionable manner underneath the abaya which they remove when solely in the presence of women or when at home. Similarly, their love for fashion is reflected by the fact that Emirati women buy abaya made by some of the greatest couturiers such as Dior, Pierre Cardin, Chanel etc.
So the next time you think of fashion in the United Arab Emirates, think of beautiful, well-tailored colourful garments.