It is common knowledge that breakfast is the most important meal of the day and subsequently there are various alternatives to this important meal. One of the common starch alternatives is pancakes. Therefore, it is not a surprise that there is a whole day dedicated to pancakes. This year Pancake Day, also known as Shrove Tuesday, fell on the first of March. Although this is marked as the beginning of lent and the launch of spring, the day is a major celebration of one of our favourite confectionaries.
Pancakes have been around for centuries and are a staple in many cultures. Experts believe that people enjoyed pancakes as far back as 30,000 years ago during the Stone Age. Of course, this is not surprising as the recipe consists of the main basic pantry staples: Eggs, flour, and milk. In ancient Greece and Rome, pancakes were made from wheat flour, olive oil, honey, and curdled milk. Ancient Greek poets wrote about pancakes in their poetry. Shakespeare even mentions them in his famous plays. The recipes have changed and evolved, but the standard recipe and name that we are familiar with were popularised in America in the 19th Century. Today we know many variations, including toppings that are always contested. Lifestyles have also evolved leading to more creative and healthier alternatives to the pancake recipe we know. Gluten-free variants are the most common. A gluten-free diet is a nutritional plan that strictly excludes gluten, which is a mixture of proteins found in wheat. This recipe is perfect for anyone with celiac disease or anyone that just enjoys a healthy alternative.
Whether you enjoy them in the comfort of your home or a breakfast restaurant, pancakes will leave you full, happy, and definitely in a great mood. In the spirit of the season, here is our top Gluten-free Pancake Recipe:
Ingredients
3eggs

1 1/2 cups (6oz/172g)almond flour

1medium ripe banana

1 1/4 teaspoon baking powder

(1teaspoon vanilla extract) optional
Method
STEP 1:
Add all the ingredients into a blender or food processor. Blend for 1-2 minutes, stopping to scrape down the sides of the blender as necessary.
STEP 2:
Once the batter has formed heat a large non-stick pan over medium heat with a little bit of coconut oil (or any of your preferred oil alternatives).
STEP 3:
Using a 1/4 measuring cup, scoop batter and pour into the centre of the pan.
STEP 4:
Allow the pancakes to cook for around 2 to 3 minutes on the first side or until the edges are firm and browned. Flip and cook for another minute on the other side.
STEP 5:
Remove the pancakes from the pan and repeat until all of the batters has been used. This recipe makes 5 pancakes
Top with sugar-free maple syrup and fresh fruit and enjoy! Cover and store leftover pancakes in the fridge for up to 2 days.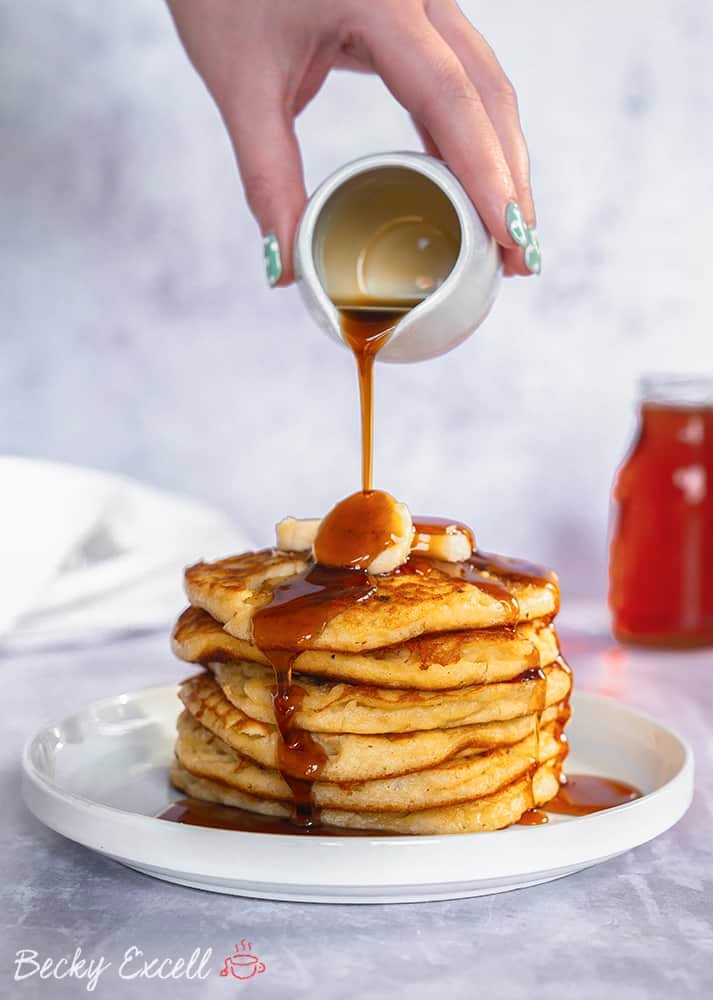 Whether you love your pancakes crispy or fluffy or with a bacon or banoffee topping watch out for our Experts Guide on the different batters in our Food and Diet section next week.