The gender imbalance seen in terms of women political representation has been a topic in most gender gatherings for decades. In a recent interview with the Amazons Watch Magazine, HON. Mrs Santi Bai Hanoomanjee, the first female speaker of the Mauritius National Assembly, bares her mind on the challenges women in political leadership are faced with and how women can brave these challenges and be more involved in the political sphere. Excerpt:
You have a track record of working in a male-dominated industry. Amazons Watch Magazine readers would love to know more about your career journey and some of your accomplishments.
Right at the start, I must say that I have always been a very determined person. This trait of my character has, to a great extent, shaped my career and brought me where I am today.
At the very young age of 19, I joined the civil service of Mauritius. Gradually, by dint of hard work and perseverance, I climbed the professional ladder until I reached the then highest rank in the civil service, that of Permanent Secretary. For your information, a Permanent Secretary is the closest collaborator of the Minister. He/she is the person responsible, amongst others, for advising the Minister on the formulation of policies of the Ministry. He/she is also the administrative head overseeing the implementation of policies decided by the Government.
At every level in my career, I have always endeavoured to bring about meaningful changes. I have served in several Ministries, including the Prime Minister's Office, the Ministry of Education, the Ministry of Agriculture, the then Ministry of Women's Rights which later became the Ministry of Gender Equality, Child Development and Family Welfare and the Ministry of Finance, amongst others. I seized the opportunity of my posting at the Ministry of Women's Rights to initiate, as far back as 1984, several projects aimed at furthering women's rights, such as, inter-alia, the review of discriminatory legislation against women, and improving the literacy rate of women in the country.
At the Ministry of Agriculture, I had the privilege to represent Mauritius in negotiations at the ACP-EU level regarding the Sugar Protocol issues and to attend lobbying missions in EU countries in that connection. I was also closely involved in the major reforms which were brought in trade at the level of the World Trade Organisation and I had the opportunity of attending negotiation meetings in Geneva.
In May 2005, I retired and started my political career by joining the Mouvement Socialist Militant political party. This decision was motivated by my strong desire to serve my country with the rich experience acquired after spending 33 years in the civil service.
In July 2005, I was elected for the first time in the largest constituency of the island and I was re-elected in the same constituency in May 2010.
I served as a Member of the Opposition in the National Assembly from July 2005 to March 2010 and also from July 2011 to October 2014.
From May 2010 to July 2011, I was appointed Minister of Health and Quality of Life and in that capacity, I focused my efforts to raise the standard of the public health services for the ultimate benefit of the population.
Finally, following the general elections of December 2014, I was elected the first woman Speaker of the National Assembly. I used my influence to advocate for the setting up of a Parliamentary Gender Caucus. I must acknowledge that my proposal received a positive response from all the political parties in the House and thus, a cross-party Parliamentary Gender Caucus became a reality in March 2017. I am currently its chairperson.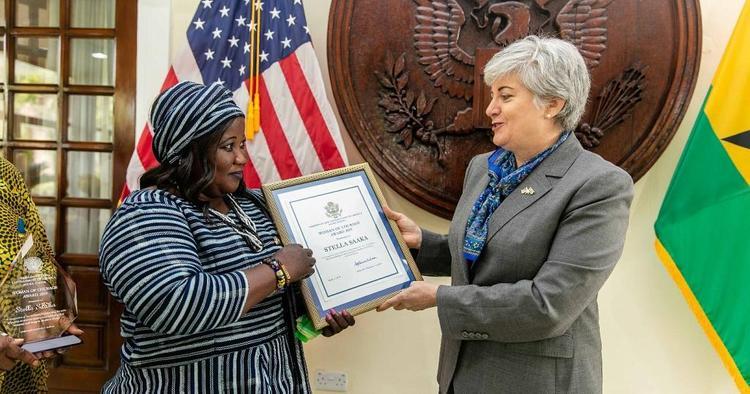 As the Speaker of the National Assembly of Mauritius and also being the first woman in the nation's history to hold this post, what will you say is the major threat to the participation of women in top executive positions?
As a woman, I would say that there are a number of socially acquired gendered roles and norms which tend to act as limiting factors to the full capacity development of women. Although women can be equally, if not more, capable and qualified as men, they always have to work harder than men in order to prove their worth.
So, having in place an accompanying conducive gender-sensitive environment remains one of the key dimensions of equitable participation at higher levels of decision making. Moreover, one of the components of a gender-sensitive structure includes the use of gender-sensitive language so that a certain level of respect towards women can be maintained.
The Parliamentary Gender Caucus of the Mauritius National Assembly commissioned a study in 2017 with a view to establishing the baseline situation on the status of gender equality in sectoral Ministries in Mauritius. The study revealed that there is no discrimination against women in the civil service. At the level of the private sector, recent studies reveal that there still exist some inequalities that need to be straightened out so as to have more women at board room level. Moreover, all sectors must respect the principle of equal pay for equal work but with equal qualifications and experience. At the same time, organisations should address barriers that remain invisible at first glance but which lead to the glass ceiling effect. These unconscious bias in the corporate world continue to be a challenge to gender equality.
Annually, the achievements and contributions of women are celebrated in the month of March. The theme for the 2019 International Women's Day is Balance for Better. From your viewpoint, what possible measures can governments take to create a gender-balanced Africa?
Across the globe, statistics reveal that gender has been a key determinant in the distribution of the benefits of social and economic development. Advancing gender equality could add USD 12 trillion per year to the economy by 2025, according to the Mc Kinsey Global Institute.
It is well-known that women comprise 50% of the global population, but have far less representation in many key cross-sections of society. For instance, the average representation of women in formal politics remains around 24% at the global level. Moreover, there is a persistent wage gap between the salary of men and women. Concurrently, the United Nations has recognized that the pursuit of gender equality through Goal 5 is a "pre-condition" for the achievement of the 16 other SDGs. The different commitments made at the regional level also call upon Governments to put in place measures for women's empowerment and gender equality. Moreover, the success of global development efforts depends on women being fully engaged, which means that they must be given the opportunity to reach their full potential at the different levels of policymaking and implementation through gender mainstreaming.
In this context, there are a number of measures, which Governments should consider adopting in order to redress existing gender gaps. The collection of gender-disaggregated data remains key to establishing the baseline to measure the existing situation on gender equality and monitor and assess progress made towards equity and equality. In this context, as the Chairperson of the Parliamentary Gender Caucus, I have taken the lead to commission a gender audit in the civil service in Mauritius to measure the status of gender mainstreaming at the policy and operational levels. The Caucus has also commissioned a participatory gender audit on the status of gender equality in the private sector with a view to making proposals to address gender gaps. As the private sector remains a partner for development, roping in the private sector to contribute to women's empowerment through public/private partnerships and corporate social responsibility measures would contribute to gender-responsive investment that would complement government initiatives and maximise on the limited resources that some African Governments are already facing.
Furthermore, Gender Responsive Budgeting should be seen as a strategy to reframe investment analysis as well as to recognise gender as a crucial factor for sustainable development.
Empowering women in Africa must start with ensuring that they have access to education. It is a fact that education enables individuals to earn their living. This, in turn, leads to improved living standards, through the fulfilment of basic needs. Concurrently, women should have access to proper health services to enable them to remain healthy, to reduce unnecessary disability and premature death. Women who are deprived of education and who are in poor health cannot earn wages and become prey to poverty. Such situations lead to a feminization of poverty.
In addition, as we are transitioning into the digital revolution, Governments should ensure digital literacy at the grass root level, especially targeting women. However, I have to admit that this will not be an easy task to achieve as it will require a lot of resources. We must bear in mind that in some remote areas of Africa, women might not even have access to a mobile phone which is the basic digital tool. Access to Internet connection remains another major challenge.
At the macro level, according to the Organisation for Economic Co-operation and Development (OECD), women in this day and age perform three-quarters of unpaid care work, with a total of around 13% of the world's GDP, which is not translated into economic power, nor accounted for in the GDP. In the context of African economies, women's work in the informal sector is also not accounted for as part of the GDP. Regulating this sector would ensure that women's economic and social contribution is acknowledged.
Eliminating Gender-Based Violence (GBV) should remain high on any government's agenda for the safety of the community. Concurrently, GBV bears both tangible and intangible costs. GBV is too costly to ignore.
Furthermore, Government policies need to appreciate the diversity of women's identities- there is not a "one size fit all policy". Government policies and programmes should be responsive to the different priorities of women from different socio-economic backgrounds, as well as cultural specificities that shape gendered power dynamics. Programmes should be formulated and implemented accordingly. The use of specific gender sensitive indicators would contribute a long way to monitor and evaluate the impact of these programmes on intended beneficiaries.
Understanding women's practical and strategic needs is a key dimension to putting in place relevant policies and programmes, with the accompanying costed action plans to address those issues that are of importance to advancing women's empowerment. Having both a top-down and bottom-up approach would ensure a diversity of representation of issues and ensure that women's practical and strategic concerns at the grass-roots are mainstreamed into government's shorter terms plans and vision.
Women sometimes find it difficult to balance a social life, family and career. What model do you use to strike a balance between these aspects of your life?
I must point out that, over and above all my professional roles, I am a mother of three daughters. As such, I have numerous family commitments. Balancing these with my demanding career and active social and political life has not always been straightforward. Fortunately, I have had the opportunity to live in a family setting where we have been socialised to value the male and female gendered roles. I have also benefited from the understanding and unflinching support of my husband and my children.
Personally, I have realised that it is very important to shortlist my priorities, relating to my work and family commitments. Quite often, I am faced with changing priorities and I have to balance what is urgent and what is important. This is where good planning of activities becomes vital.
Getting my priorities sorted out has helped me to assess the amount of energy that I should invest in my responsibilities at different levels. I always reflect carefully on what issues cannot be compromised, those that are non-negotiable and those that are important to myself, my family and my professional commitments. Being clear on these answers helps me to prioritise, to make the necessary adjustments and to plan my future course of action.
Over my 40 years of career, I have come to the realization that maintaining work-life balance requires constant adjustments, compromises, and sacrifices, but also that it is essential to take the time to spend with my family as such moments help me to re-energise and to keep working. I always strive to strike a mental and physical balance through regular exercises.
Overall, I may say that I have been able to maintain the correct balance in my life: I have had a distinguished career while simultaneously ensuring that my children also successfully complete their university studies and embark on their own professional careers.
In African countries, the participation of women in political activities is significantly low compared to the rest of the world. How do you think African women can be encouraged to get involved and break into the political sphere?
One of the strategies that have been adopted at the regional level remains the institutionalization of the quota system and affirmative action. At the international level, the Convention on the Elimination of Discrimination Against Women (CEDAW) calls upon State Parties to put in place temporary special measures to redress existing gaps.
Evidence suggests that local politics remain a platform for women to leap into national-level politics. In Mauritius, at the Local Government level, there is a positive legislative measure that stipulates that 30% of candidates for elections should be women. As a consequence, at present, there are 33% of women elected at local government level. Although I must acknowledge that women representation at Parliament level still remains low for Mauritius at only 12%.
At the level of African countries, two countries can be considered as shining examples in terms of women political representation, namely Uganda and Rwanda. Uganda's 9th Parliament comprises 38% of women as a result of affirmative action enshrined in the Constitution. As regards Rwanda, the percentage of women in Chamber is 64% as a consequence of the 2003 Rwandan Constitution which provides for a minimum of 30% quota for women in all decision making organs, covering the bi-cameral Parliament, political parties and other government bodies.
However, there is much work which is required upstream so as to reach the desired level of women participation in politics. To my mind, this work should start with the family. Both boys and girls should be provided with equal education and development opportunities. The girl-child should not be caged in gendered roles.
Providing young girls right from an early age with self-assertiveness, leadership, advocacy and lobbying skills remains crucial to shaping them into young leaders. Eminent female figures in politics, both past and present, such as Indira Gandhi, Golda Meir, Margaret Thatcher, Angela Merkel, Theresa May, should be used as role models to inspire young women aspiring to join politics.
Above all, African political leaders must be fully sensitized to the need to create space for women to join their parties. The presence of women should be welcome. This sensitization should be backed with an appropriate legislative framework to create an enabling environment. Most importantly, in the thrust to bridge the gender gap, men should be roped in as partners or as male champions pushing the cause for gender equality.