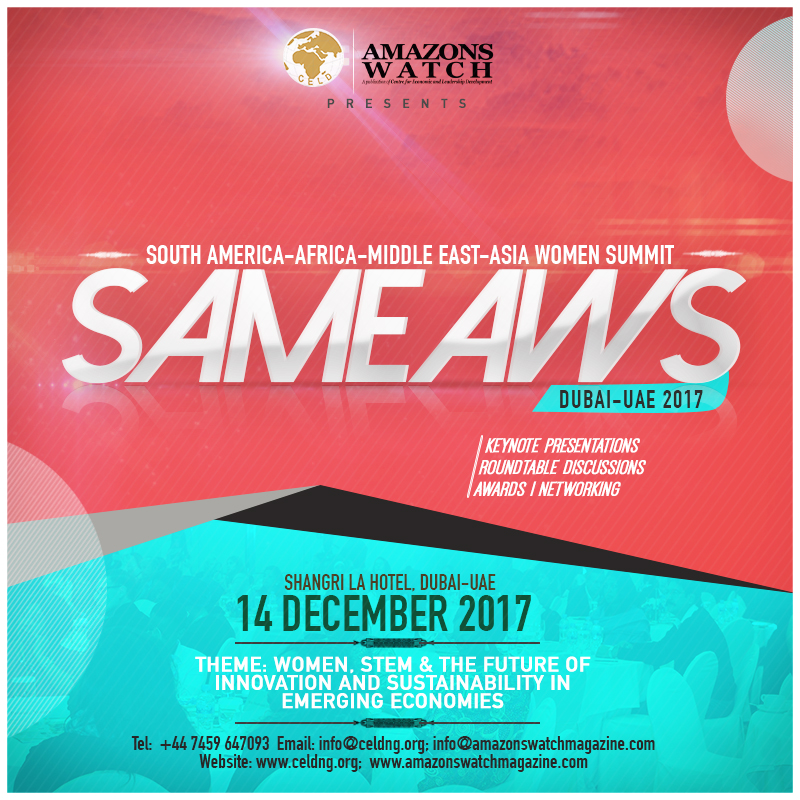 Women, STEM & the future of Innovation and Sustainability in Emerging Economies
Shangri-La Hotel, Dubai-UAE
14th December 2017.
SUMMIT OVERVIEW & OBJECTIVES
Owing to decades of world economic meltdown, the productivity growth in most emerging economies' signature industries now face threats of losing their competitive edge as well as operating below potential.
In the face of this worrisome trend, economic activities in the global scene has plummeted and realigned with rising multiple forces, including the emergence of new urban consumers, technological breakthroughs and an enormous movement of global trade.
Emerging economies can therefore, take advantage of these developments to compete favorably on the global scale and attain the status of world economic leaders in no distant time.
One way for emerging economies to lead in such elevated capacity is to pledge a renewed commitment in fostering STEM- Science, Technology, Engineering & Mathematics fields; as these fields represent the future of Innovation as well as drivers of productivity, and generator of long term economic growth and prosperity. According to the United Nations, the new global 2030 agenda will be dependent on STEM to drive robust economic and environmental sustainability as well as develop new and more sustainable ways to satisfy human needs, and empower people to pursue their own future and personal happiness.
However, in order to fully maximize the timeless gains of STEM, emerging economies needs to find urgent solutions to the underrepresentation of women across all STEM fields. With the numerous empirical proof of the business case for diversity and inclusion as crucial to innovation and development of new ideas, it is therefore imperative, now more than ever, for these economies not to jeopardize a whopping 50 percent of its creative genius, its innovation, and economic drivers- women.
In the same vein, as innovation increasingly serves as a key differentiator for world economic leaders, promoting gender diversity in STEM has become a key requirement to bring on board different perspectives, foster creativity and power the region's innovation strategies.
Such diversity of exchanges is most needed in developing nations where there is a growing challenge of limited energy access, food insecurity, and poor access to water and related diseases, over exploitation of natural resources, etc.
While a lot of work has been put into understanding and tackling gender diversity in STEM, there is little knowledge on how this gap influences and intersects with innovation and sustainability in emerging economies.
Therefore, the 5th edition of the South America- Africa- Middle East Asia Women Summit aims to bring together women leaders, representatives of heads of government, global private sector thought leaders and academia across all STEM fields– to explore the double impact of harnessing gender diversity to deliver robust innovation and sustainability in emerging regions as well as create new applied knowledge and evidence based practices.
The summit will engage participants from South America, Africa, Middle East and Asia in research-driven and thought-provoking discussions over the course of two days.
CONFERENCE KEY HIGHLIGHTS
The South America-Africa-Middle East-Asia Women Summit shall have the following key components:
High level Keynote Presentations
First Ladies on a Mission Session Part 2 (Part 1 is took place in New York on 21 September 2017).
Gender, Science & Innovation Session
The Transformational CEOs: A Panel Discussion with Global Female Economic drivers.
Gender, Technology & Innovation Session
Gender, Engineering & Innovation Session
Gender, Mathematics & Innovation Session
High Level Innovation Session: A showcase of diverse innovations for tackling global challenges specific to developing nations.
Amazons Watch Magazine Showcase and Awards to women and organizations across all regions, who are working to promote innovation and development in their communities as well as those championing the participation of girls and women in STEM, in a bid to encourage a replication of more efforts in this direction.
Unrivalled Networking Opportunities
For more information on participation and sponsorship, please contact our office, as shown below-
Centre for Economic and Leadership Development
C/O Amazons Watch Magazine
Portsmouth Technopole, Kingston Crescent
Portsmouth, PO2 8FA
United Kingdom.
Tel: +44 7459 647093
Email: info@celdng.org; info@amazonswatchmagazine.com
Website: www.celdng.org; www.amazonswatchmagazine.com