Usually, when embroidery is mentioned, we think of the different fabrics that are usable and the intricate designs that go on these fabrics to produce an entirely stunning piece of cloth.
For Jordanian sisters, Nisreen and Nermeen Abu Dail, incorporating embroidery with sculpture have become their very unique medium to create exquisite and elegant pieces. Their works which have incorporated a blend of Contemporary and Traditional Arabic basics to all their designs have taken the world of sculptural architecture by surprise.
Founded in 2010, Naqsh Collective has grown into a collection of furniture and household pieces combining new and cutting-edge technology with an architectural feel in their inspiration to give their designs "soul".
The sisters, each with the work strengths have put their talents together to create all their designs; Nisreen is an Architect by training which gives her the knowledge and view on how to merge art and design seamlessly, while Nermeen has a degree working as an excellent Graphics designer. Both sisters with their respective backgrounds work together to create pieces that have been featured at so many exhibitions and events. In a statement, Nermeen said "Nisreen is an architect and I am a graphic designer so we somehow complement each other when we make one piece. Like you see her lines and you see my chaotic world of shapes that come together and form something".
In most designs created by the sisters, there is always an element of their heritage embedded in it to give it a feel and vibe that relates with the Arabic culture. Before settling for the widely known embroidery designs, the sisters had earlier tried to work using Islamic patterns and calligraphy. For them, working with embroidery is more expressive and can be replicated or adapted to reflect the intent of their designs.
For Nermeen, she is excited by how much the art of embroidery has moved from India through to Pakistan, Jordan, and Syria, with each stop incorporating its patterns and motifs into the designs. This is why they are particular about the Naqsh Collective because it showcases the rich Arabian heritage with a modern twist on a contemporary medium like furniture.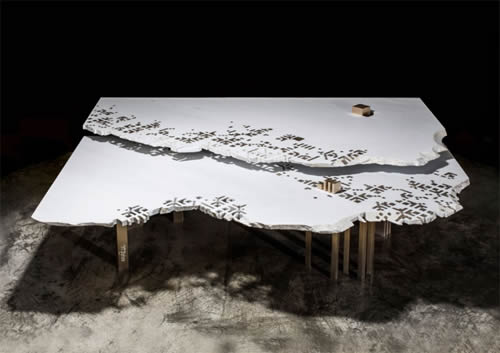 The collection, Wihdeh Collection as designed by the sisters uses embroidery to create low table units cut from stone and marble to give it beautiful and stunning finishing. For the tables, a large amount of materials for the sisters' home country is used like the basalt to tell a long-lasting story of Arabic history whilst reflecting the spirit of unity.
Nisreen always tells people she takes a piece of Jordan whenever she travels, referring to the massively abundant Jordanian stone, Basalt. The stone is quite rare across the world but exists in large amounts in Jordan and very common during the Roman period to build large amphitheatres and columns.
Nisreen and Nermeen Abu Dail are proud of their heritage and are always enthusiastic when they have to work a new design; it means they can work on a piece that will showcase the rich history of Jordan in its designs. Art for them is expressive, and their chosen media helps them to show how they feel about their heritage.
Twitter: @naqsh_d_h