What better way to show someone that something is achievable than to point them in the direction of someone who actually did? Not just anyone but someone with a similar background as their own.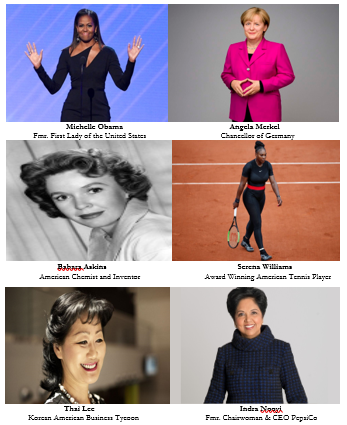 Despite the efforts of the women's movement across the globe women are still largely marginalized in terms of their participation in political, economic and social processes that affect them the most. The 21st-century woman has found her voice yet the percentage of women having a powerful role in different sectors is not reflective of her efforts. She is still not paid enough and there are still sectors she is nervous to approach and this is partly because she has believed that certain goals are not possible to achieve. At the same time venturing into a certain profession with no real guidance, no known success stories, no knowledge of what is required to succeed and no real motivation is a challenge for many young women. This is where role models such as Michelle Obama come in yet one of the biggest obstacles young women face is their absence.
What is a role model? A sociologist Robert K. Merton was the one who coined the term to describe the ways that people model sets of behaviours they admire in others. A role model is a person whose behaviour, example, or success can be emulated by others, especially younger people.
So why should women have female role models? Research has led to the conclusion that women benefit more from same-gender role models as compared to men. These are the people whom young women use to define their own identities, gauge their own potential and whose behaviour they will emulate. Let's explore this idea in greater detail.
Confidence. It often feels intimidating to venture into new territory that no one (you know) has ventured before. It is easier to believe in the possibility of positive change if it happens to someone who had circumstances that are similar to your own. Female role models are important because they instill confidence in young women. Evidence has shown that exposure to female role models may be an effective way to induce more women to major in male-dominated fields. Accomplishments of women such as Barbara Askins – (an American chemist, known for her invention of a method to enhance underexposed photographic negatives, an invention used by NASA and the medical industry) in the Science, Technology, Engineering, and Mathematics (STEM) have instilled confidence in young women that they can successfully venture into the same field. A woman needs to see confidence, leadership, and accomplishment in other women in order to envision herself ad finally attain those qualities from these powerful, positive role models (Meier 2018). Jenny Willott; a British Member of Parliament was quoted by the Chartered Management Institute (2014) saying: "Role models encourage women to believe in their own abilities – from girls at school making decisions about their future, to young women starting their careers wondering how far they can get." Hence female role models are important because they instill confidence in young women in that they quench the need these women have to see people like themselves succeeding in similar fields.
Inspiration through the provision of practical knowledge. "It is achievable. It is not too late for me." This and similar positive outlooks are born from the inspiration that comes with female role models for young women. Hope is what keeps us alive. It is what drives us and determines our goals, plans subsequently our actions. Female role models such as Oprah Winfrey who rose above major hardships to become very influential are giving young women hope for a better future in different sectors. In the Lockwood and Kunda's research (2006) demonstrated that an important part of the value of role models is that they are symbols of possibility and offering inspiration. Without female figures such as Serena Williams in the field of sports to look up to, girls miss out on the encouragement, inspiration, and exhilaration that can come from looking up to, and cheering for, a sports idol. (Huggins and Randell 2007) Examples of success stories provide young women with more easily imaginable visions of the success experienced by the role models hence in their minds it becomes attainable and replicable.
Learning from experiences. Female role models also provide the methodology towards success. Their experiences can answer the "How did you get there?" question. Young women can draw a lot of lessons through hearing how their role models came to face challenges and found the right solutions. These are the women who have successfully navigated the career these young women eventually hope to achieve. Looking at role models such as Thai Lee – the Korean American billionaire businesswoman, and president of SHI International, one can learn a lot from her life story and deduce lessons as to how she found herself at the top.
Enforce a positive view of women. Female role models are important in the changing of societal perceptions of women. With the birth of influential female role models, there has been a favourable shift in the societal perception of the role of women, which has led to increased participation in the formal labour employment and other economic activities. Female role models have often been the catalysts that challenge gender stereotypes. For example, through their achievements, elite female athletes dispel the misconception that sport is not biologically or socially appropriate for females. When more and more women are seen in the top of organizations and running high growth technology businesses, the more this will be regarded as the standard and a perfectly normal, and logical, path to choose.
Work beyond inspiring. Michelle Obama kick-started health, education, and other programs as soon as she got into the white house. This is but one of the examples of how female role models have been directly having a positive influence on the fight against poverty, exploitation, and oppression through their advocacy efforts. Nowadays most female role models advocate for opportunities for girls and other women.
Promotion of Ethical Leadership. Recently there has been a focus on the creation of ethical young leaders as part of developmental efforts with special attention being given to efforts in encouraging ethnic leadership in young women. Female role models are commonly expected to behave in an ethically extraordinary manner. It is often assumed that SRMs must be moral exemplars worthy of emulation.
Increased participation of women. Ultimately female role models lead to increased participation of young women. It is argued that 'The use of high-profile female sports ambassadors and role models can [also] be effective in promoting female participation. More visible women as decision-makers as well as displayed female leadership skills may motivate women and girls, thus increasing female participation at all levels in sport (UN 2007).
Not all role models have a positive influence. Unfortunately, however, the term role model does not always entail positive influence. Young women encounter both positive and negative role models. Success does not necessarily translate into being a role model. Young women are then faced with a task to evaluate virtues, values, and expectations when looking at potential role models.
The importance of female role models indeed cannot be undervalued. Female role models are important in the context of achieving gender equality and generally in the context of positive social change in society. In the end, there is nothing more powerful than the impact of a woman's effort to uplift another.
By Karen Whitney Maturure
Harare, Zimbabwe