Sonia Maria Sotomayor is the first from Latina origin and the third woman to sit on the bench of the United States Supreme Court. Throughout her career, she has distinguished herself for her work on issues of race, gender, and ethnic identity, which she continues to do during her tenure in the Supreme Court. She backed the informal liberal bloc of justices when they showed dissents along the commonly perceived ideological lines. Considered a feminist and minority icon, she has drawn severe criticism from American right-wing activists.
Her Early Life
She was born on June 25, 1954, in The Bronx, New York City, to Juan Sotomayor and Celina Báez. She has a brother, also named Juan Sotomayor, who has worked as a physician and university professor in the Syracuse, New York, area. Her parents, who are Puerto Ricans, migrated into America separately. Both eventually met and got married in the US. Celina served in the 2nd world war as a member of the Women's Army Corps, while Juan worked as a dying worker owing to his low educational background.
Growing up, Sotomayor lived in the Puerto Rican communities in the South Bronx and East Bronx. She grew up in a Catholic home and later came to identify herself as a "Nuyorican", a portmanteau of the terms "New York" and "Puerto Rican". Initially, the family stayed in a South Bronx tenement and in 1957 but later relocated to the well-maintained, racially and ethnically mixed, working-class Bronx dale Houses.
Her academic life was impeccable but she had a lot of issues at her home. Her father was an alcoholic and her mother was emotionally distant. She only had the support of her grandmother which she described to be the source of "protection and purpose." At seven, she was diagnosed with type one Diabetes and immediately started taking insulin injections.
When she was nine (9) years old, she lost her father and her mother became more distant until her adulthood. Though distant, Celina gave Sonia and her brother Juan good education. She stated that her mother has been the greatest inspiration in her life. She was also influenced by the fictional character Nancy Drew. She became interested in becoming a judge after she started watching CBS' 'Perry Mason' television series. On the death of her father, she took extra efforts to become fluent in English. She attended Blessed Sacrament School and became the valedictorian with a near-perfect attendance record. She then studied at Cardinal Spellman High School in The Bronx, where she was part of the forensics team and was chosen as a representative in the student government. In 1972, she graduated high school as a valedictorian.
Her college and Career
She enrolled at the Princeton University on a full scholarship in 1972 owing to her impeccable academic performance and the best out of the candidates that applied. It was difficult in her early months at Princeton where assimilation was an issue. There was a significant gender gap at Princeton where few women were students. The number of Latino students was even more discouraging. She experienced difficulties in writing and did not possess enough knowledge of the classics. So she worked hard, spending long hours in the library and got a professor to help her out during the summer. This was the beginning of her political opinions. She was elected to co-chair the Acción Puertorriqueña, a student organization dedicated to building a large, united and healthy Puerto Rican community with a strong cultural identity in the Princeton campus.
She led the movement that brought a Latino faculty to Princeton. She was also active outside of the school. She headed an after-school program for local children and served as an interpreter for the Latino patients at Trenton Psychiatric Hospital.
She graduated from summa cum laude from Princeton in 1976 and enrolled at the Yale Law School in the fall of the same year on scholarship. She thrived at Yale unlike her experience in Princeton. She maintained good grades and was very active on the campus. She co-chaired a group for Latin, Asian, and Native American students and continued to advocate for hiring Hispanic faculty.
She landed her first job as an intern at Paul, Weiss, Rifkin, Wharton & Garrison, a prominent law firm in New York, after her second year. Her performance there, by her own admission, was not particularly good and she was not offered a full-time position there. She cites this experience as a "kick in the teeth". In 1979, she earned her J.D. from Yale and a year later, joined the New York Bar.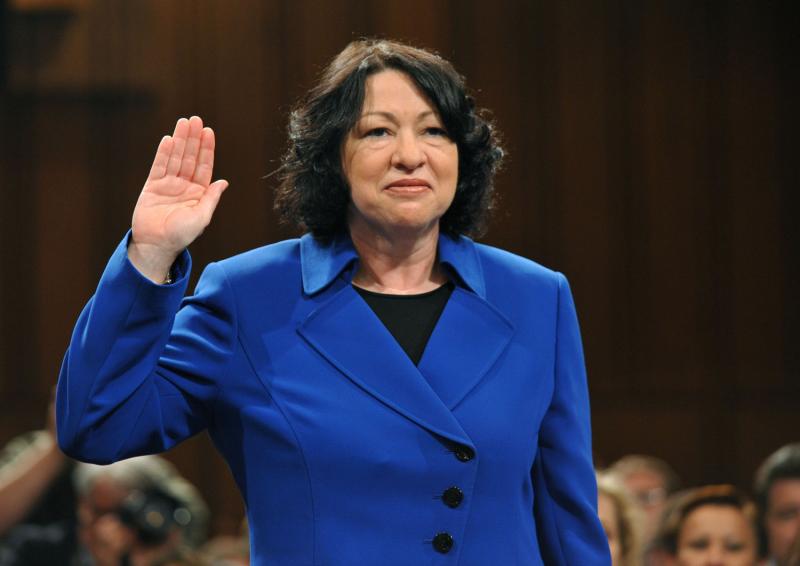 Photo source: FOX News Radio
Straight out of law school, in 1979, Sonia Sotomayor landed the job of an assistant district attorney under New York County District Attorney Robert Morgenthau. The response to her appointment with her community was conflicting, so were the emotions within her. She had to overcome her inherent shyness and muster enough courage to venture into rough neighbourhoods to interview witnesses.
Legal Career
In 1983, she was instrumental in convicting the "Tarzan Murderer", who gained notoriety in the early 1980s for entering into people's apartments acrobatically and proceeding to rob and shoot the occupants. In 1984, she became an associate at a commercial litigation practice group named Pavia & Harcourt. While she had no prior experience in civil litigation, she learned on the job as her firm used her extensively. She was also involved in visible public service roles.
Despite not being connected to either political party as she was a registered independent, she held several important positions in the state government, including as one of the founding members of the New York City Campaign Finance Board from 1988 to 1992. Between 1980 and 1992, she served on the board of directors of the Puerto Rican Legal Defense and Education Fund.
While her impressive credentials had long marked her as a prospective federal district judge, her centrist political views had prevented both parties from recommending her. It all changed when Democratic New York senator Daniel Patrick Moynihan recommended her for a post. She was subsequently nominated on November 27, 1991, to a seat on the U.S. District Court for the Southern District of New York by President George W. Bush and was confirmed by the unanimous consent of the US Senate on August 11, 1992. She got her commission the following day. Her tenure as a district court judge was mostly uneventful. She demonstrated that she had no qualms about ruling against the government and received high ratings from liberal public-interest groups, while other groups considered her as a centrist.
After being nominated by President Bill Clinton to a seat on the U.S. Court of Appeals for the Second Circuit on June 25, 1997, she encountered staunch opposition from the Republican majority in the Senate as they believed Clinton had plans to make her a Supreme Court justice during his presidential tenure. Eventually, however, she was confirmed on October 2, 1998.
During the ten years, she served on the second circuit, over 3,000 cases were brought before her and she penned down about 380 opinions where she was among the majority. She gave rulings on various significant issues, such as abortion, first, second and fourth amendment rights, alcohol in commerce, employment discrimination, civil rights, and property rights.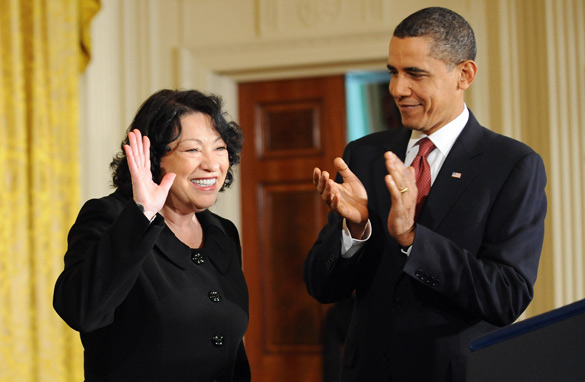 Photo source: Politicalticker.blogs.cnn.com
On Obama's Barack Obama became the 44th President of the United States, Sotomayor started to be seriously considered for a Supreme Court seat. She was nominated by the President on May 26, 2009. While her candidacy was embraced by the Democrats and liberals, it faced heavy criticism from the Republicans and conservatives.
Right-wing personalities such as Rush Limbaugh and Newt Gingrich called her a "racist", referring to a comment she had made in a 2001 Berkeley Law lecture, when she had said, "I would hope that a wise Latina woman with the richness of her experiences would more often than not reach a better conclusion than a white male who hasn't lived that life."
She was confirmed by the full Senate by a vote of 68–31 on August 6, 2009, effectively becoming the first justice of Hispanic ancestry and the first Latina in the Supreme Court. On 8 September, a ceremony was organized to formally welcome and invest her into the Court.
She administered Vice President Joe Biden's oath of office for the inauguration of his second term on January 20 and 21, 2013. She is the fourth female Supreme Court judge to have such a distinction. She has gradually emerged as the most liberal voice in the US Supreme Court in recent history.
She has constantly sided with the progressive side in her rulings. However, that does not mean there have not been any exceptions. Demonstrating individuality, she agreed with Ruth Bader Ginsburg against fellow liberals Stephen Breyer and Elena Kagan on the issue of the constitutionality of the Obama health care law favouring the poor and disabled.
Her other prominent rulings include the 2011 J.D.B. v. North Carolina when the apex court decided that age is relevant when determining police custody for Miranda purposes; the 2012 United States v. Alvarez, which resulted in the Court striking down the Stolen Valor Act; and the 2012 Arizona v. the United States, which nullified several features of the Arizona SB 1070 anti-illegal immigration law.
Accolades/Achievements
In 2013, Sotomayor published her memoir, titled 'My Beloved World', through Alfred A. Knopf. She has been a life-long fan of the New York Yankees. In 2016, Sonia Sotomayor received the Hispanic Heritage Award for leadership. She won the Lifetime Achievement Award at the 9th Annual DVF Awards in 2018.
Through hard work and dedication, Sonia Sotomayor has accomplished everything she has set out to do. She has demonstrated that as long as you put your mind to something, you can do it! She is a perfect role model and a prime example that anything is possible. She is a great representative of the Hispanic community and is considered a hero!
By EMEKPO CHARLES.