Dr Ngozi Okonjo-Iweala is a Senior Adviser at Lazard and Chair-Elect of Gavi. She was previously the Minister of Finance in Nigeria and Coordinating Minister for the Economy. In this role, Dr Okonjo-Iweala was responsible for managing the finances of Africa's most populous nation and one of the world's fastest-growing economies. From December 2007 to August 2011, she was Managing Director of the World Bank where she had oversight responsibility for the World Bank's $81 billion operational portfolios in Africa, South Asia, Europe and Central Asia. She also spearheaded initiatives to assist low-income countries during the food crisis and later the financial crisis, and chaired the raising of $49.3 billion in grants and low-interest credit for the world's poorest nations.
In her first role as finance minister of Nigeria, Ngozi Okonjo Iweala led the team that negotiated an $18 billion debt write-off from the Paris Club in 2005. Okonjo-Iweala also introduced the practice of publishing the monthly financial allocation to each state from the federal government in the newspapers. She played an important part in Nigeria obtaining its first-ever sovereign credit rating (of BB minus) from Fitch and Standard & Poors.
Prior to her government service, she had spent 21 years at the World Bank, rising to the position of Vice President and Corporate Secretary.
Dr. Okonjo-Iweala serves and has served on numerous boards and advisory groups, including the Rockefeller Foundation, the African Institutes of Science and Technology, the Center for Global Development, the Clinton Global Initiative, and the newly-formed African Risk Capacity – an institution of the African Union charged with ensuring African countries against the risk of climate change. In 2011 and 2012 she was named one of the 100 most powerful women in the world by Forbes, and one of 100 Top Global Thinkers by Foreign Policy. A Distinguished Fellow of the Brookings Institution, she is also the author of several books and articles, including Reforming the UnReformable: Lessons from Nigeria, recently released from MIT Press.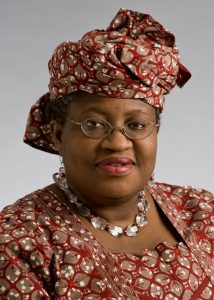 Dr Okonjo-Iweala earned a bachelor's degree in economics from Harvard University and a PhD in regional economics and development from the Massachusetts Institute of Technology. She is the recipient of numerous awards, including honorary doctorates from institutions such as Brown University, Trinity College Dublin, and the University of Pennsylvania; the President of the Italian Republic Gold Medal Award by the Pio Manzu Centre, and the Global Leadership Award from the Chicago Council on Global Affairs.
The Harvard-educated economist has risen to become one of the most respected economists in the world. She is an inspiration and a pride of Africa.