By: Hewater Liu
The women's federation in the Jinghu District of Wuhu, a city in east China's Anhui Province, has in recent weeks held various activities, in cooperation with local government departments, social service centers and other organizations, to help impoverished children living nearby.
Twenty children learned about safety education and self-protection, as well as other topics such as the 2016 Rio Olympic Games and the 73rd Venice International Film Festival, during a gathering on August 5.
Furthermore, staff members from Jinghu Women's Federation, local entrepreneurs and volunteers distributed learning materials and publications connected with water safety to children at an event held at Fang Village on August 31.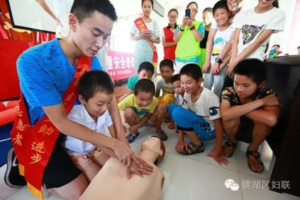 At the same time, Ma Benxuan and Zhu Cuihua, two representatives of local inspirational families, spoke with local teenagers about their stories, aiming to inspire them to follow family education closely and observe traditional Chinese virtues in their daily lives.
In addition, the federation, Jinghu District Committee of the Communist Youth League of China, and Fang Street Office co-sponsored an educational event at Fang Village to further increase local children's awareness of keeping safe during the summer vacation.
Two professionals were invited to lecture on protection against drowning, traffic accidents and other dangers in youngsters' personal lives.
Local children from rural migrant families also pledged to form a bond with charity-minded people, who would provide them with needy assistance in both their academic studies and personal lives.