A woman who has lived in the UK for nearly 30 years with her British husband has been deported to Singapore.
Irene Clennell, 53, says she was forced to board a plane without warning on Sunday, after being held for nearly a month in an immigration detention center in Scotland.
She had been living near Durham with her husband, two British sons, as well as a granddaughter, in the UK.
For a year before she was detained, Mrs. Clennell was the sole caregiver for her husband John, a former gas engineer, after he had an arterial bypass and suffered complications from a hernia.
"My husband is so stressed. He's not well enough to travel," Mrs. Clennell told BuzzFeed News earlier last month. "He's in constant pain and there's no one to look after him properly.
"I just want to be with my family. I don't have anything in Singapore. I don't have a house to go to, I don't have a job. I feel closer to my mother-in-law and sister-in-law here than my family in Singapore. My parents are both dead and I only have one sister there and we're not that close," she added.
Mrs. Clennell first came to the UK as a tourist in 1988 and liked it so much she stayed to work in a hotel. She was given indefinite leave to remain in the country after marrying Mr. Clennell in 1990, but lost this when she returned to Singapore to care for her parents when they were dying.
She has now become a victim of the spousal visa minimum income requirement, which was recently challenged in the Supreme Court but upheld. The Court ruled last week that Theresa May's policy of not allowing anyone who earns less than £18,600 to bring their husband or wife to the UK is lawful, but acknowledged it causes "significant hardship".
Critics have described the policy as "tearing families apart" and say it only gives rich people the right to a family life in Britain.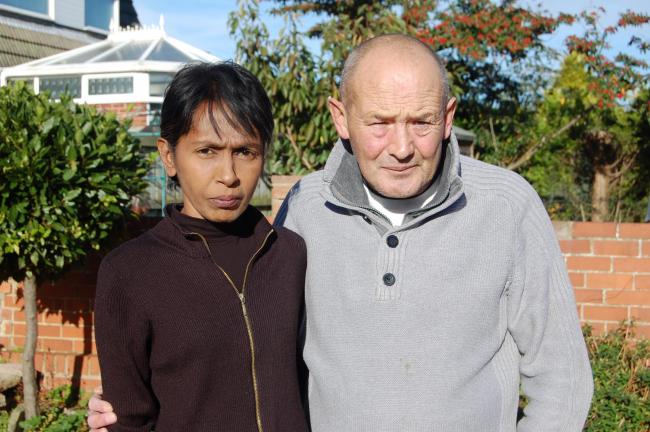 Having exhausted all other options, Mrs. Clennell relied on visitor visas for several months before she was detained, while she tried to find an alternative.
She was eventually told that she was over-staying and to make preparations to leave the country. When she did not do so, she was taken to Dungavel Detention Centre in South Lanarkshire at the start of February.
Mrs. Clennell also told the BBC she was put in a van and taken to the airport from Dungavel. She told the broadcaster she was unable to contact her lawyer and did not have the chance to get any clothes from her home.
Her sister in law, Angela told the Guardian she made numerous phone calls to immigration solicitors, but all their offices were closed for the weekend.
She said her sister-in-law only had £12 in her pocket when she was removed from the country.
Earlier this month, Mrs. Clennell told Buzzfeed she was afraid of returning to Singapore. "I feel British. When I'm here I feel at home," she said. "If I go to Singapore nobody will accept me there because they see me as a British woman. I wear Western clothes and my whole culture is here."
John Clennell said he was struggling without his wife. He worked full-time until he got ill in 2015, but he now survives on sickness benefits and needs help with everyday tasks.
He told Buzzfeed News: "I just can't believe this is happening. It's a disgrace. She hasn't claimed any benefits here and I've worked nearly all my life, so I can't see what the problem is. She doesn't cost the state anything.
"I miss her. She's been looking after me and it's so hard without her. She helps me get out of the bath and my toilet needs and she cooks my meals. My mum has to help now. She's getting on a bit. What else can we do?"
"The Home Office said if she went to Singapore we can communicate using modern technology. When Irene told them she looks after me, they said why don't I go over to Singapore then. But why should I? I'm British."
Source: Independent