Women and men alike came out en masse to vote for their choice candidates in the just concluded presidential elections in Iran. Voters have said that beyond the polls, the winner will influence not only Iran's immediate future but also the looming battle to choose a new Supreme Leader
Millions of Iranians have voted in a bitterly contested presidential election that has pitted hardliners against reformers and is expected to set the country's direction for a generation.
Supporters determined to hold on to those changes flocked to voting stations across more liberal areas of the capital, Tehran, where hundreds welcomed their reformist political heroes with a frenzy saved for film or rock stars in other countries.
A sea of smartphones and chants of "We love you" greeted politicians and turbaned clerics throughout the morning, as they cast votes in a memorial hall favored by prominent reformers.
The incumbent, President Hassan Rouhani won re-election in a landslide on Saturday, giving him the mandate to continue his quest to expand personal freedoms and open Iran's ailing economy to global investors.
Perhaps as important, analysts say, the resounding victory should enable him to strengthen the position of the moderate and reformist faction as the country prepares for the end of the rule of the 78-year-old supreme leader, Ayatollah Ali Khamenei.
Of the 41 million votes cast, the Interior Ministry said, Mr. Rouhani won 23 million (or 57 percent), soundly defeating his chief opponent, Ebrahim Raisi, who received 15.7 million (38.5 percent). Iranian state television congratulated Mr. Rouhani on his victory.
Despite the healthy margin of victory, Mr. Rouhani, 68, will face considerable headwinds, both at home and abroad, as he embarks on his second term. He badly needs to demonstrate progress on overhauling the moribund economy.
While he accomplished his goal of reaching a nuclear agreement with the United States and Western powers in his first term that has not translated into the economic revival he predicted because of lingering American sanctions.
He must also deal with an unpredictable and hawkish Trump administration that only reluctantly signed the sanctions waivers that are a central element of the nuclear agreement. At a summit meeting this weekend in Saudi Arabia between President Trump and leaders of predominantly Muslim countries, Iran was pointedly not invited.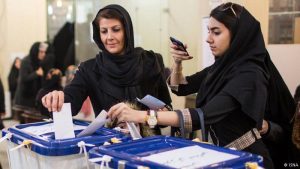 The Trump administration's national security officials are on record as considering Iran the source of most of the Middle East's troubles, while the Republican-controlled Congress is not about to loosen the unilateral sanctions that are frightening off foreign banks and businesses.
Mr. Rouhani, who has managed to mend ties with the European Union, is undaunted, saying only last week that, "We will break all the sanctions against Iran."
After his victory on Saturday, he said after invoking the name of God: "With more than 41 million of your votes, you have pulled out the history of our country away from inertia and doubt." He made a point of mentioning the name of Iran's former reformist president, Mohammad Khatami, whose name and portrait have been banned by state television and all domestic print media. "I will keep my promises," Mr. Rouhani added.