By: Jeannette I. Andrade
A Saudi Arabian woman who was reportedly seeking asylum in Australia but was off-loaded from her flight at the Ninoy Aquino International Airport (NAIA) was repatriated Monday night.
On the request of officials from the Saudi Arabian Embassy in Manila, Dina Ali Lasloom was off-loaded from her Australian-bound flight at the NAIA Tterminal 2 and put on a 10:30 p.m. Saudi Airlines flight to Jeddah at the NAIATterminal 1.
Lasloom was a passenger of a Philippine Airlines flight PR 669 from Kuwait to Manila, which arrived at 3:30 am Monday, and was supposed to take an 11 a.m. connecting flight to Sydney, Australia the same day.
According to personnel at the NAIA Terminal 2, the group from the Saudi Arabian Embassy were the persons with Lasloom in the video, which the group calling itself the Saudi Arabian Female Empowerment (SAFE) Movement posted on Twitter.
The video was taken inside the NAIA Terminal 2 transfer lounge.
One of the NAIA personnel, who spoke on condition of anonymity, claimed that a member of the group from the embassy introduced himself as Lasloom's father, which the woman denied.
"She (Lasloom) kept telling us: 'They will kill me if I go back'," the source told the Inquirer, adding that the Saudi woman had also claimed that the man introducing himself as her father was just her uncle.
The source said that Lasloom had apparently shared her story with a fellow foreign passenger at the NAIA Terminal 2 transfer lounge and that same passenger had put up the posts on Twitter.
The posts from SAFE stated Lasloom was on her way to Australia to seek asylum. But "some airport officials took her passport away and prevented her from continuing her flight to Australia."
SAFE further said: "We demand the government of the Philippines immediately returns (sic) the passport of Dina Ali Lasloom to her. We hold the government of the Philippines responsible for the safety of Dina Ali Lasloom. We also urge all human rights organisations, the United Nations and governments of the free world to intervene to prevent the extradition of Dina Ali Lasloom to Saudi Arabia."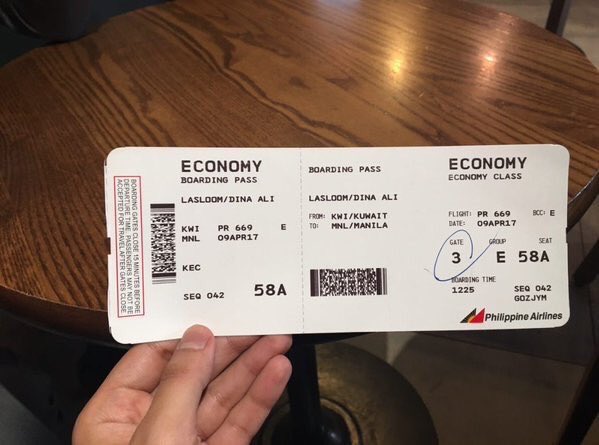 According to the source, the Saudi Arabian Embassy officials were already waiting for Lasloom and already had her off-loaded from the flight to Australia when she arrived at the NAIA Terminal 2.
Apparently to make her calm down, the embassy officials agreed to back off a bit, making arrangements for her transfer to NAIA Terminal 1 for a flight back to Saudi Arabia, which Lasloom knew nothing about.
The Bureau of Immigration maintained that they had never held Lasloom. But some of immigration personnel escorted her to the NAIA Terminal 1 for her 10:30 p.m. flight to Jeddah.
A report obtained by the Inquirer from NAIA said that Lasloom was initially made to believe that her transfer between terminals was for "a better and more convenient lounge."
It was already boarding time for the flight when she was formally turned over to the custody of the embassy officials for the flight back to Saudi Arabia