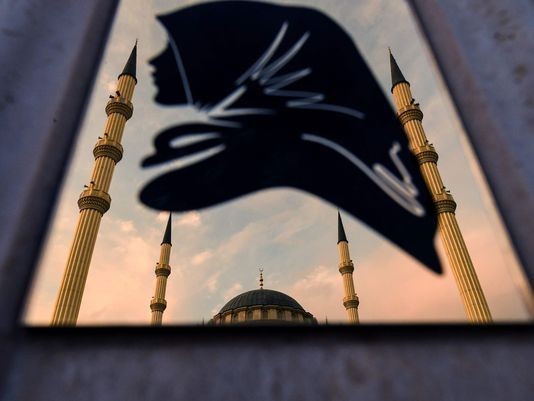 By: Anna Arutunyan
Women in this ultra-conservative region have long suffered repressive conditions because of strict Muslim doctrine practiced here. Now they face a new threat: pressure to reunite with divorced husbands in the name of family values.
A commission dominated by religious leaders in the autonomous Russian republic of Chechnya convened over the summer with the goal of bringing estranged couples back together. More than 1,000 divorced couples have been reunited so far, even though some may have been in abusive relationships.
"We've got to wake people up, talk to them, and explain. We've got to return the women who left their husbands and reconcile them," Ramzan Kadyrov, head of the Chechen Republic, told local media.
Heda Saratova, a human rights activist who has become loyal to Kadyrov, defends the move even though its objective is to persuade women back into marriages they had chosen to leave.
"They are trying to tell us that there is pressure and coercion in Chechnya. Well, what's the alternative? That these women remain alone?" said Saratova. "Where is it where you can say that a divorced couple is better than a whole family? … Children from a full family are different than those from divorced families."
This Chechen capital has seen a glittering overhaul since Russia fought two wars here in the 1990s to quash separatist campaigns. Chechnya today remains loyal to Moscow but maintains its own language and customs, and is devoutly Muslim. It is ruled with an iron first by Kadyrov, who has faced numerous allegations in Russia and abroad of human rights abuses and imposed strict Islamic codes that run counter to Russian law.
In Grozny, most women wear headscarves and long skirts and are seen outside in pairs or with a male relative. They say the strict social mores are part of resurrecting Chechen traditions.
"What a Chechen fears most is the disapproval of his mother or father, more than the criminal code," said Anzor Matayev, a prominent publisher in the capital. "And society is closely knit, everybody knows each other."
Svetlana Gannushkina, a Moscow-based human rights advocate for a refugee group, the Civic Assistance Committee, said of the women reunited with ex-husbands: "It's quite possible they left (the marriages) because of abuse. Moreover, if they are forced to reunite, that could create conditions for abuse."
Gannushkina cites a growing number of cases of Chechens living outside of Russia in more liberal Western societies who send their daughters here to be "re-educated."
Gannushkina said she recently helped a 19-year-old whose mother brought her to Chechnya. "The girl (was) beaten and strangled, and her documents (were) taken away," Gannushkina said. "She was told that she will be made into a Chechen woman."
Gannushkina said there also have been "honor killings," in which women are murdered by family members for violating strict limits on sexual behavior that bring shame to the family.
Saratova said violent cases "are not talked about. I've heard about it. But there are no facts. It's kept in shadow."
Such repressive mores are not unique to Chechnya. They also reflect a nationwide conservative trend that Russian President Vladimir Putin has fueled.
Putin ordered the government in 2012 to "support institutions that are carriers of traditional values" and "strengthen the traditions of the people of Russia."
Conservative laws followed, including one making it an offense to promote homosexuality among minors.
This year, Russia passed a law decriminalizing "battery within families," a move backed by the Orthodox Church and conservatives supporting "family traditions." But it sparked concerns about violence against women in a country where an estimated 36,000 females are beaten by their male partners every day, according to Amnesty International.
In August, organizers of a feminist group said they were questioned for hours by police after receiving threats from local Cossacks, a conservative ethnic group in Russia's southern Krasnodar region. Instead of protecting the feminists from the Cossacks, the police took up the Cossacks' complaints and accused the feminists of extremist activity.
"The (police) were talking to us loudly, threatening to arrest us," and intimidating the activists by demanding to know why they showed up in the area "without (their) husbands," said Taisia Simonova, one of the organizers of the group.
Rights activist Gannushkina says the conservative push by Moscow encourages Chechnya's repression of women.
"All of this is just a way to maintain power," Gannushkina said. "By pressuring family, by making everyone responsible for everyone else. They are doing this because Moscow allows it."