Orlando Herran, the Colombian lawyer for the accused Australian drug mule, has told Channel Nine's 60 Minutes program that Sainsbury and her family was threatened before she boarded the plane.
The 22-year-old is currently detained in a Colombian prison for allegedly smuggling 5.8 kilograms of cocaine in 18 boxes of headphones. Cassie Sainsbury has claimed a mystery man threatened to kill her family before she was caught with 5.8kg of cocaine in a Colombian airport.
Orlando Herran stated that the 22-year-old was in financial trouble after problems with her fitness business when she answered a Craigslist ad offering a loan and trip to London.
He said the itinerary was changed at the last minute before Sainsbury met a mystery man, who showed her pictures of her family and fiance and made threats in Colombia.
"If you don't get to fly we will be threatening or killing your family or you," Herran told 60 Minutes. He said Sainsbury had tried to back out of her return itinerary.
The South Australian's story has attracted significant media attention. Her fiancé, Scott Broadbridge, told the Seven network's Sunday Night he believed Sainsbury was innocent, despite lying to him about her work and her trip.
The cocaine was allegedly found in 18 boxes of headphones which Sainsbury claimed she bought as gifts for her bridal party.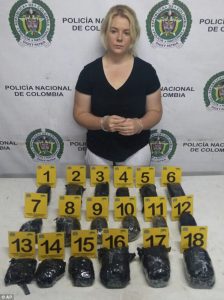 Broadbridge said she had told him she was working for her uncle's cleaning company before he sold the business to a mysterious couple named Karen and June, who allegedly paid for her trip to Colombia.
But Neil Sainsbury denied owning a cleaning business and believed his niece was a drug mule. Her father, Stuart, said his daughter's story did not add up.
Sainsbury has been held at a Bogota prison since the cocaine was allegedly found at El Dorado International Airport in April.
Broadbridge, who was also being investigated by Australian police, denied he or Sainsbury had ever been drug dealers, saying "we are both against drugs".
"I don't know if the business she worked for set her up from Colombia," he said. "But, you know, I believe, she was, you know, I guess, set up as a drug mule without her knowledge."