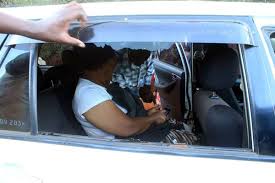 By: Joseph Wangui
After venturing into male-dominated political arena in the country, women seeking elective positions in Nyeri are getting it rough due to increased physical violence and intimidation as the August General Election draws to a close.
The women have complained of intimidation by their male competitors through hiring of goons and gender discrimination.
Some have also suffered physical violence and destruction of their campaign materials while admitting that they are financially constrained.
Ms. Ann Kanyi, who is running for Tetu parliamentary seat, is lucky to be alive following an attack by four masked men armed with metal bars and a gun at Mbaaini village.
She narrated that her car was blocked from the opposite direction recently by a grey Toyota Fielder whose registration number was concealed.
She said the attackers jumped out of their vehicle and smashed windows of her car before dragging her out and assaulting her.
Ms. Kanyi sustained back, leg and neck injuries and also a knee dislocation. Currently she limps while walking with the aid of a stick.
Her driver, Mr. Mathenge, was also not spared during the broad daylight incident, as the assailants also rained on him with the weapons.
"I thank God to be alive because I heard one of the attackers saying shoot her. But the one who was instructed resisted but told me to quit politics. They stepped on me with kicks," said Ms. Kanyi in a low voice.
She said had she not screamed and neighbours responded, she would not be alive saying the assailants were determined to end her life.
She has reported the matter at Gachatha police post and recorded statement before seeking medical attention at Mathari Mission Hospital where they were treated and discharged.
"Within three minutes I had been terrorized enough. It was like a movie. I screamed and residents responded forcing the attackers to escape," narrated Ms Kanyi. It was the third incident but the most ugly.
Initially her meetings in Kigwandi and Gichira were disrupted by young men belonging to her rivals' camps.