Jeans for Refugees (JFR), a global initiative to raise funds for refugees worldwide, has chosen H.H. Sheikha Jawaher bint Mohammed Al Qasimi, wife of H.H. the Ruler of Sharjah, Chairperson of NAMA Women Advancement Establishment, and the Eminent Advocate for the United Nations High Commissioner for Refugees (UNHCR), as the project's patron, in recognition of her efforts in making the world a better and more secure place for refugees.
Internationally-acclaimed fashion designer and artist Johny Dar launched JFR as a global artistic collaboration dedicated to helping refugees. With A-list stars that include Ryan Gosling, Victoria Beckham, Benicio Del Toro, Sir Elton John, Claudia Schiffer, Eva Longoria, Kate Moss, Pink, Rachel McAdams, Sharon Stone and many others, the JFR initiative has inspired 100 international celebrities to donate a pair of jeans in solidarity with refugees. The garments will be redesigned by Dar and then auctioned, with the proceeds from the sales going to the International Rescue Committee.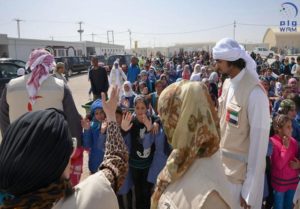 The NAMA will collaborate with JFR, believing in the mutual value that every life deserves a chance, and whether by contributing time, skills or resources, everyone can help to create change. As patron of the JFR initiative, H.H. Sheikha Jawaher recognises the immense potential it has in involving people from all walks of life to make individual contributions for refugee rehabilitation and emancipation.
The organisers of the JFR project say that the NAMA–JFR association holds great promise for refugees as it brings together two formidable forces that have made stellar contributions to this field.
Dar said, "It is an honour to welcome H.H. Sheikha Jawaher as patron of the initiative. Her work with refugees is a true inspiration and we are delighted to be collaborating in response to the biggest humanitarian crisis our time. We hope that this partnership brings help, solidarity and support for refugees worldwide, contributing to a more peaceful and stable world."
The JFR project will see a total of 100 pairs of jeans donated by popular international celebrities exhibited at the Saatchi Gallery in London end of October and auctioned online at: catawiki.com/jeansforrefugees. NAMA is encouraging the UAE's citizens and its global community to support the initiative by logging on and making a bid for the one-off pieces of denim wear, which are expected to rise in value through exclusivity.
Source: wam.ae