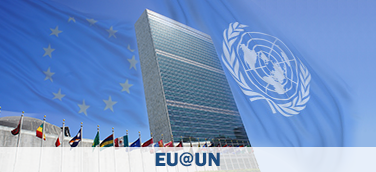 By: Vince Chadwick
The European Commission is preparing a 500 million euro ($570 million) program with the United Nations on women's rights, which is to be announced at the United Nations General Assembly in September, according to a senior European Union aid official.
"The [EU development] commissioner has proposed this to the U.N. and we are talking right now to the U.N. to shape the program," Klaus Rudischhauser, deputy director-general of DEVCO — the European Commission's development arm — told Devex in Brussels recently.
Rudischhauser said the initiative will focus on preventing violence against women but that it would have a broad scope, noting it followed the decision by United States President Donald Trump earlier this year to reinstate the "global gag rule," resulting in the loss of an estimated $600 million of funding for reproductive health. The new program was "in the pipeline" before Trump's decision, he said, but added that it may seek to address the "deprivation of means of family planning."
"You may make a small link, let's say, to the new American policy, so there could be an element also of helping women at that level. It will not be the focus but it can be included," he said.
The program will seek to end "not just physical violence against women, but also institutional legal obstacles for women's participation."
Rudischhauser spoke to Devex at an EU Committee of the Regions conference, focused on the decentralization of development work, where delegates highlighted women's poor representation in local authorities in developing countries.
"We have been working on gender issues for many years, but we are not satisfied with the progress we have been making," Rudischhauser told the conference. "We realize we have not been good enough at this, but we are very ambitious also to improve our action in this area."
Neven Mimica, the European commissioner for international cooperation and development, has set a target for 85 percent of DEVCO programs to be "gender-relevant" by 2020.
The Commission chose to launch the as-yet-unnamed effort with the U.N. — including collaboration with UN Women and the U.N. Development Programme — in the hope of gaining "broader support and more traction" for this goal, said Rudischhauser.
Most of the 500 million euros ($570 million) of funding will come from Brussels.
"We will try to find this within our reserves, and to some extent, if we do reprogramming," Rudischhauser said. "If we see that programs don't progress well, we can take money out of programs. So over time, we hope to build up an overall budget of 500 million euros."
"Let's be clear: Most of the money will come from us," he added. "I think it will be rather symbolic what the U.N. will put up."