By Maher Sattar and Ellen Barry
Bangladesh's Parliament recently softened its landmark law against underage marriage, a move that human rights activists say could roll back the country's decades-long campaign to curtail teenage pregnancy and maternal and infant mortality.
A new provision in the Child Marriage Restraint Act, which dates to 1929, allows girls under the age of 18 to marry in some circumstances. The change was met with praise from Islamist groups, which said it fell more in line with traditional religious practices.
Bangladesh has one of the world's highest rates of child marriage, but it has been gradually dropping under steady pressure from the government.
In 2000, 65 percent of girls were married before age 18, and 38 percent were married before 15, according to UNICEF. Now those rates have dropped to 52 percent and 18 percent.
Prime Minister Sheikh Hasina and other government officials have argued that the new loophole is necessary to save pregnant teenagers from social ostracism.
"Our rural society is very cruel," said Rebecca Momin, the head of the parliamentary committee on women and children.
"They will point their finger at the pregnant girl," she said. "She will be an outcast in school and elsewhere. People will say nasty things to the girl's parents."
Opponents of the bill reject that reasoning, arguing that teenagers in conservative rural Bangladesh rarely become pregnant unless they are married. A 2015 study by the Manusher Jonno Foundation, a nonprofit group based in Dhaka, the capital, found that less than 1.5 percent of underage marriages took place after the girl had become pregnant.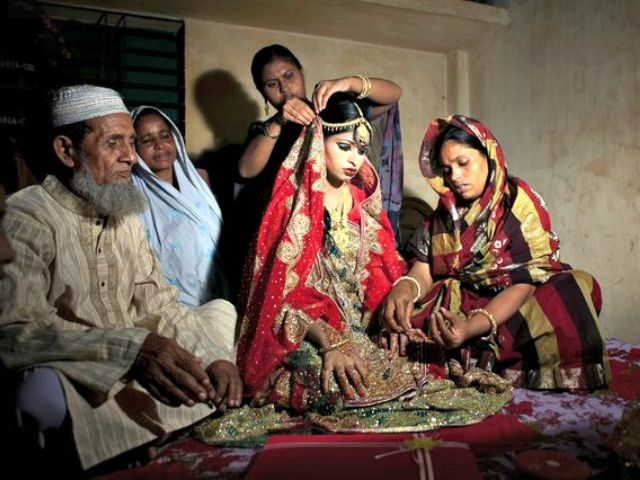 The government tried to revise the law in 2014, when it introduced a draft that would have reduced the legal age of marriage to 16 from 18. But that proposal created a major backlash and was rescinded.
Under the new law, each case of underage marriage will be investigated by a committee of local officials and approved by a court. Opponents protest that local officials are already colluding with parents to arrange marriages for daughters under 18, by altering girls' birth certificates so that they appear to be older.
Rights advocates say that existing laws have been effective at dissuading parents from pressuring young daughters into arranged marriages. Soumya Brata Guha of Plan International, a children's welfare group in Dhaka, said imams often heeded warnings from government officials.
"If you send the wrong message with this law, then it could be detrimental," she said. "That is the worry."
And some girls have used the laws themselves.
Sharmin Akter, a 17-year-old student in Jamalpur in northern Bangladesh, was 13 when her parents told her they had arranged for her to marry an older man she did not know. She enlisted the support of a child marriage prevention committee, consisting of local adolescents, who called in the police to intervene, and her parents conceded, she said.
"My life has been a fight," she said. "But finally I've won something."
Now, she said, her goal is to persuade her parents to allow her to continue her education.
"They say that when girls get educated, they become bad women and have trouble finding a husband," she said.
Critics of the change say Minister Hasina agreed to soften the law to attract the votes of a conservative Islamic electorate. Indeed, the move was welcomed by Mahfuzul Haque, the chief of the Dhaka chapter of Hefazat-e-Islam, a powerful Islamist organization that has organized vast rallies in the capital to demand changes to government textbooks.
"In the eyes of Islam, this is the correct decision," he said. "Having a law that you cannot get married before a certain age, this I cannot agree with."