It is always an amazing experience to hear motivating stories from young women who despite the odds, have reached for the sky and grabbed their destinies with both hands. The story of SoleRebels Bethlehem Tilahun Alemu, is one that will not only inspire women who desire to go into different forms of handiwork but will serve as one which all women can draw strength from in towing their various fields of endeavour.
Obviously, Bethlehem who likes to refer to SoleRebels as handcrafted which connotes "LOVE for your feet" is living her dreams by putting shoes on the feet of thousands of people as she says-"after all, LOVE is how we got started. We wanted to find a way to share our LOVE for the amazing artisan heritages of Ethiopia with the world".
In an attempt to explain how it all started, she passionately says, "We embarked on a quest to hand-craft stunningly creative footwear by fusing Ethiopian artisan heritages with fantastic design and the LOVE flowed from there". This is her story:
SoleRebels began in 2004 as an idea: to bring jobs to our community, Zenabwork, a small village in Addis Ababa, Ethiopian, a place where there literally were none.
Having grown up watching our family and neighbours struggling, we decided to create the "better life" we were all waiting for by harnessing our community's incredible artisan skills and channelling them into a sustainable, global, fair trade footwear business. We have done that and more and we are proud to say that the SoleRebels brand is being enjoyed by people in over 30 countries around the world.
At SoleRebels we love, embrace and encourage creativity. In fact we consider it our lifeblood – both as a company and for those who enjoy what we make. That is why SoleRebels is so proud to have been able to channel the immense creative talents of our community in a way that allows the world to be enriched by our products while letting the folks who work at SoleRebels enjoy world-class jobs and prosperity.
We are really proud to have created passionate fans around the planet who love how SoleRebels lets them walk NAKED, empowering them expresses their creativity, uniqueness, and positivity through their footwear.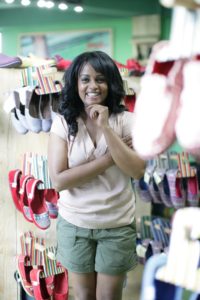 And doing what we do as the planets 1st and ONLY WFTO Fair Trade footwear company, just makes it that much sweeter.
For us here at SoleRebels, creating great footwear is also a means of creating hope.
We selected shoes because we saw that footwear was an excellent platform to begin to share many of the indigenous eco-sensible craft heritages and artisan talents that we have here in Ethiopia with the world! It also meant that based on the approach we were taking to footwear creation – that being handcrafted and eco-sensible – that we could source and make almost ALL our materials locally, thereby creating an export product from 100% local inputs.
This allowed us to riff, recreate, and re-imagine the traditional "selate" and "barabasso", a recycled car tire soled shoe that has existed in Ethiopia for a LONG time. In fact, it was the footwear from back in the day when the ORIGINAL "soleRebels" fought off the invading forces and kept Ethiopia as the only African nation to never be colonized.
We took this wonderful indigenous age-old recycling tradition and fused it with fantastic Ethiopian artisan crafts and excellent modern design sensibilities and turned it into footwear that has universal flavour and appeal that is now a market-beating export brand being enjoyed by people around the globe
We carry on that original riff everyday growing the styles, the product range, the quality and the brand. SoleRebels features collections of superFresh, comfy + cool sandals, flip flops and shoes featuring recycled car tire soles and an array of recycled and sustainable ingredients like hand spun, hand-loomed organic fabrics and a palette of unique natural fibres including organic pure Abyssinian Jutes and pure Abyssinian Koba.
Another amazing side to SoleRebels is the fact that since its major aim is to bring jobs to the community, it is committed to providing a fair play for workers, and giving back to the community.
According to Bethlehem, this is a pain point because "where we work and are based is the community where we grew up, where my father grew and where my grandma settled when she migrated from the countryside in Gojjam to Addis Ababa here in ETHIOPIA in search of "a better life". By the time we were growing up it was clear that a better life was non-existent for this community. We commit ourselves to not only creating jobs for our fellow citizens but EXCELLENT paying ones, that are FAR and ABOVE what other local employers are paying for similar work. With wages that provide a decent standard of living for workers and their families and most importantly JOBS that is RIGHT THERE in the middle of where we all lived.
It is amazing to note that wages earned by those in SoleRebels on average are over 233% higher than the industry average. What that means is that the average workers earn a full 4-5 times the legal minimum wage and over 3 TIMES the industry average.
Bethlehem observed a need in her community and went out of her way to not only solve the problem but also to give more than a fair treatment to workers. This singular action has positively affected the community and increased their standard of living. This indeed is a feat worthy of emulation.