As part of efforts to address the absence of women in the fields of Science, Technology, Engineering and Mathematics (STEM), Ms Thuli Sibeko has risen to the challenge by initiating and establishing programmes and initiatives dedicated to educating, mentoring and empowering the girl child with skills in ICT and STEM.
Needless to say, STEM is evidently key to the growth and stability of emerging economies. With the advancement in scientific and technological innovations towards providing solutions to peculiar challenges, many nations that aim to compete in the global economy make STEM education a national priority. In spite of the tremendous contributions of technology to the growth of major economies around the world, Africa, among other developing nations, still lag behind in terms of developing a sustainable and inclusive STEM education. It is pertinent to also note the wide gender gap in STEM education as women occupy less than 25% of STEM jobs.
In an exclusive interview with Amazons Watch Magazine, Ms. Sibeko discussed the level of impact she has made in educating, mentoring and empowering girls about STEM. She also shared her thoughts on how Africa can promote growth in the ICT sector. Excerpt:
Kindly tell us about your experiences growing up and how it impacted you professionally?
I started my career working in a customer service environment, I then moved up and became a corporate relationship consultant and had a brief stint working as an assistant to Project Accountant. The skills and knowledge that I acquired prepared me to be in a position where I could run my agency and be equipped with problem solving skills, managing client budgets, crisis management and learning the art of diplomacy especially when dealing with clients.
I'm a planner by nature, process driven and love being in the events & marketing space. Aside from my running my agency, I'm passionate about social entrepreneurship and we recently launched two CSR (Corporate Social Responsibility) programs: Girls Invent Tomorrow – an initiative dedicated to initiating programs designed to educate, mentor and empower the girl child about ICT and STEM as a whole; and the NEXTgen Leadership – A conference for the Youth by the Youth established to create a platform for interaction amongst the Youth.
I was nominated in the category – Future ICT Leader at the ICT Achiever Awards 2016; listed on the Girl Code ZA blog as one of the 60 Women Changing the Narrative in TECH; and listed in htxt.africa as one top 10 youths that are helping revolutionise SA tech.
Growing up in our household, my mother carried the family, a teacher by profession, she encouraged us to always strive for greatness and to be the best in what we do and give 100%. She encouraged us to read and have an inquisitive mind. She taught us to be cognisance of our surroundings and not do things just for oneself.
I was fortunate that I grew up in a time where life was relatively easy, we played outside in the streets as kids and were raised by a community of amazing women and men who wanted us to achieve success. They motivated us and encouraged us to learn.
What inspired you into entrepreneurship and how did you achieve this level of success.
I was inspired by my dad, he was and has been a business owner and worked hard to provide for his family. I was fascinated by what he did and curious as to what it entails to be an entrepreneur. I learnt from him and growing up, I wanted to be just like him and run my own business.
I managed to achieve success because of my support structure and the fact that I had a friend/ex-business partner that had the same vision of becoming an entrepreneur. We were fortunate to have family that continuously encouraging us. We worked hard to ensure that we don't disappoint them and for us to have something that we can be proud of.
Young ladies across Africa fantasize about career ideas but are not able to actualize them due to societal limitations. What is your take on this and how have you been able to sidestep some of these challenges?
One of the problems that young ladies across Africa have is role models, mentors and access to supportive structures. I believe that as women who have broken the glass ceiling in our respective careers, we have a social responsibility to mentor young ladies. I also believe that young ladies also need to surround themselves with the right people and must put in the work.
I was fortunate that my family has always been supportive and I have surrounded myself with an amazing group of women who support each other. I also have a mentor that has helped me navigate this entrepreneurship journey.
We were raised to believe that we were not any less than boys/men. I was encouraged to dream and put in place ways in how I was going to achieve my dreams. It all starts with you and also you have to out in the work.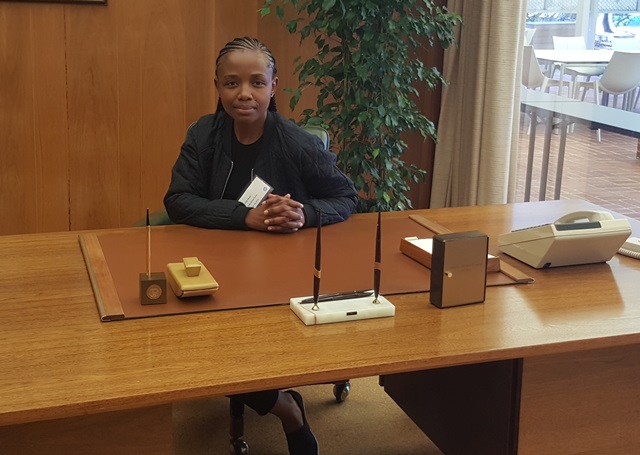 As a social entrepreneur at heart, with a number of projects designed to empower girls in Africa, please share with us some of these projects and their level of impact?
Community Youth Empowa'ment (CYE) ignited my love for wanting to become a social entrepreneur. I met like-minded young people that were driven to make a difference in the world and have an impact in someone else's life. In the early 20ties, we help build libraries in some of the schools in Soweto, we hosted career workshops for high school students and we ran a Saturday School where we taught maths, science and English. The impact that the projects had was that we gave young people from our community hope and the belief that they can achieve greatness. We helped them with the tools and resources to better their live.
With Girls Invent Tomorrow, our drive is to empower the girl child to believe that they can pursue a career in Tech. We have run some career workshops where we invited key women in Tech to come and talk about the vast careers available in tech. These events have helped to open their mindset and consider a career in the field.
We have run coding workshop & introduction to programming with the aim of exposing them to what's becoming the most in-demand skill across industries. Our aim is for them not to get left behind and be in a position to believe that they too can code and consider these careers.
What is your take on ICT and entrepreneurship in Africa and how can we stimulate start-up ecosystems to accelerate progress in Africa?
ICT and entrepreneurship are growing trends globally and Africa is slowly embracing the impact that it has on solving some of the continent's challenges. We do however need to equip learners with technology from an early age and encourage the use of tech. We need to encourage innovation to unlock Africa's potential.
The ICT sector has witnessed rapid growth, in the areas of mobile devices, computer applications, information processing and sharing.
Given this increase, the creation of ICT hubs where tech-orientated individuals congregate to work, share ideas, programme & network will provide a cost-effective way for start-ups to grow their businesses as they provide support. These well-managed ecosystems will create a wider market for the ICT entrepreneurs and help accelerate the progress Africa has made.
With the level of success you have attained in your professional life, how do you balance your family and work life?
My husband and I have set a rule to have family time in the evenings after work. We do dinner and movies on Tuesday or Friday nights and on Sunday we use the day to visits our parents.
We have had moments when our work has compromised our professional life but we have found a way to communicate with each other when we know that the hectic work pressure is upon us.
It's a challenge to get it right but we do try our best not to let our work define us.