Will the "Gender Agenda" ever come to an end? Will global conferences required to raise awareness of gender violence ever come to an end? Will it ever be normal for women across the world to do whatever they want without any stigma or biased attachment? Mrs Mireille Karera, the CEO of Kora Associates, a firm that coaches individuals, businesses and communities shares her optimism that the "Gender Agenda" will become a thing of the past in her lifetime.
The Rwandan social entrepreneur in an exclusive interview with Amazons Watch Magazine also proffers solutions to some of the challenges faced by women in their quest for gender empowerment in Africa. She also outlines some of the strategic steps women, and African nations for that matter can take to accelerate the drive towards achieving the Gender Agenda. Excerpt:
Who is MIREILLE KARERA?
I see myself as a woman who has grown to know who she is, and her place in this life. Since my childhood, I always had a hunger and thirst for knowledge and understanding of why things are the way they are. As I am maturing, I am conscious of the fact that I have always looked for a specific purpose in my life. In my younger years, I would often question my existence, why I am alive, why I was born a woman or of a specific nationality. Those profound questions were hidden in me as a teenager and later on at university; I knew that who I need to matter, not just for myself, but for others. I have always been drawn toward doing "good works" and I am privileged to be working in a field that empowers people and their organizations. Who I am today is a result of a difficult journey filled with learning curves along the path.
The professional and public figure that I am, is a business Leader passionate about empowering and transforming people's lives and businesses through their development stages. The personal Mireille leads a more quiet and private life. That keeps me grounded as I balance my professional and personal life.
Kindly tell us about your success story? What were some of the things that contributed to your success?
I recently watched an inspirational video clip by the late Dr Myles Monroe, who talked about success. He defined success as simple as knowing who you are and what you are born to do in this life. That resonated with me strongly. In my earlier career, I was very much driven by performance, promotions, positions, bonuses and greater compensations. For over a decade, I succeeded a lot in going up the career ladder while working for major organizations across three continents.
For years, I prided myself in hard work and exceeding my goals each year. That part of my professional life defined success with rewards and recognition. True, this is also a good motivational factor. I later realized that success is more than just outstanding performance. One always wants to do more, have more, achieve more and be more than one is now. One can be trapped in a rat-race for life; unless one discovers why we do what we do and who we do that for… are we living and succeeding for ourselves or our society? Thus I engaged into a new journey on the pursuit for a life purpose. This led me to the setup of an organization, which focuses on helping others achieve their goals. Today, I'd define success as the ability to see more people impacted through my work and that of our business.
Did you have any fears, growing up as a young girl? What were they? And your dreams and aspirations?
The main fear I remember having as a young girl was to fail at school. I always aimed at passing classes with high grades. Fortunately, I ended up having the best grades in my class for most of my school years. That good performance culture followed me all the way to my career, as I alluded to earlier.
When growing up I had this unique dream at some point. I would dream of travelling the entire world and know at least one person in each country. That dream birthed a desire for travelling extensively. The last time I counted, I had been to 54 countries of the world. I still have over 150 more countries to see and meet new fellow human beings of diverse cultures and background! The other choice dream was to work for me before I turn 40 years old. By the grace of God, I have managed to achieve this. I am now dreaming bigger dreams, which go beyond my own self. As a Rwandan national, there are many things I wish to achieve for and with my fellow citizens. As an African, their many things I wish Africa to accomplish as a continent. Being able to contribute to the rise and growth of our continent in this part of the century is a fulfilling thing to me.
What informed your decision to start up Kora Associates?
It took quite a few years to get the firm ready and focus on the right core business activities. For many years, I had longed to work for myself, yet perceived that I didn't have the required business acumen. Before jumpstarting, I had to undergo some advisory, coaching and consulting via a network of Social Entrepreneurs. I will always be grateful to C3 network in Dubai for their invaluable work in incubating new businesses and promoting Social Enterprises.
I am generally enthusiastic about life and tend to motivate people around me. That is something that comes naturally to me. Most of my immediate surrounding would seek advice and counselling informally, then leave empowered. I wasn't conscious of my gift and talent until a few years ago. One day, I recall listening to a motivational speaker almost a decade ago. During the speaker's presentation, I remember saying to myself "I want to be like him when I retire". A few years later, I enrolled at a Coaching Institute and became a Certified Coach.
I haven't retired yet, but I am heading in the direction of the motivational speaker I saw many years ago. Helping others going after their dreams, through coaching makes me feel alive. As it is the case with all businesses, there is always a story behind. My story with KORA started then but materialized a few years later. I guess that day can be called as one of many turning points toward the setup of KORA.
Our findings reveal that you have very well contributed to the setup of professional mentoring programs for women, and you have at some point in time chaired a Dubai based Women's network which empowers Women for leadership roles and development in the workplace. What is your inspiration? And what is your advice for increasing women's access to finance for the pursuit of their entrepreneurial dreams?
To answer the first question: I chaired the Women's network while working for a Dubai-based organization for a few years. This was a middle-eastern chapter of a global network within the firm. Among our activities within the MENA region, we partnered with internal and external stakeholders in the pursuit of encouraging women "to sit at the table" and be part of key decision making roles.
Our goal was to increase confidence in women with various activities such as inspiring them to go after their career aspirations, regardless of external and internal barriers. My inspiration then and now comes from mentors (both men and women) who saw the potential in me and helped me reach my career goals in many ways. I feel privileged to have had a good career in the corporate world. Now is the time to pass on the baton to those wishing to follow the same path. With regards to the question on access to finance: there are numerous ways in which Women Entrepreneurs can access finance. The most important thing is to have a clear vision of the business, laid out in a sound and bankable business plan. Having a competent and skilled team with a solid Sales Strategy is the next thing to focus on. I am a firm believer in organic growth through sales as the first attempt to gaining revenue.
This approach is the most difficult one to achieve. Initial years up to 3 years of starting up might be slow to reach the breakeven point, however, once achieved; the company keeps the momentum going for a long haul. Most startups typically shy away from it, as it requires a solid initial startup capital and hard work and some personal sacrifices. External seed capital investment is a key component that might be the only option for some startups. This is, of course, depending on the type of business sector and activities the company is in. Many incubators, professional associations, financial institutions are in this case good channels to go through. In my country, women can own land and therefore have collateral assets, should they wish to opt for loans, as a vehicle to expand their businesses. That again requires a great and clear vision of one's business model ahead of seeking financial advice.
According to the Global Gender Gap Index Report in 2015, Rwanda ranks higher than United States in leveraging the pool of female talent, based on economic, educational, health-based and political indicators. Findings reveal that 88% of women in Rwanda have jobs, compared to 66% of women in the United States. Fascinatingly, in terms of governance, Rwanda leads globally in the percentage of women parliamentary representation with 63.8%. What is your take on the progress recorded in terms of women empowerment, viz-a-viz some of the challenges for women and your advice to tackling them?
When reading the above-mentioned statistics, one thought comes to me: I am exceedingly grateful and honoured to be Rwandan. What Rwanda has achieved in 23 years, after the tragedies during the genocide in 1994, is truly remarkable. That achievement is a result of hardworking Leaders, with the people at the heart of everything.
Our Government takes gender parity as a priority in various ways. This is not only visible in the policies and laws being enforced, but also in day-to-day interactions with our fellow male Rwandans. Kudos to them for being the role models for many other countries. Common sense should be that men and women need each other to attain development. If you discriminate half of the population in business, politics and other areas, the result can only be catastrophic. I wish that most people would see this as a natural thing, rather than a movement or a global agenda.
My personal life dream is to be able to live until I see the "gender agenda" become a thing of the past. Where there is no more global conferences required to raise awareness of gender violence. Where it is so normal to be a woman that can be and do whatever she wants without any stigma or biases attached to us. This is a dream for now…it almost feels like Dr Martin Luther King's in his epic speech of "I have a dream".
While we (in Rwanda) have accomplished a lot of things, there is still a long way to go. In my opinion, the informal sector is an area that requires further development and more work as a majority women in rural areas fall in this category. As we aspire to become a service-based economy, I believe that we will need to focus on technical skills development. Having the right skilled workforce is critical as our economy evolves and becomes a major hub in the East African Community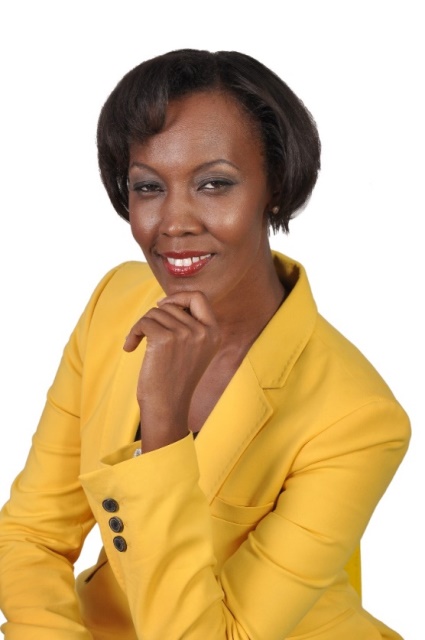 Philanthropy and giving back in Africa seems to be an exclusive reserve of the super-rich, but you are notable for your philanthropy having founded Plebis Foundation, a non-profit charitable organization, which supports orphaned and disadvantaged children in Burundi and your country – Rwanda. What is your take on philanthropy in Africa and what are some of the impact you have been able to make through the Foundation?
By definition, the word "philanthropy" includes "love or caring for others"; through our philanthropic activities, we managed to raise funds and other forms of donations for children in both countries. I agree that there is still space for charity and giving back. I do not necessarily agree that this practice is exclusive for the rich and wealthy ones. At the core of our African cultures, the village raises a child. Extended family members are usually available to help in times of need.
However, those whom we call disadvantaged children are the ones who have no near next of kin or are refugees as a result of war or conflicts. Some impact that I can share is a partnership with a local association in East Africa, which we helped to set up a social business for a centre in Burundi. We collaborated with the local association and helped them set up a bakery as a sustainable source of revenue while teaching operators new skills in running the social venture.
Through KORA, we are increasingly focusing more on the Social Enterprise model, which empowers people to set up their own businesses while doing good. That has been adopted as one of our core business activity coupled with our Life Coaching and business coaching activities.
As the Founder of Kora Associates, have you had challenges along gender lines? What is your take on gender marginalization in your region?
I cannot recall a specific event in my life around this issue. However, throughout my career, I have always felt the need to perform better or outperform my male colleagues. This could just be my competitive personality or an internal barrier or complex that I had developed. I have often found myself working hard as I found myself being the only female in a team of the majority of men. That situation can be a good or bad thing, depending on the lenses you chose to put on.
I am however aware that gender marginalization is a real issue in some parts of the world. Many women's rights are taken from women and this sometimes turns into gender violence against women. It is a sad reality to see such occurrences taking places in this day and age. I am grateful for incredible agencies that pioneer and keep working toward the eradication of gender violence and similar ideologies around the world. Fortunately, as we discussed earlier, the region we operate in is gender-parity-friendly. As a leader of our business entity, I can only be grateful for the supportive environment that allows us to carry out our activities in total freedom.
What do you think can be done to curb these gender marginalizations?
Having women as part of decisions making discussions is crucial. Some countries opt for quota systems, and some not. I am not sure if there is a "one-size fits all" answer. Each region and nation has its historical, cultural and spiritual background which requires unique sets of discussions and solutions. Inclusion is the key element to this.
Aside from your routine activities, what are some of the things that Mireille Karera does leisurely?
In my leisure time, I enjoy travelling and discovering new places.
In your opinion what can be done to increase entrepreneurship drive among youths?
We can capture and capitalize on the innate creativity of our youth through increased setups of Labs, Incubators and the likes in schools, universities and various centres.
What's the best way for the readers of Amazons Watch Magazine to connect with you?
We can be reached at www.kora-associates.com, www.koracode.com, https://www.facebook.com/KORA-Associates-