Art is a form of creation and expression of imaginations, thoughts, and fantasies that give meaning and more essence to lifestyle.
The ability to establish an art is the power of relevance given to a piece of art by the artist. Every artist or painter draws inspiration from a source that was or is a part of their existence.
Just like the story of Akunyili Crosby who was born as Njideka Akunyili in Enugu state of Nigeria in 1983.
She is the daughter of the late Dora Nkem Akunyili who was the Director-General of National Agency for Food, and Drug Administration and Control (NAFDAC) of Nigeria and Nigerian Minister of Information and Communications from 2008 to 2010.
Akunyili Crosby grew up in the city of Enugu, but she moved to the prestigious all-girls' boarding school in Lagos the Queen's college Yaba where she had her secondary education.
During her days at Queen's College, she once desired to add a lighter course to her intense science-based courses, and the only thought that came pushing towards her was painting.
She registered for some art courses which she eventually fell in love with and found herself trying to focus with other of her courses.
After completing secondary school in 1999, she moved to the US to further her studies at the age of 16. She had left Nigeria with the aim of becoming a medical doctor like her father and her older siblings.
But she was cut in the middle while trying to choose a career path because she had two lovers at that time and didn't know which of them she wanted to let go.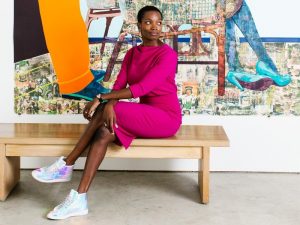 She took a break and returned to Nigeria, on getting to Nigeria she decided to work. It was while she was working that she made up her mind that she was going to spend the rest of her life painting.
After she made her decisions Njideka went back to America. Meanwhile, she had noticed that the pictures painted by the West about her homeland were nothing better than scenes of crisis. She decided to re-paint those images through her drawings. She considers herself an American and African artist, merging the features of both cultures to make unique art.
When she returned, she and her older sister stayed in Philadelphia where she studied art at Swarthmore College and post-Baccalaureate Certificate from the Pennsylvania Academy of the Fine Arts, Philadelphia. She later took her MFA at Yale and was encouraged to take a teaching job as an assistant.
Akunyili allows her ethnicity, cultural heritage and African experiences to influence her art in order to re-inform the outside world about the competent and better Africa.
She draws her inspiration from the images of the Nigerian culture and her everyday life back in college days.
Her work is recognized and appreciated both in Africa and America with various awards that include the Prix Canson award, an internationally-recognized prize for art on paper. The Next Generation Prize by New Museum, an award for emerging artists. She was also recognized as the top of 10 black artists to celebrate in 2016 and many other recognitions.
She married to a Texan, Justin Crosby and they live in Brooklyn, New York.