Julie Mehretu is a contemporary Ethiopian-born American artist. She was born in the year 1970 in Addis Ababa, Ethiopia, not as an artist but as the first child of a professor who moved with his family to East Lansing, Michigan in 1977, to occupy a teaching position at Michigan State University.
Julie grew up with a deep flair for painting and with self-encouragement, she was able to fulfil her dreams.
Julie studied at University Cheikh Anta Diop, Dakar (1990–91), earned a BA from Kalamazoo College, Michigan (1992), she began to lay a foundation for an art career independently before attending the MFA program at the Rhode Island School of Design, where she received her degree in 1997. She was a resident of the CORE Program, Glassell School of Art, Museum of Fine Arts, Houston (1997–98) and the Artist-in-Residence Program at the Studio Museum in Harlem (2001).
She is happily married and a daughter-in-law to an Australian author and poet Lily Brett whose husband is the celebrated Australian artist David Rankin.
Julie is a peculiar artist whose work is expressed more in large-scale abstract paintings, her work carries the attributes of very important 20th-century painters, like Wassily Kandinsky because they are portrayed with elements of Abstract Expressionism with Pop Art.
Julie has a great sense of taste when it comes to painting that makes her work different from the others.
The difference in Julie's painting is the composure and uniqueness from the conventional painting of the modern-day. This has brought her to the place of recognition and she has received awards in various categories.
Her paintings are done with a different technique of compiled layers of different elements and media; this is done with the use of acrylic paint on canvas overlaid with mark-making.
She engages tools like pencil, pen, ink and thick streams of paint. Unlike common canvases, Julie overlays her canvases with unalike architectural features such as columns, façades, and porticoes combining them with different geographical designs such as building plans and city maps and architectural renderings for stadiums, international airports, and charts.
Among Julie's awards is the Foundation for Contemporary Arts Grants to Artists Award (2001), and also she received the recipient of the 2001 Penny McCall Award. She was named as one of the 2005 recipients of the MacArthur Fellowship on September 20, 2005. A John D. and Catherine T. MacArthur Foundation Award (2005); and the American Art Award from the Whitney Museum of American Art, New York (2005). Julie Mehretu received the 15th commission of the Deutsche Bank and Solomon R. Guggenheim Foundation in 2007. And she was awarded the Barnett and Annalee Newman Award In 2013, and the US Department of State Medal of Arts from Secretary of State John Kerry in 2015 and much more.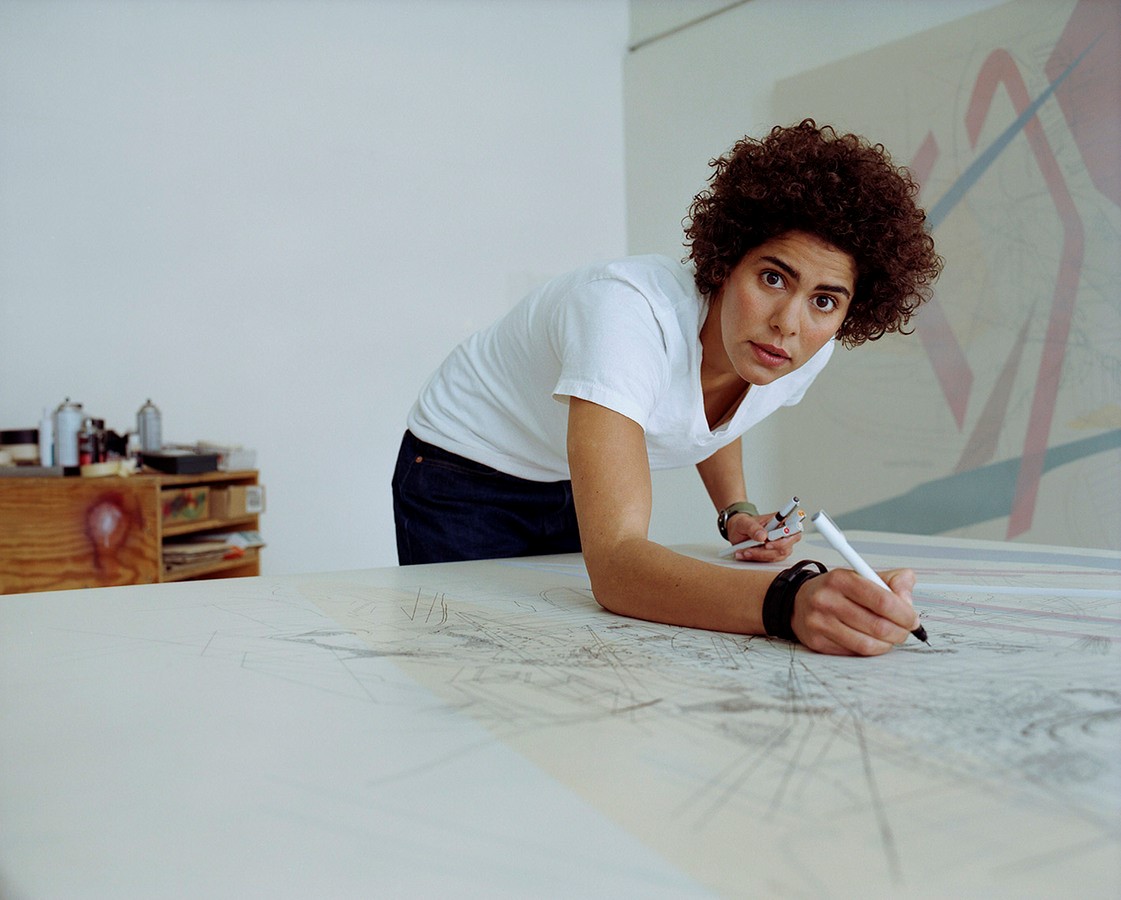 Her work has been recognized in major exhibitions at the Museum of Modern Art, New York (2007); Detroit Institute of Arts (2006); Walker Art Museum, Minneapolis (2003); and Albright-Knox Art Gallery, Buffalo (2003) among others.
She is happily married and resides with her family in New York City, U.S.A.