Asha Khemka is an Indian Academia, born and raised in a wealthy upper-class family in little Sitamarhi in Bihar one of India's poorest states. Two years after her mother died she was married off to Shankar Lal who is trauma and orthopaedic surgeon.
When she was just 13, different men came to meet with her father to marry her. Fortunately, of the 13 different men, her father gave his consent to the family of Mr Shankar Lal. When Asha and Shankar got married, he was just a 19-year-old young medical student. He later applied for a course in the Royal College Surgeons UK, and his family had to move to the UK in 1978.
At that time, the family already had 3 children. Asha was 25 when she moved to the UK. She had always wanted to further her studies but she had no formal education and had only a little understanding of the English language and British culture. She started tutoring herself in the English language by watching television and paying full attention to every word articulated on the screen. She would watch cartoons and children programmes and she valued every opportunity she found to communicate in English, and before long, she began to improve.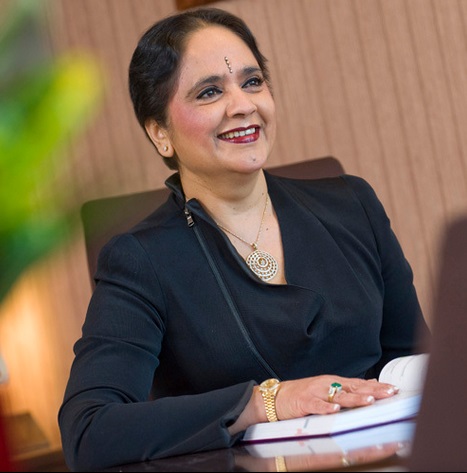 At first, the plan was to return back to India after Shankar was through with his course in the UK but at that moment Asha realized that the decision will make her dreams crumble. She feared losing freedom for she had gained a lot of independence and energy to pursue what she has always dreamed about. She was reluctant to return to India.
As soon as her children started going to school, she also resumed studies. Her determination and focus gave her an edge and before long her journey in the academic world began to produce results.
After two decades, when her children were all grown and they were settling in their boarding schools, Asha began to think of what to do with her life and her time. She enrolled for a secretarial course to become her husband's secretary. But while she was studying she found out that there were many things she could do aside from being a secretary and one of which was to become a teacher, so she decides to take teaching courses.
After studies, she got her first teaching job at New College Nottingham where she gradually rose to the position of principal. She served as a Principal in new college Nottingham for two years and then moved to West Nottinghamshire College where she is still the principal and CEO.
In 2009, her majesty queen Elizabeth ll conferred Asha with the noble award of the Order of the British Empire (OBE) at Buckingham Palace. In 2014, she was awarded one of Britain`s highest civilian award in December 2014, The Damehood.