The appointment of Dr Frannie Leautier as the Senior Vice-President of the African Development Bank Group on 9th May 2016, did not particularly come as surprise giving her dedication and commitment to her work.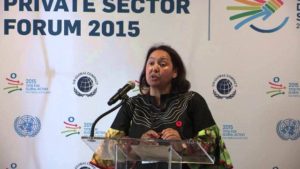 Frannie Léautier was born in the town of Moshi, at the base of Tanzania's Mount Kilimanjaro. She was one of seven children – four boys and three girls. When she was three years old, her family moved to the village of Lushoto, located along the Usambara Mountains.
She and her siblings grew up in the quiet countryside, where goats were termed cash and cows capital. Her family owned one cow. Léautier believes it was this childhood setting, where she watched life grow and blossom before her very eyes, that later ignited her interest in finance and engineering. "My childhood was really an open learning environment," she says, "mostly interacting with nature as we lived in a remote village."
The Léautier family lived close to a national park, where elephants roamed freely. Léautier recalls her grandfather asking her to determine how heavy an elephant was simply by looking at its footprints in the soil. "From this childhood experience I learnt how to calculate or estimate the mass of a body by inspecting the footprint, understanding the impact that the body had on the surface," she says. "My education in engineering was because of my grandfather. He taught me things I would later learn in physics but that he learnt from his life experience."
At Dar es Salaam University, Léautier enrolled in the science and engineering programme, graduating in 1984 as a civil engineer. She went on to complete her master's and doctoral studies in the United States, at MIT, before joining the World Bank.
A citizen of Tanzania, Dr Frannie Leautier is globally respected as a development expert with over 25 years of professional experience and a former Vice President of the World Bank Group. She brings extensive Africa and global experience from both public and private sectors, including strong operations' management experience in complex multilateral institutions. She is known for being results-oriented and a driver for efficiency, effectiveness and accountability.
Having graduated with a PhD in infrastructure systems from the Massachusetts Institute of Technology (MIT) in 1990, and a Master's degree in Transportation from MIT in 1986, her level of experience is unquestionable.
She joined the World Bank in 1992-1994 as Transport Economist in the Infrastructure Division, Latin American Region, where she received an award for excellence in the design of infrastructure projects in Peru. She was Research Economist, Development Economics of the World Bank Group from 1994-1995. She was promoted to the senior economist, Infrastructure Division of the South Asia Division of the World Bank and from 1995-1997 worked extensively in six Asian countries where she helped to build a cohesive team to deliver on infrastructure projects for the World Bank.
She served as Senior Director, Infrastructure, for the Asia Division of the World Bank, from 1997-1999. She was recognized for innovative projects for water and energy sectors and helped to consolidate the investments of the World Bank in the transport sector. She won the "Good Manager Award" for excellence in management, and is currently Chairperson and Co-Founding Partner of Mkopa Private Equity Fund, which is focused on private equity investments in small and medium-size enterprises in Sub-Saharan Africa.
Dr Leautier was appointed the Chief of Staff and Director of the Office of the President of the World Bank Group from 2000-2001. She was later appointed as Vice President for the World Bank Group and Head of the World Bank Institute from 2001-2007. She was credited for helping to restructure the World Bank's Institute for greater innovativeness, efficiency and delivery, for which she was given an award for Recognition of Extraordinary Work in 2003 by the World Bank, and a Presidential Award for Excellence in 2002 for her contributions to work in Latin America.
From 2007-2013, she was appointed a Distinguished Professor of Leadership in a Globalized World, Sciences Po, Paris, where she taught Masters' courses in international management and leadership.
Dr Leautier comes with extensive experience in the private sector and has worked as Managing Partner of The Fezembat Group from 2007-2009, a company that provided risk management and support advisory services for the top leadership of companies investing in mining, infrastructure and energy in developing and emerging markets.
She was appointed Executive Secretary of the African Capacity Building Foundation from 2009-2013, where she is credited with raising and revamping the profile, governance, accountability, efficiency and delivery of the institution. As a result of her hard-fought reforms, contributions by African governments increased by more than five times during her tenure, as well as a significant increase in funding from non-regional donors. She brings experience, tenacity and resilience needed to deliver change and transformation.
Dr Leautier is globally respected in development circles. She has served as Board member of several organizations, including Women's World Banking, Institute for Security Studies, African Economic Research Consortium, International Potato Institute, Nelson Mandela Institution for Science and Technology and the Global Agenda Council of the World Economic Forum co-Chair of the World Economic Forum Africa (2013-2014) and the African Institute of Governing with Integrity. She is passionate about development.
She is fluent in English and French, with an advanced level in Spanish and some spoken Arabic.
Léautier's work with a recent project in Ghana earned her the nickname "Nkosuohemaa", which means "queen of development" in the Ahanta language. The Agona people of central Ghana gave her this name during an Enstoolment ceremony, in recognition of her contribution to the development of Africa and her vision for the future of the girl child. The goal of the project was to remove the obstacles and barriers to entry preventing these young women from receiving the good education they deserved.
In Dr Léautier's opinion, workplace attitudes still bear negatively on the role of women in society and she believes that because of this, few people naturally turn to women as leaders. But, she says, many companies have made great strides in this regard, removing barriers to entry.
"Just as company policies and attitudes are changing, so are women's viewpoints", Léautier says.
Léautier is excited about Africa's place in the world as the continent is continually unearthing new natural resources and she believes that within a few years, Africa will surpass all other continents. It will become the world's most populous continent – as well as the continent with the youngest population – making it the prime destination for companies seeking talent.
But, she says, while there has been great progress so far, Africa has not managed to stand on its own two feet just yet.
Léautier believes that regional integration can unlock Africa's potential.