My peers are building houses while I am building a business – The real story of a female entrepreneur in Africa.
Once upon a time, I was a good African girl – I had gotten my degree, I had a good job, a husband, a family home, my kids were in good schools – I was living the African dream! Then I caught the bug. It was always there I think, in the back of my head, waiting to rear its head. I started in a secondary school as a hobby – baking cakes and making pencil cases for sale, anything to make an extra buck.
When I finished college and got myself a job, I thought my life was complete. But again money wasn't enough and I had to come up with ideas on how to raise extra money for bills that come with having children and extended family to take care of. With a bit of capital from my salary, I tried investing in a mobile butchery idea, a small restaurant at a bus station and finally a catering business.
After a couple of years, my African dream fell apart and I found myself divorced and raising three kids as a single mother. Being a divorced woman in Africa is the hardest thing and at 28 years old with 3 kids to take care of on my own, I needed a new dream.
I woke up one day and decided things needed to change drastically in my life. Having had enough of living on paycheque to pay cheque and from one debt to another, I quit my job and decided to try full-time entrepreneurship. Looking back, maybe this wasn't such a good idea, with 3 young kids to feed, I probably should have kept the job and slowly eased into the business. I registered the business, moved my kids to my parents' house and out of expensive private schools. I had to talk to my boys and make them understand that life would be different from now on and that we would have to make sacrifices for a better future. I hope my boys understood that at that time it was the best thing to do to secure a brighter future for them.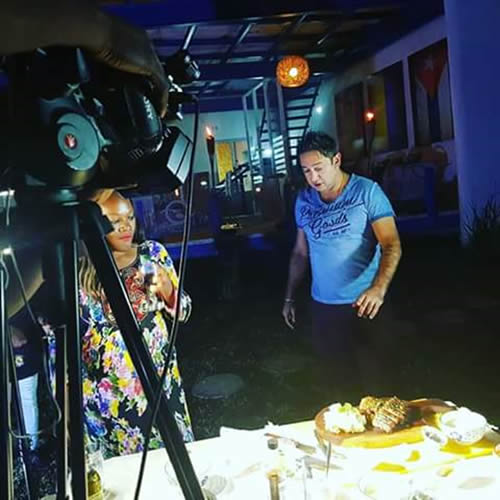 In 2013, African Sunsets Events was born and we started off with our first women's empowerment, business and leadership conference called – "Brand Woman." The universe will always respond to your requests by first giving you a positive outcome so that you don't grow faint and give up too quickly. Our first event went well. It can only get better from here, I thought, as I planned to have more and more events and business conferences that year. We followed the same marketing methods and tried to host a similar conference two months later thinking the cash would come rolling in – our first mistake. People can only attend so many business conferences in a year before the message feels the same and they begin to get bored – especially in a small market like Zambia.
In Africa, when one person sets up a tomato stall and is seemingly successful at it, within a week or two, you will find three more people selling the same kind of tomatoes on the exact same street. Within 6 months of registering the business, there were at least 10 new companies also hosting business conferences within the same city. So the pressure to keep innovating in order to stay ahead of the competition was very real.
By now my bills were piling up again. It got pretty real, pretty quickly and I had to make a decision again to send my boys to live with their dad while I sort out my financial situation. Countless times I thought about how I should just quit the business and get another job. During my toughest times, I soon realized that doing business in Africa is not just about having a good business idea. With little to no funding for startups, it's not automatic that you will be singing all the way to the bank. But believe me, it is worth the hassle!
Two to three years into the business, we decided to take a new strategy and work on a reality TV cooking competition. With just an idea, no funding and no investors – we moved forward trying to find sponsors for our show – an idea that wasn't fully formed yet. Once again the universe was on our side, and most local companies gave us support in the form of goods and services that we could use for the competition. But no cash! Miraculously, we travelled around the country and got contestants to take part in the show. With no advertising budget, we used social media and went door to door at restaurants and hotel's asking chefs to take part in the competition.
Season one proved that our idea was viable and gave birth to different revenue streams through the TV show. We had to be strong and resilient to overcome challenges faced by every startup in Africa. No funding, even corruption in the private sector, multinational corporations rear its ugly head as someone has to be given something or be promised something for things to happen your way. We have to contend with petty issues as not wanting to give business to local companies in preference to foreign companies, or not wanting to deal with companies run by women. Some companies we contacted for partnership subtly turned us down in preference to companies run by white foreigners. They racially believed that these guys are seen as more reliable. Unreliable supplier(s), service providers and sponsors who just decide the day before an event/recording not to deliver what they promised or not turning up without a word. It can be as this bad!
Setting up a business in Africa has been the most challenging, blood pressure raising, the stressful thing I have ever done – but against all odds, we are still standing.
We have faced insurmountable challenges – debt, final demand letters, repossessions, unreliable suppliers, non-existent cash flows, corruption, sexism, racism, loss of friends, unsupportive family members, homelessness and even sexual harassment to get to where we are now.
Five years on and we are on a whole new level. Through synergies and partnerships, season two of our reality TV show – Mastercook Zambia, begins to air soon throughout Southern Africa, we have two new shows in the brand – a celebrity cooking show and kids cooking show. We launched a recipe magazine and a mobile app, Mastercook competition themed Kids Parties and adult team building events. This month we open up an African fusion restaurant and bar right in the heart of Lusaka, Zambia. We have a cooking school to teach adults and children how to cook gourmet meals, called the Mastercook Academy. We also recently launched a range of food and herb-based organic beauty products.
Would I change the journey I have had? I don't think so; it has made me who I am today. I may not yet be like Aliko Dangote or Strive Masiyiwa, but I am slowly building my own empire – like Martha Stewart or Rachel Ray. I hope I can build a culinary empire right here in Africa.
As my peers are building houses, I am out here being misunderstood as I try to build a business empire that Will hopefully be around for my great, great-grandchildren to know that I was here on this earth, I survived poverty and hardship and I left them a legacy – this is my new African dream!
By Abigail Mbuzi
About the author: Abigail Mbuzi is the Managing Director, African Sunsets Restaurant, and Bar. Lusaka, Zambia