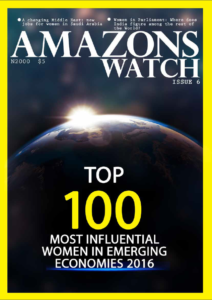 This year 2016 was a very eventful year for women across all regions and most especially women in emerging economies. This is because this year heralded the dawn of a new beginning of breakthrough in leadership, politics, business, and entrepreneurship for the women folk.
Therefore, in this edition, Amazons Watch has unveiled The Top 100 Most Influential Women in Emerging Economies list 2017-Amazons who are audacious, unrelenting in the pursuit of their dreams, always standing tall, refusing to be bowed down, and incurably committed to taking on new territories, communities, changing one life after another.
This list spans 4 regions- South America, Africa, Middle East and Asia; and comprises of influential women CEOs, business & political leaders, entrepreneurs, investors, scientists, philanthropists, development champions and most of them have made inroads into male dominated spheres. They are in 'All Boys Clubs' sectors like mining, oil& gas, energy, technology industries and politics- breaking stereotypes, leading and commanding amazing breakthroughs.
These women were selected based on four metrics:
Women who head high net worth billion-dollar brands
Women Heads of Government with a wide sphere of influence
Women who have established inroads and are influential in traditionally male dominated spheres; and
Women whose projects/programs have impacted a wide range of people in their communities.
The Amazons Watch Top 100 Most Influential Women in Emerging Economies Listing is not designed to just rank women achievers but to bring to the fore and honor women whose amazing achievements are serving as a burning torch and light on the path of other women who have now begun to shake off the fears and shackles placed on them by society, with the ability to dream in the coming year. This showcase aims to be able to celebrate Women Umpteenths. We look forward to a time when we can celebrate not just 'women firsts' or a few women but many women in diverse fields.
In an era when a number of emerging economies are under severe pressure, evident by exponential increase in obstacles along their path to sustainable development, these women have remained a glimpse of sunshine and have constantly proven the statement of Tokyo's first female Governor, Yuriko Koike in her manifesto which reads 'Every Country needs the 3 pillars of the strength of a woman-Fortitude, Steadfastness, and Tenacity'.
Here is the list of the Amazons Watch Top 100 Most Influential Women in Emerging Economies in no particular order.
Click on the Images to expand
Top 100 Most Influential Women in Emerging Economies
ASIA
MIDDLE EAST
SOUTH AMERICA
AFRICA