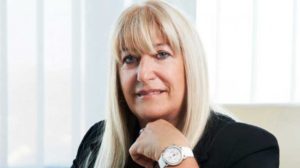 Nayla Hayek
Nayla Hayek was elected chairwoman of the Swatch Group, the largest manufacturer of finished watches in the world, in July 2010. Hayek, whose father co-founded the company, has been an active member of the board since 1995. Swatch's importance lies not just in the fact that it is such a huge manufacturer, it makes most of the parts that make other Swiss watches tick. Hayek, who is also an international Arabian horse judge, splits her time between Switzerland and Dubai. Mrs Nayla Hayek has been on the Board of Directors of Swatch Group since 1995; from May 12, 2010 she was Vice-Chair of the Board of Directors. As a member of the World Arabian Horse Organization (WAHO), and as international Arabian horse judge, Mrs Hayek's top-level contacts contribute to many of the business and promotional activities of Swatch Group and she is responsible for the local organization in Dubai (Swatch Group Middle East) on site.
In the middle of 2007, her advisory mandate was converted into an employment agreement. Following the acquisition of the company beginning of 2013, Nayla Hayek was appointed CEO of Harry Winston Inc. in May 2013. As Board member of the Hayek Group, she is responsible for Hayek Immobilien AG and Hayek Engineering AG (HEAG). Mrs Hayek is member of the Board of Directors of Rivoli Investments L.L.C.,Dubai, where she represents the interests of Swatch Group, as well as member of the Board of Directors of Belenos Clean Power Holding Ltd. She holds no official function or political office. Hayek is the daughter of Lebanese-born Nicolas George Hayek, the late co-founder of the Swatch Group. In May of 2013, a few months after Swatch Group acquired the company. The company bought the world's largest flawless blue diamond- The Winston Blue on May 15, 2014. Hayek stated that her passion for horses started when she was a child and worked to buy a pony. Since then, she became an international Arabian horse judge and owns over 60 purebred Arabian horses.
Her activity as a horse breeder and expert in Egyptian horses helps the group build and maintain contacts with the Middle East.
Nayla Hayek is a role model for women in the GCC region and has emerged as the Amazons Watch Middle East Amazon on the Frontline, for this edition.
---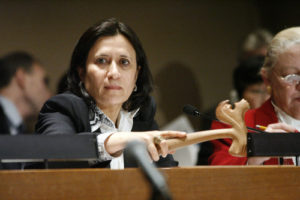 Sheikha Haya bint Rashed Al Khalifa
In June 8, 2006, the United Nations General Assembly elected its 61st President since it was founded in 1945, Sheikha Haya Rashed Al Khalifa from the Kingdom of Bahrain. As the third woman to be selected, the first Arab and first Muslim woman, Sheikha Haya set an example for women throughout the world as President of one of the world's most important bodies for addressing major global issues.
She made her mark as a worldwide leader long before taking the position, though. Sheikha Haya had first gained international recognition as a female pioneer in 1974 when she graduated from the University of Kuwait with a Bachelor of Law degree. From there, she continued to pave the way for future female leaders.
In 1986, she obtained her Diploma in Civil Rights Private Law from the University of Alexandria, and in 1988 she got a Diploma in Comparative Law from the University of Ain Shams in Egypt. Sheikha Haya then opened her own practice, the Haya Rashed Al Khalifa Law Firm, and served as a vice chairwoman of the International Bar Association from 1997-1999. Through her work and influential role in society, Sheikha Haya actively worked to enhance women's role in Bahrain before the Islamic courts. From 1999-2004, she became Bahrain's first female ambassador as the Bahraini ambassador to France. She was also its nonresident Ambassador to Belgium, Switzerland and Spain. Sheikha Haya continued her diplomatic career by serving as Bahrain's permanent delegate to UNESCO, the U.S. Educational, Scientific and Cultural Organization.
After becoming the 61st President for the United Nations Assembly, Sheikha Haya reached out to women around the globe at the "Women Leaders Networking for Peace and Security in the Middle East" conference in July 2007. During the conference, Sheikha Haya stressed that female decision-makers from the region needed to come together and encourage other women to become decision-makers. Women in the Middle East needed strong support from international organizations, she said.
With her three diplomas in law, Sheikha Haya was also a major advocate for education. She said it was the most effective way to promote gender equality and peace.  Throughout her career, Sheikha Haya's efforts to promote peace have been widely recognized. In 2007 alone, she was awarded several prestigious honors for her hard work, including the United Nations Millennium Development Goals Special Award in 2007 and the Path to Peace Award in 2007. Sheikha Haya is one of the most influential female leaders of Bahrain, but more importantly she is one of the most influential female leaders in the world. She is our Middle East Amazon on the frontline.
---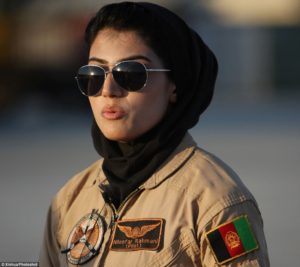 Captain Niloofar Rahmani
Captain Niloofar Rahmani took a courageous plunge into a male dominated sphere in Afghanistan.
According to her, it was a life time dream to become a pilot, as far back as when she was a little girl. Therefore, she had to spend about a year studying English in order to be able to attend flight school.
Captain Rahmani was only 18 years old when she heard an announcement in the media about the recruitment of young women into the Afghan Air Force, including the opportunity for pilot training. Soon after, she enlisted in officer training and graduated as a Second Lieutenant. In July 2012  just two years after hearing the recruitment announcement, Captain Rahmani graduated from flight school and completed her first solo flight in September in a Cessna 182, an American four-seat, single-engine light airplane. She continued to expand her skills and challenge all odds when she graduated from advanced flight training and became qualified to fly a C-208 military cargo aircraft.
As a crowning achievement for her determination and courage, Rahmani became the first female fixed-wing Afghan Air Force pilot in the history of Afghanistan
Unfortunately, after her story went public, Captain Rahmani and her family began to receive threats from the Taliban and from members of her extended family, who disapproved of her career and ambition. As a result, her family has had to take tremendous caution and relocate several times in Afghanistan.
Her passion drove her to break all barriers to achieving her ultimate dream as well as tendering her kind heart. While women are traditionally banned from transporting dead or wounded soldiers, Captain Rahmani defied orders when she discovered injured soldiers where she landed during a mission.
She flew the injured men to hospital and reported her actions to her superiors who chose not to impose sanctions on her.
Captain Rahmani is a dogged and kind hearted Amazon, who aims to become a flight instructor to inspire other women and in spite of the Taliban's threats, she still remains determined to continue her career in the Afghan Air Force and work as frequently as her security situation permits.
She is also deeply committed to encouraging other young women to join the cadre of female AAF pilots.
In her words of wisdom, she said- 'You can't just see yourself as a woman, but as a human and believe in yourself. 'It was not easy finishing flight school, it was very hard, but someone had to accept the risk so that other women can do what they dream.'